Volkswagen ID.5 electric lease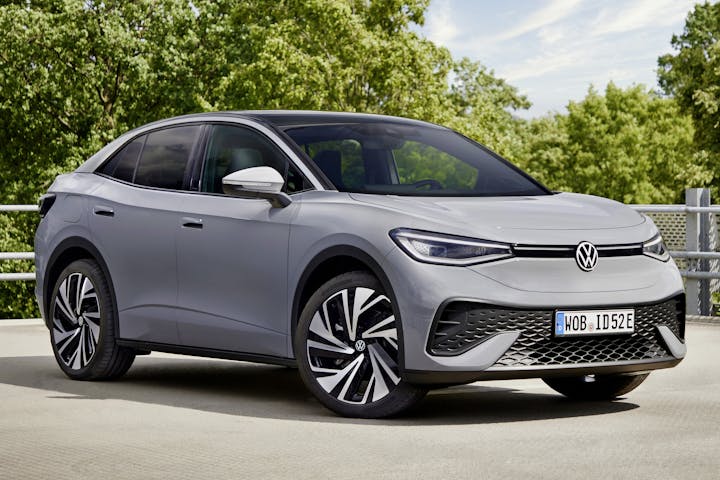 £3,254.38 Initial rental (ex. VAT)
£3,905.26 Initial rental (inc. VAT)
48 Month term
5000 Annual mileage
Offer expiry Thursday, 14 December 2023
Subject to status and conditions + arrangement fee
£361.

60
Business contract hire per month (ex. VAT)
£433.

92
Personal contract hire per month (inc. VAT)
Pre-Registered Vehicle
£3,352.50 Initial rental (ex. VAT)
£4,023.00 Initial rental (inc. VAT)
48 Month term
5000 Annual mileage
Offer expiry Thursday, 14 December 2023
Subject to status and conditions + arrangement fee
£372.

50
Business contract hire per month (ex. VAT)
£447.

00
Personal contract hire per month (inc. VAT)
Pre-Registered Vehicle
In Stock
Choose your ID.5 car lease
About the Volkswagen ID.5 electric car
The successful ID brand from Volkswagen continues to grow with their first all-electric SUV coupe. The all-electric ID.5 from Volkswagen is the next leap in EV technology. Housed in a sleek SUV body is all of the latest rapid-charging options, infotainment system and futuristic powertrain. The new electric car will be available in 2 models ID.5 and the sport ID.5 GTX with dual-motor all-wheel drive inspire delight with their expressive design, long-distance capability and the latest generation of software with over-the-Air Update capability.
Even though the ID.5 takes the shape of an SUV, its curved roofline and sweeping body make it more of a coupé than the traditional boxy design of an SUV. Volkswagen have made no compromises inside, however, even with the sloping rear, there's still plenty of headroom for passengers in the rear-seats.
Charging the Volkswagen ID.5
Just like the Volkswagen ID.3 and ID.4, the new ID.5 is manufactured at the Zwickau plant and both models are carbon-neutral on delivery to the customer… and if you recharged using 100 percent green energy, the vehicles are virtually climate-neutral. In terms of the vehicle's battery and range the ID.5 comes with a 77kWh battery which translates into an official range of 323 miles WLTP. We estimate the ID.5 will achieve a more realistic 'real world' range of around 265 miles to a single charge.

Charging the Volkswagen ID.5 is straight forwards, most drivers will charge up at home on a 7 kWh wall box home charger, you can expect this to take around 12 hours to completely recharge from flat to full. You can also top up the vehicles charge when your on go at one of the many public charging stations across the country, you can gain up to 80% charge in just 40 minutes when using a 100 kW charger.
| Model | Battery size | Usable battery size | Real world range | WLTP range |
| --- | --- | --- | --- | --- |
| Volkswagen ID.5 Pro | 82 kWh | 77 kWh | 265 miles | 321 miles |
| Volkswagen ID.5 GTX | 82 kWh | 77 kWh | 250 miles | 296 miles |
Volkswagen ID.5 features
We loved the Volkswagen ID.4 electric car and gave it a glowing review after road-testing the GTX variant. The ID.5 stays true to form, and becoming an incredibly popular EV to lease.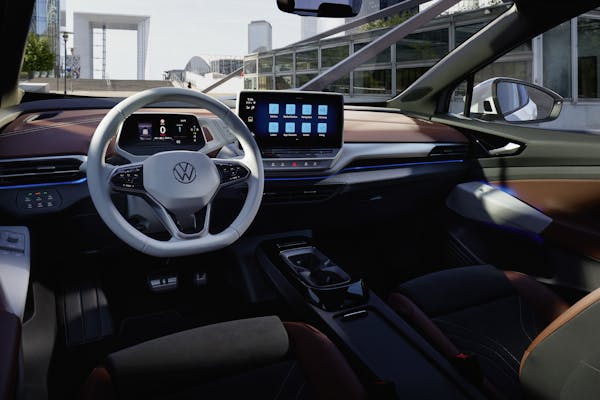 Premium Interior
Interior-wise, there's plenty of nifty touches giving the ID.5 a premium feel. Mood lighting floods spots around the cabin with your colour of choice. An augmented reality, heads-up display shows vital driver information along the bottom of the windscreen. There's even Apple Music fully integrated within the infotainment system.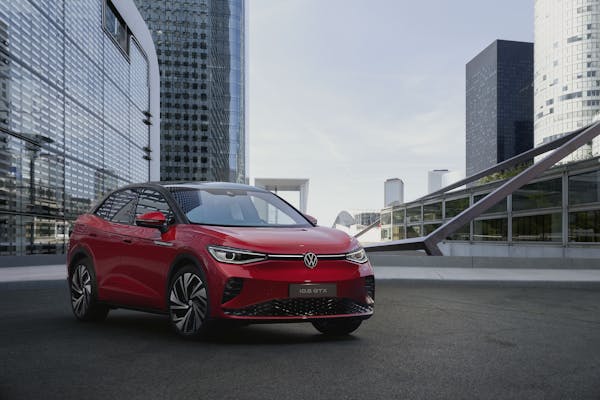 ID.5 GTX model
Go for the top of the range Volkswagen ID.5 and experience the sporty performance of the ID.5's all-wheel-drive, all-electric drive, reach 0 - 62 mph in 6.2 seconds. When opting for this model, you'll also get 20" upgraded alloy wheels, as well as GTX sport styled interior and exterior.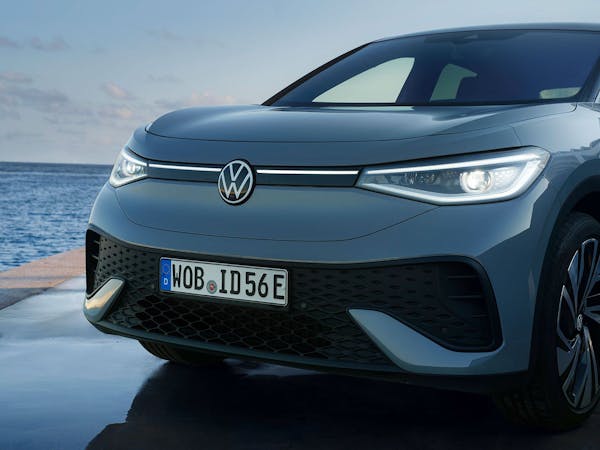 ID. Light
Just say -"Hello ID." – ID. Light responds to your voice, controlling equipment such as the radio, navigation system or your phone quite simply through voice control. Using the ID. Light, your ID.5 also communicates visually and, in conjunction with sat-nav, helps you to get through traffic. The car welcomes you and translates instructions from your infotainment and assist systems into light signals that guide you through the traffic more easily. When your journey is over and you get out the car, the ID.5 will wave you farewell – with light signals.