Honda Honda e electric lease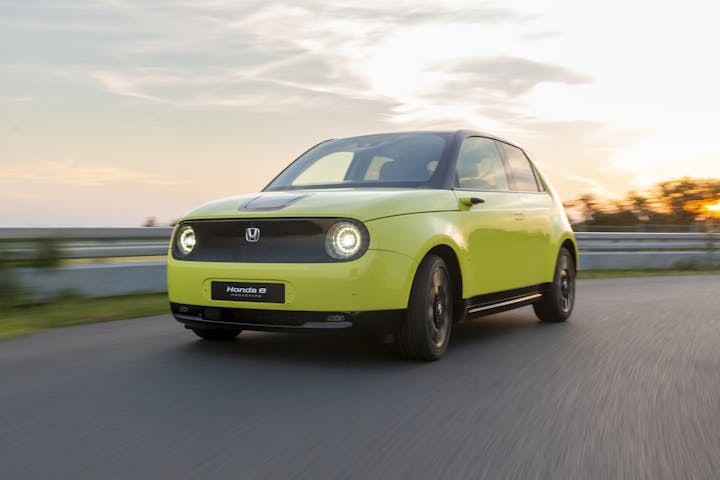 Choose your Honda e car lease
£3,572.04 Initial rental (ex. VAT)
£4,286.44 Initial rental (inc. VAT)
48 Month term
5000 Annual mileage
Subject to status and conditions + arrangement fee
£396.

89
Business contract hire per month (ex. VAT)
£476.

27
Personal contract hire per month (inc. VAT)
£3,633.83 Initial rental (ex. VAT)
£4,360.60 Initial rental (inc. VAT)
48 Month term
5000 Annual mileage
Subject to status and conditions + arrangement fee
£403.

76
Business contract hire per month (ex. VAT)
£484.

51
Personal contract hire per month (inc. VAT)
The Honda e is one of the most charming electric vehicles available on the market. Its short wheelbase, friendly front-end and tech-filled interior make the hatchback a joy to own.
But don't think its cutesy design comes with any sort of compromises. The Honda e is an incredibly capable EV. The sleek compact design is helped stay streamline by the replacement of traditional wing mirrors with rear-facing cameras. Inside, the entire dashboard is filled with screens - the outer edges feeding a constant livestream from the aforementioned 'mirrors'. It's bristling with tech and great design choices.
Above all though, the Honda e is just a very nice car to drive. As expected from the Japanese automaker, the Honda is incredibly refined, comfortable over bumps and puts a smile on the driver's face.
This is made all the more impressive considering this is Honda's entry point into the Western electric vehicle market. It's the ultimate city car and we're hard-pressed to find a direct competitor.
The Honda e is offered with one battery size: a 36kWh power pack.
In the ultimate city car, an official WLTP range of 138 miles is more than enough for the Honda e to take you on an urban adventure and get you home. Although at DriveElectric we emphasise a 'real world' range for all of our leases, the Honda e will realistically go around 105 miles before needing a top-up.
Thankfully the Honda e is incredibly quick and easy to fill up. Utilising the European standard Type 2 and CCS connectors, charging from flat-to-full using a standard 7kWh wall-box charger takes around 5 hours 15 minutes.
Find a 100kW rapid charger however, and the Honda e's battery will charge from 10-80% in just over 35 minutes.