Volkswagen ID Buzz electric lease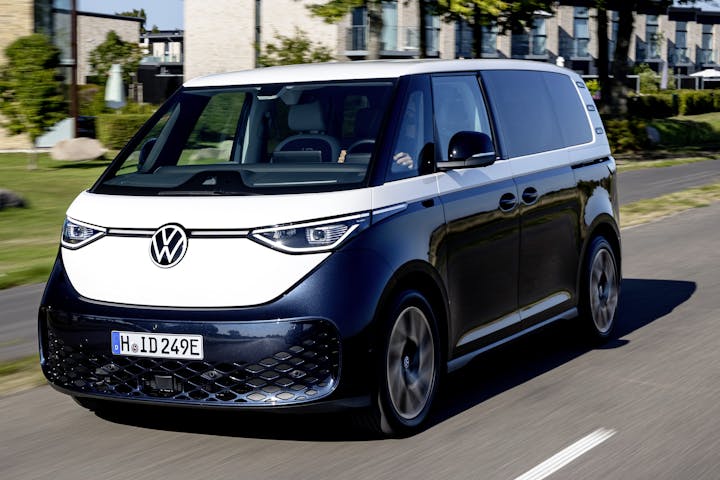 Choose your ID Buzz car lease
£5,479.55 Initial rental (ex. VAT)
£6,575.46 Initial rental (inc. VAT)
48 Month term
5000 Annual mileage
Subject to status and conditions + arrangement fee
£608.

84
Business contract hire per month (ex. VAT)
£730.

61
Personal contract hire per month (inc. VAT)
£5,910.99 Initial rental (ex. VAT)
£7,093.19 Initial rental (inc. VAT)
48 Month term
5000 Annual mileage
Subject to status and conditions + arrangement fee
£656.

78
Business contract hire per month (ex. VAT)
£788.

13
Personal contract hire per month (inc. VAT)
About the Volkswagen ID. Buzz
One of the most iconic sights of British roads is the Volkswagen Campervan. Its unmistakable design is synonymous with the freedom of the 1960s, but with tighter safety and after 60+ years of production – the last VW Campervan rolled off a Brazilian assembly line in 2013.
But it's back and causing quite the buzz.
The Volkswagen ID. Buzz is the lovebug of the future. An all-electric powertrain brings the model in line with the modern requirements of motoring, which also has the benefit of removing the 'characterful' reliability issues of the classic Campervan!
It's the perfect mix of classic design and future technology. So if you're looking for an ultra-desirable personal or business lease for the Volkswagen ID Buzz, configure your vehicle today.
The electric vehicle 'buzzing' with technology
The VW ID Buzz comes loaded with lots of the latest safety and driver assistance systems, with software regularly updated 'over the air' - reducing the reliance on having dealer centres performing large software updates.
One of the most exciting enhancements - available as an option on the ID Buzz, is the addition of using Swarm Data in combination with the vehicle's travel assist systems. As the name suggests, Swarm Data uses anonymous data from lots of other vehicles - several hundred thousand VW Group vehicles - to take the ID Buzz one step closer to autonomous driving.
An example of using this latest tech is where the ID Buzz can change lanes safely and automatically at motorway speeds, simply by the driver tapping the turn signal. The vehicle will then use all of its sensors, plus swarm data to execute the manoeuvre. At all times, the driver can take over instant control and they must also have their hands on the wheel.
Learning to park...
Another interesting optional extra on the ID Buzz is the ability for it to learn and repeat regular parking events - i.e. parking at the same location at work or driving onto a driveway or into a garage.
With the system, the driver needs only perform the parking manoeuvre once and hit the save button for the vehicle to perform the same manoeuvre next time. Clever stuff.
What does Ewan McGregor think about the ID Buzz?
Hollywood actor Ewan McGregor is certainly a fan...