EV-powered Hyundai Hotel opening soon!
You read it right! The world's first hotel powered by cars will soon welcome guests in Essex, UK.
The Hyundai Hotel is the first hotel in the world to be powered by a car – an electric car, to be precise.
The car in question is the Hyundai IONIQ 5, which features a vehicle-to-load (V2L) function, allowing the EV to power domestic appliances – or in this case, an entire hotel.
You simply insert an adaptor with a three-pin socket to the car's charging socket and you can connect any electrical item with a three-pin plug, which can then be powered by the car's battery.
The 'pop-up' Hyundai Hotel includes a luxury cabin, restaurant and private cinema – all of which are off-grid.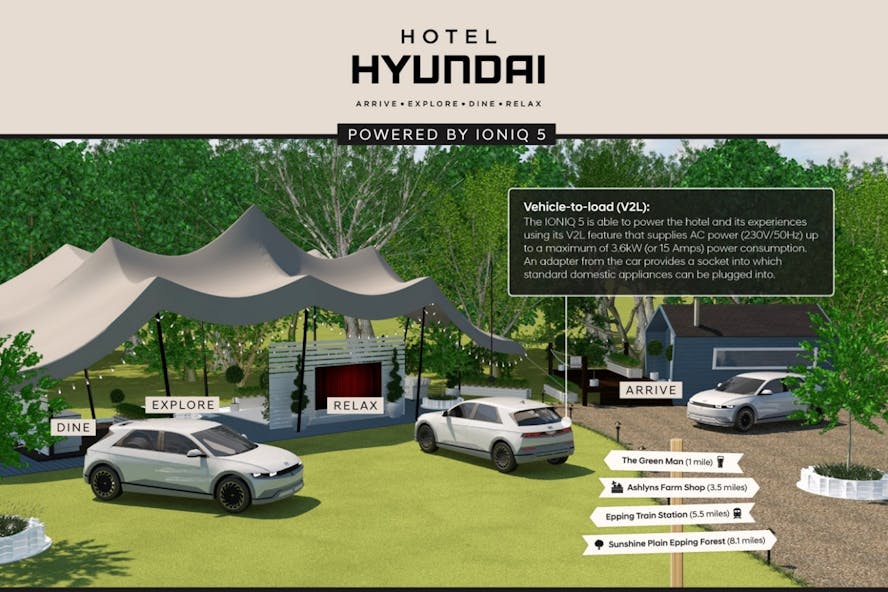 Hyundai believes that its EV Hotel concept, located in the Essex countryside, will appeal to people due to the cost of living crisis, as research with 2,000 holidaymakers found over half (55%) said they would be rethinking their future holiday plans. Nearly half (44%) said they would like to go on more staycations in 2023 compared to 2022.
Hotel Hyundai is now open for bookings, offering a high-end luxury cabin with lights, electric sockets, kettle and shower powered by the Hyundai IONIQ 5.
The restaurant offers a local menu using sustainable ingredients sourced within Essex, curated by broadcaster and critic Grace Dent. There will be 'indoor-outdoor' dining and cooking over fire, and the bar and restaurant area will have an IONIQ 5 coffee lounge.
There's also a cinema, with a car-powered projector and speakers.
Members of the public will be able to win a stay at the hotel and enjoy the full experience on offer with welcome cocktails, a three-course meal, evening film and breakfast hamper all included.
Hotel Hyundai is open for 14 nights from 19 October to 5 November 2022. To be in with a chance to win a stay, visit: www.kiphideaways.com/hideaways/hotel-hyundai. The competition will run from 06 October to 19 October 2022.
Hatchback
Up to 275 miles range
£3,705.75 Initial rental (ex. VAT)
£4,446.90 Initial rental (inc. VAT)
48 Month term
5000 Annual mileage
Subject to status and conditions + arrangement fee
From
£411.

75
per month (ex. VAT)
From
£494.

10
per month (inc. VAT)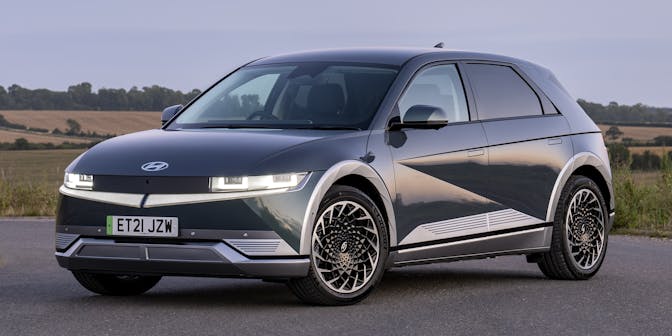 Take a look at some of our electric car lease special offers...
£2,713.18 Initial rental (ex. VAT)
£3,255.81 Initial rental (inc. VAT)
48 Month term
5000 Annual mileage
Subject to status and conditions + arrangement fee
£301.

46
Business contract hire per month (ex. VAT)
£361.

76
Personal contract hire per month (inc. VAT)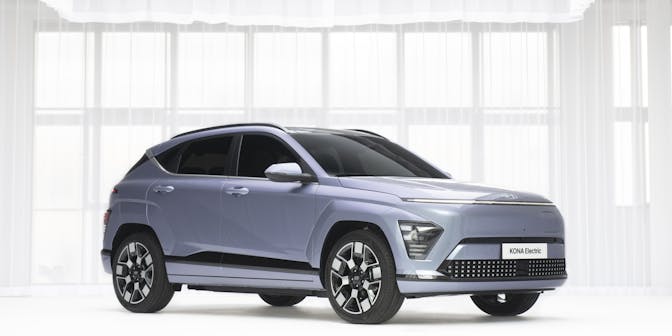 £2,067.67 Initial rental (ex. VAT)
£2,481.20 Initial rental (inc. VAT)
48 Month term
5000 Annual mileage
Subject to status and conditions + arrangement fee
£229.

74
Business contract hire per month (ex. VAT)
£275.

69
Personal contract hire per month (inc. VAT)
£2,728.44 Initial rental (ex. VAT)
£3,274.13 Initial rental (inc. VAT)
24 Month term
5000 Annual mileage
Subject to status and conditions + arrangement fee
£303.

16
Business contract hire per month (ex. VAT)
£363.

79
Personal contract hire per month (inc. VAT)