AEHRA SUV combines an EV and a home theatre
With their state-of-the-art new SUV, AEHRA has improved the EV experience so you don't even have to leave your driveway to watch your favourite movie!
The AEHRA SUV, with an expected driving range of around 500 miles and a top speed of 164 mph, is described as an 'ultra-premium electric vehicle', combining 'Italian design, world-class engineering and American customer service'.
The SUV features doors that open upwards, a three-metre wheelbase, very short overhangs, and a flat floor in order to maximise interior space. This space is used to offer home theatre, meeting room and lounge configurations.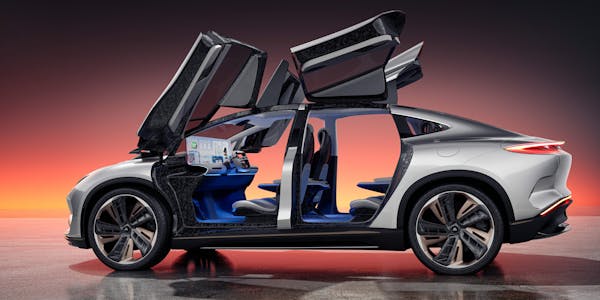 The interior includes a full dashboard-width high definition monitor, which is extendable upwards when the vehicle is parked and in lounge, home theatre or meeting room mode, allowing occupants to watch a movie or take part in a conference call, for example while charging. The two outer areas of the screen act as virtual exterior mirrors, showing high definition images from two front exterior side cameras.
A secondary, smaller touchscreen is mounted in the centre of the hand-stitched leather dashboard, enabling both front-seat occupants to control vehicle functions such as navigation, heating and ventilation and entertainment.
An oblong-shaped yoke-like steering wheel features a digital strip providing driving information. The seats, constructed from aluminium, recyclable carbon fibre composite and leather, are based on those in supercars in order to provide support, with low weight and high strength construction inspired by the aerospace industry. In the rear, passengers can recline their seats.
AEHRA, based in Milan, claims that the SUV's body, which includes forged carbon fibre technologies to result in a weight of less than 2 tonnes, is extremely aerodynamic – despite 23-inch wheels at the front and 24-inch wheels at the rear – and the basic design is further improved by movable elements of the body.
The AEHRA SUV is expected to cost between $160, 000 and $180, 000 (a saloon is also due to be unveiled in April 2023). If you like the sound of the AEHRA, you'll have to wait for one, as deliveries aren't expected to start from the new brand until late 2025 in key markets including North America, Europe, China, and the Gulf States.
Our electric car lease specials...
£2,713.18 Initial rental (ex. VAT)
£3,255.81 Initial rental (inc. VAT)
48 Month term
5000 Annual mileage
Subject to status and conditions + arrangement fee
£301.

46
Business contract hire per month (ex. VAT)
£361.

76
Personal contract hire per month (inc. VAT)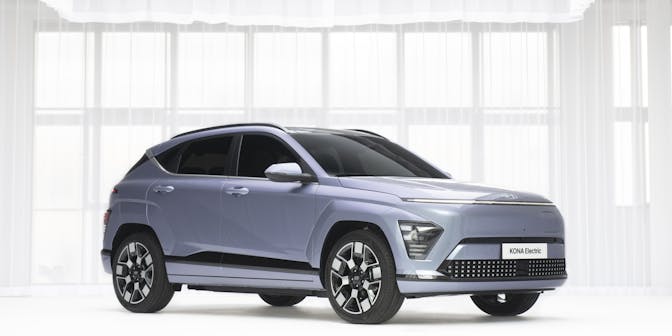 £1,951.79 Initial rental (ex. VAT)
£2,342.15 Initial rental (inc. VAT)
48 Month term
5000 Annual mileage
Subject to status and conditions + arrangement fee
£216.

87
Business contract hire per month (ex. VAT)
£260.

24
Personal contract hire per month (inc. VAT)
£2,728.44 Initial rental (ex. VAT)
£3,274.13 Initial rental (inc. VAT)
24 Month term
5000 Annual mileage
Subject to status and conditions + arrangement fee
£303.

16
Business contract hire per month (ex. VAT)
£363.

79
Personal contract hire per month (inc. VAT)