Ford E-Transit Custom electric lease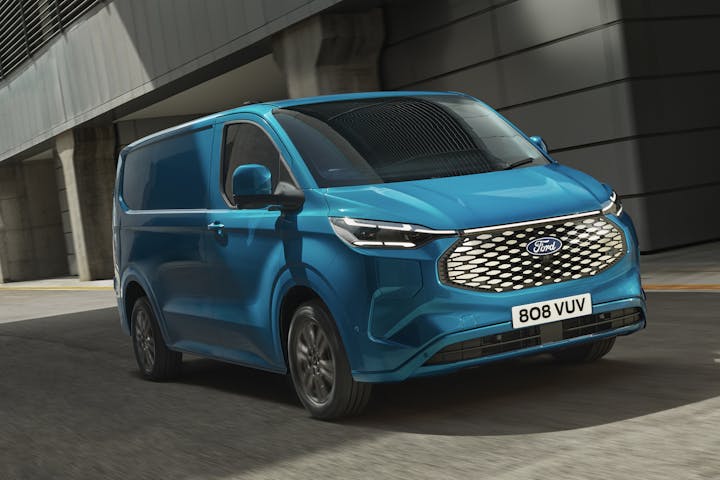 Ford's first all-electric entry into the ever-popular medium van market, this is the exceptional Ford E-Transit Custom. Available from Autumn 2023.
Built from the ground up as an electric-powered light commercial vehicle
We currently do not have any deals available for the Ford E-Transit Custom. To discuss alternative EVs call us on: 01628 899727. Monday to Friday 08:30am to 5:30pm.
Sign up to our mailing list and we will send you details of our great electric vehicle leasing deals.
Subscribe
Ford E-Transit Custom business lease
Sure to be incredibly popular for UK businesses large and small, this is the Ford E-Transit Custom and DriveElectric is delighted to see such an accomplished electric van nearing production. We can't wait to offer competitive E-Transit Custom business lease rates on it.
Part of a $2bn investment by Ford in their Turkey facilities, the Ford E-Transit Custom will begin rolling off the production line in late 2023. It's been engineered from the wheels up to be electric-powered, rather than sticking a battery pack in an existing chassis, which means the Blue Oval company has been able to really go to town on the product - adding lots of features that are sure to be popular in the market.
Powering the Ford E-Transit Custom
Ford is promising latest generation battery technology for the E-Transit Custom, utilising advanced 82Ah pouch cells which can also be found in their Ford F-150 Lightning pick-up, with a 74kWh useable battery pack available initially. Vehicle range is predicted to be around 236 miles using the WLTP criteria, which in the real world will mean a realistic range of around 200 miles. That's around 4 times the distance the average Transit Custom van travels on a daily basis.
There'll be a choice of two power outputs at launch - 100kW and 160kW - with the electric motor fitted directly to the van's rear floor, ensuring that there's no reduction in load space. With 415Nm of torque available it means that the E-Transit Custom has the capability to tow up to 2,000kg, hitherto unknown in the all-electric medium van segment.
Finally, Ford will also be fitting vapour-injected heat pumps as standard across the range, not as an optional extra, which further improves the vehicle's energy efficiency, conserving energy to optimise the available driving range.
Ford E-Transit Custom charging
Probably as important as vehicle range is how the E-Transit Custom can be topped up with energy and again Ford is pulling together a compelling package.
Firstly, at DriveElectric we always say that the best way to charge an electric vehicle is overnight - when the vehicle isn't in use and the level of carbon being used to produce electricity is at its lowest - so the onboard 11kW AC charger means that a full charge of the 74kWh battery pack will take just under 8 hours to complete. So whether sat in a driveway or in a work compound, the Ford E-Transit Custom can be ready for a full day of work, if it's been pulled in over night.
However, there are occasions when a fast charge might be required, using the public network, and these this is called upon Ford is ensuring that the E-Transit Custom can accept a lot of DC power in a short space of time. The van will support up to 125kW of DC juice, which means Rapid and Ultra-Rapid public chargers can be used.
In lab conditions, the Ford engineers were able to add 24 miles of range in just 5 mins. In reality, this means that a single 30-40 minute lunch break at a rapid charger can take the battery from 15% to 80% capacity.
Improved E-Transit Custom utility
Regardless of the battery pack and charging capabilities, first and foremost any electric van needs to offer a practical load space and again the designers and engineers have worked their magic, with a available load volumes ranging from 5.8 to 9 metre squared, and a payload of up to 1,100 kg.
Short, long and low and high roof options will be available, as well as kombi and double cab variants.
E-Transit Custom, the mobile office
There are some inventive features to the Ford E-Transit Custom which we love, the main one being the tilting steering wheel. Ford understands that for many Transit Custom customers, their van is their office, which might mean eating lunch in there, firing up a laptop or taking notes on pen and paper - and that's where the tilting steering wheel comes in.
As part of the Mobile Office option pack, the steering wheel can be tilted into position which suits the use of a tablet or laptop or even into an entirely flat position to make is a small but highly useful table - perfect for a sandwich and drink.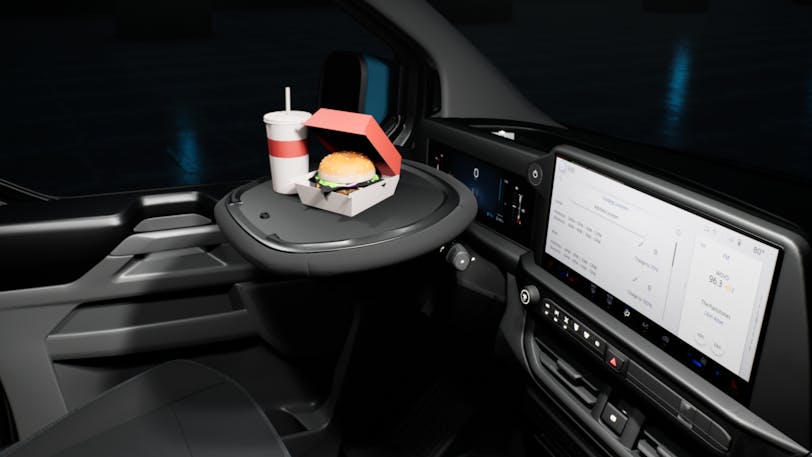 Ford is also promising the introduction of digital keys with the launch of the E-Transit Custom, aimed at reducing the stress around hunting for a single set of keys. Instead we're promised that it will function much in the same way as a hotel room key, with the van operator able to remotely assign and track keys.
We can't wait to get behind the wheel of the Ford E-Transit Custom and if it lives up to the hype, which we are sure it will, the van will become an incredibly popular business lease option at DriveElectric.
Make sure to sign up to our mailing list to never miss an EV news story again!
Looking for a different manufacturer?