Ford E-Tourneo Custom electric lease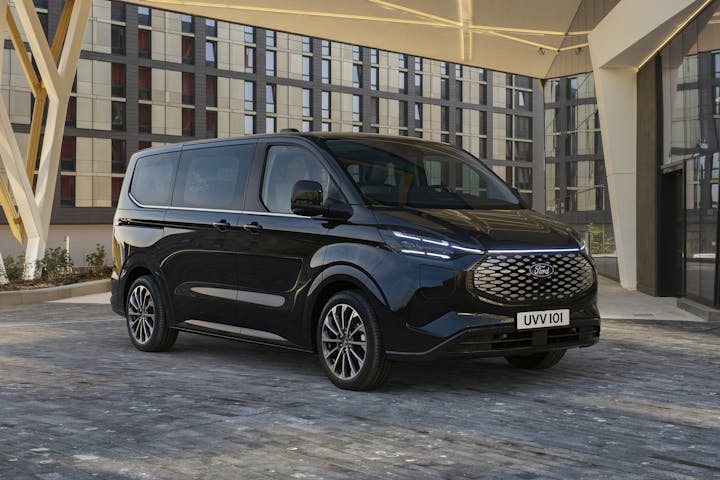 If you're looking to transport up to eight people to outdoor adventures with zero tailpipe emissions,then Ford will soon have a solution for you in the form of the all-electric E-Tourneo Custom Multi-Activity Vehicle.
We currently do not have any deals available for the Ford E-Tourneo Custom. To discuss alternative EVs call us on: 01628 899727. Monday to Friday 08:30am to 5:30pm.
Sign up to our mailing list and we will send you details of our great electric vehicle leasing deals.
Subscribe
Alternatively, with a driving range of up to 230 miles (WLTP), the E-Tourneo Custom can be used by companies that are in the business of transporting people - hence the name 'Multi-Activity Vehicle'. 
The seats in the rear of the vehicle are mounted on tracks and can be moved around - such as into a six-person conference layout - or removed completely, making space for items such as kayaks if required.  
If you can't fit everything in the E-Tourneo, you could use a trailer, as it has a towing capacity of 2,000kg.
When launched the E-Tourneo Custom will be one of the best available EVs on the market when looking for a vehicle which offers a significant amount of rear space.
The E-Tourneo Custom features a 74kWh useable battery and a 160kW electric motor. A 15-80 per cent charge should take around 41 minutes using a 125kW DC fast charger, when 23 miles of range could potentially be added in just five minutes.
Using 11kW AC three-phase charging, a full charge should take less than eight hours.
Domestic electrical appliances, tools or camping and sports equipment can be charged from the vehicle using sockets in the cabin. 
The E-Tourneo Custom has a large glass panoramic roof and power-operated sliding side doors which feature hands-free operation, allowing the doors to be opened using a kicking motion next to the front wheel. 
It also has all-new independent rear suspension and a reduced overall height of under two metres for many variants, which allows access to garages and multi-storey car parks. 
The Ford E-Tourneo Custom is available in Active, Sport and Titanium X trims. Standard and long wheelbase models offer up to eight seats in E-Tourneo Custom models. 
All-wheel drive is also available – but unfortunately only with a diesel engine (and there's also a Plug-In Hybrid (PHEV) version too). 
The Ford E-Tourneo Custom Multi-Activity Vehicle will be available after mid-2023, and is one of four new all-electric Ford Pro models being launched in Europe by 2024.
Lease terms will be available on the Ford E-Tourneo Custom closer to launch.