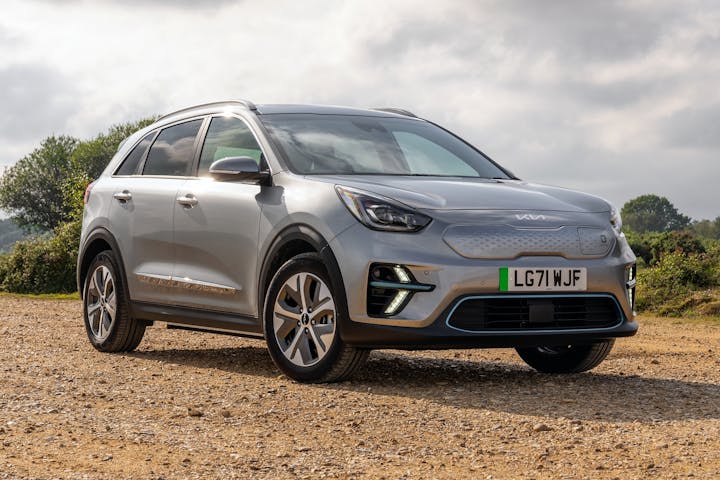 We currently do not have any deals available for the Kia e-Niro, but sign up to our mailing list and we will send you details of our great electric vehicle leasing deals.
Subscribe
About the Kia E-Niro lease deals
The Kia E-Niro is a multi-award winning, all-electric SUV. Its popularity is undeniable and is quickly becoming a staple of British roads, accounting for a large proportion of our leases.
It utilises the popular SUV body-style and comes packed full of new technology. With plenty of space for passengers and luggage, combining versatility with cutting-edge EV tech. it is a perfect choice for anyone looking to make the switch to electric motoring.
But don't take our word for it. The Kia E-Niro continues to be one of our most popular leasing options, combining a stand-out vehicle with unbeatable affordability. It also won 'Car of the Year' in 2019. as well as 'Best Electric Car' in 2020.
The Kia E-Niro is offered with two battery options: the 39kWh and 64kWh.
This E-Niro's 64kWh capacity battery is exclusive to the 'Long Range Model', as it grants the Kia a range of up to 283 miles (WLTP) from a single charge. At DriveElectric, we carry out our own diagnostics to gather a 'real world' range, and put the realistic range of the 64kW model at 230 miles.
Utilising the European standard charging connectors of Type 2 and CCS connector, accommodates both rapid and standard charging. Plugged into a 7kW home wall-box charger the Kia E-Niro will charge from 0-100% in circa 10 hours. When using a rapid charger, the E-Niro can be topped up to 80% in 45 minutes.
Read our review of the Kia e-Niro
Looking for a different manufacturer?