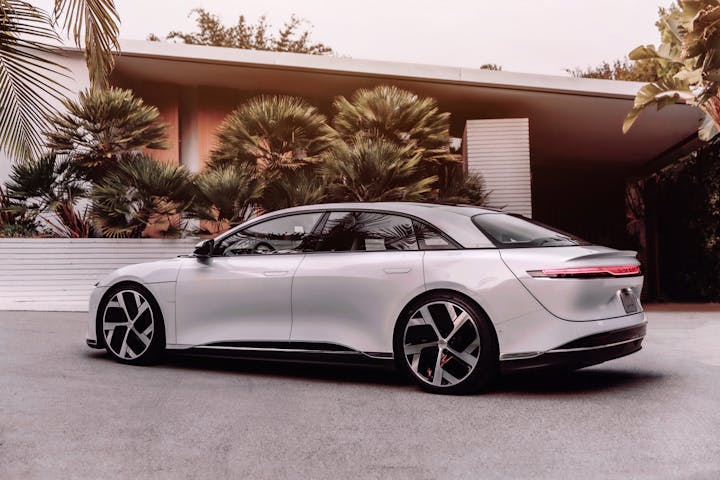 We currently do not have any deals available for the Lucid Air. To discuss alternative EVs call us on: 01628 899727. Monday to Friday 08:30am to 5:30pm.
Sign up to our mailing list and we will send you details of our great electric vehicle leasing deals.
Subscribe
Meet the pinnacle of electrified mobility. The Lucid Air takes luxury, performance and range then turns them all up to 11. The American automaker knows the desirability of the Air, urging users to 'Pick a dream car' on their model page. Modesty may not be at the top of the agenda for Lucid, but it's hard to argue - the Air really is an all-electric dream car.
From a design perspective, the Air is incredibly sleek. With a 0.21 drag coefficient, the extreme aerodynamic shape allows for maximum efficiency, helping achieve its jaw-dropping range. But the Lucid doesn't compromise on practicality. Under the bonnet is a huge 'frunk', which has a capacity four times the size of other electric cars.
The interior houses advanced tech lifted straight from sci-fi movies. A giant 5K 34" screen adorns the dashboard, displaying all of the driver information, entertainment options and ambient light controls. An additional, retractable screen sits in the centre panel, displaying additional vehicle information.
All of the Air's luxurious underpinnings are backed by Lucid's commitment to sustainability. The Air truly is a revolutionary electric vehicle.
The Lucid Air is offered in a few model variants, however there are only two sizes of Lucid's in-house battery: an 85kWh pack and a 105kWh pack.