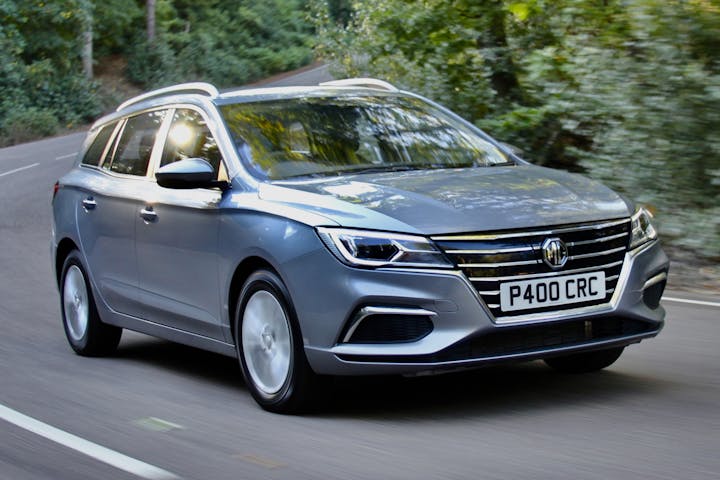 We currently do not have any deals available for the MG MG5. To discuss alternative EVs call us on: 01628 899727. Monday to Friday 08:30am to 5:30pm.
Sign up to our mailing list and we will send you details of our great electric vehicle leasing deals.
Subscribe
The electric vehicle market is going through somewhat of a renaissance, with an option for nearly every need: nippy hatchbacks, insanely fast performance cars or sleek SUVs. One glaring omission though is the estate car. Even German titans such as Audi are yet to offer an electric estate. Thankfully, MG has saved the day.
Meet the MG5.
Boasting a spacious interior, this 5-seater has a high capacity boot with over 1450 litres of space with the seats down. A cavernous cabin isn't the only perk this MG offers though. Standard features include Lane Keep Assist, Advanced Emergency Braking and cruise control. Entertainment wise, there's a whole suite: Apple Carplay/Android Auto, Bluetooth and a DAB radio.
Thanks to its affordability and generous equipment, the MG5 is one of the best entry points into electric vehicles on the market today.
The MG MG5 is offered with a 61kWh battery.
According to official WLTP figures, the MG5 has a range of 250 miles. At DriveElectric we carry out our own testing to determine a 'real world' range so there are no surprises for our customers. Results of our tests put the real range at around 210 miles per charge.
Charging wise, a full charge using a standard 7kW wall-box charger will take around 10 hours 15 minutes. Most EV drivers plug in overnight, taking advantage of reduced electricity costs that many providers offer off-peak. Using a 50kW rapid charger however, will top the charge up to 80% in just 1 hour.