Smart ForTwo Coupe electric lease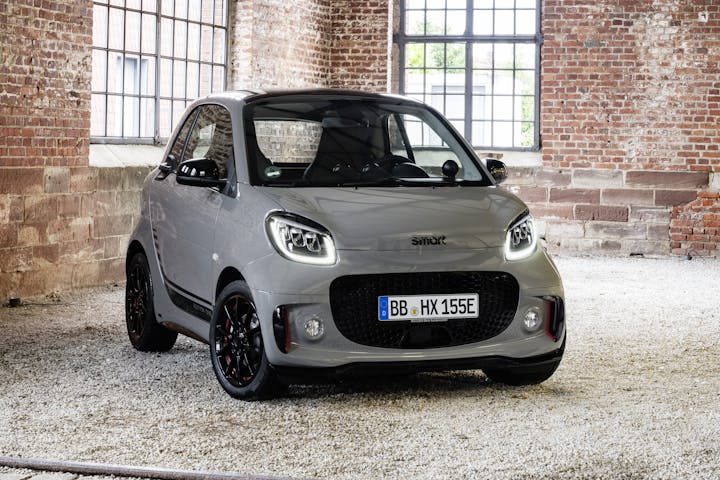 Choose your ForTwo Coupe car lease
£2,841.83 Initial rental (ex. VAT)
£3,410.20 Initial rental (inc. VAT)
48 Month term
5000 Annual mileage
Subject to status and conditions + arrangement fee
£315.

76
Business contract hire per month (ex. VAT)
£378.

91
Personal contract hire per month (inc. VAT)
£2,957.79 Initial rental (ex. VAT)
£3,549.34 Initial rental (inc. VAT)
48 Month term
5000 Annual mileage
Subject to status and conditions + arrangement fee
£328.

64
Business contract hire per month (ex. VAT)
£394.

37
Personal contract hire per month (inc. VAT)
About the Smart EQ fortwo Coupe
The Smart EQ fortwo is designed to be the ultimate urban city car. With a short range and a short recharge time, it's made for on-the-go city drivers who need to quickly pop from A-to-B in style.
With a short wheelbase and tight handling, the fortwo Coupe is a feel good car that's able to nip into the tiniest of spaces and weave between traffic in built-up areas.
Above all else, this is an EV that will put a smile on your face.
Charging the Smart EQ fortwo Coupe
The dinky 17kWh battery gives the fortwo a modest WLTP range of 81 miles. However, at DriveElectric we would suggest a more realistic range of 60 miles. Of course, in comparison with 300+ mile ranges of behemoth Teslas, a 60 mile range doesn't seem like much.
But the smart fortwo is for zipping around built up areas. Short mileage, with lots of destinations.
A small battery means even shorter recharge times, too. Using a standard 7kW at-home wall-box charger fills the battery in only 2 hours 45 minutes. Find a 22kW charger and the time drops to only 55 minutes.