Tesla Model S electric lease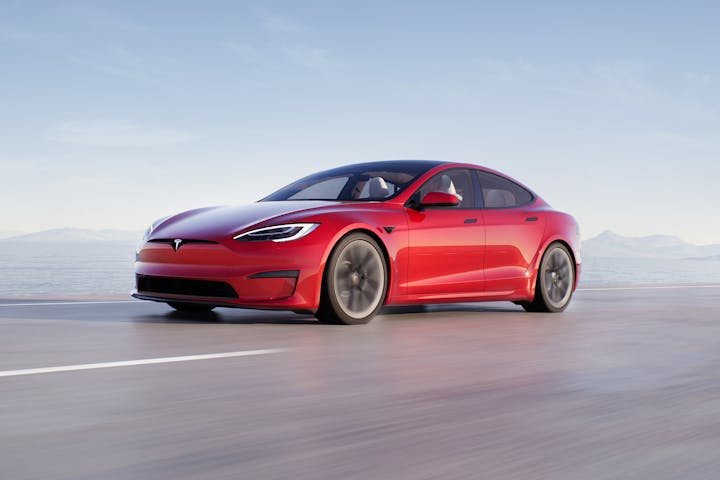 One of the world's most popular electric cars, and the UK's second most popular model full stop during 2021.
We are so excited here at DriveElectric to offer you the chance to lease a Tesla Model S. Whether you're after a personal contract hire or a Tesla Model 3 business lease, our rich history with this ground-breaking manufacturer makes us the perfect choice for your next Model S.
The Tesla Model S received its first major redesign. It will now come in two specs, the Long Range and the Plaid, with the Plaid+ a further upgrade to the range. This beautiful luxury EV is premium through and through, with the Long Range model boasting a higher range, and the Plaid version offering hair-raising performance.
We currently do not have any deals available for the Tesla Model S. To discuss alternative EVs call us on: 01628 899727. Monday to Friday 08:30am to 5:30pm.
Sign up to our mailing list and we will send you details of our great electric vehicle leasing deals.
Subscribe
How long does it take to charge the Tesla Model S?
The fast charging technology in this car is astonishing. Tesla's pioneering Superchargers operate at 250kW and can add up to 200 miles to your battery in just 15 minutes. This is ideal for a quick pit stop at a service station on a long journey, where you can use the car or app to communicate with charge points. With more than 20,000 Superchargers around the world and over 500 already across the UK and Ireland, most of the major routes you're likely to need are covered both at home and abroad.

If you're charging at home, it takes around 13 hours to boost the battery from zero to full using a 7kW home wall box charger.

The battery size is the same in both variants of the Tesla Model S lease, however, the Long Range can go a little further and the Plaid can go a little faster!
| Model | Battery size | Usable battery size | Real world range | WLTP range |
| --- | --- | --- | --- | --- |
| Tesla Model S Long Range | 100 kWh | 95 kWh | 360 miles | 405 miles |
| Tesla Model S Plaid | 100 kWh | 95 kWh | 350 miles | 390 miles |
The Model S is a real looker, and things have become a little more aggressive with the update. In a good way though, of course. Exterior changes are far from sweeping, but the new version is a touch meaner and sleeker. There are subtle tweaks to the bumper and bonnet, as well as some new alloy wheels to admire. After you've chosen a Tesla Model S lease, you get a car that feels a lot more like a premium saloon than the hatchback it is, with the air of luxury felt through features like the LED headlights, auto-dimming and power-folding wing mirrors and powered boot.
Things start to get even more interesting once you climb inside the cabin, where you'll find a clean, minimalist approach with the usual luxury Tesla feel. After the futuristic yoke steering wheel, the first thing you'll probably notice is the stunning 2200x1300 resolution, ultra-bright 17" touchscreen in the centre of the dash. This is your control centre, seamlessly connecting you with your infotainment system. Whether you're operating your satellite navigation, Bluetooth, music, media streaming or internet browser, the cinematic display is both beautiful and user-friendly.
You can even play top-notch games on the screen, with wireless controller compatibility and a rear screen getting your passengers in on the action. Wireless and USB-C charging means you'll always stay connected via your phone, tablet and laptop, while there's a 22-speaker, 960-watt, noise-cancelling sound system for when you want to listen to some tunes. You should be nice and comfortable while you're tapping along to the music with your fingers, thanks to the tri-zone air conditioning, 12-way power-adjustable, heated and ventilated seats, and custom driver profiles.
12-way power adjustable heated front seats

Upgraded 8 speaker audio system – immersive sound

LED Headlights, fog lamps and daytime running lights
Tesla's supercar beater
Tesla claims the new Model S is the lowest-drag car on the planet. That means it's built for speed as well as range, both in a straight line and through corners. The Model S has the kind of acceleration we usually associate with supercars.
If you're searching for a Tesla Model S lease in the UK on an even faster model, the Tesla Model S Plaid could be for you. Whichever model you're interested in, we love talking about Tesla, so give us a call to discuss your next car today. You may prefer to head over to our Tesla FAQ page though, which is packed with lots more information about this trailblazing brand.