Fiat E-Scudo electric lease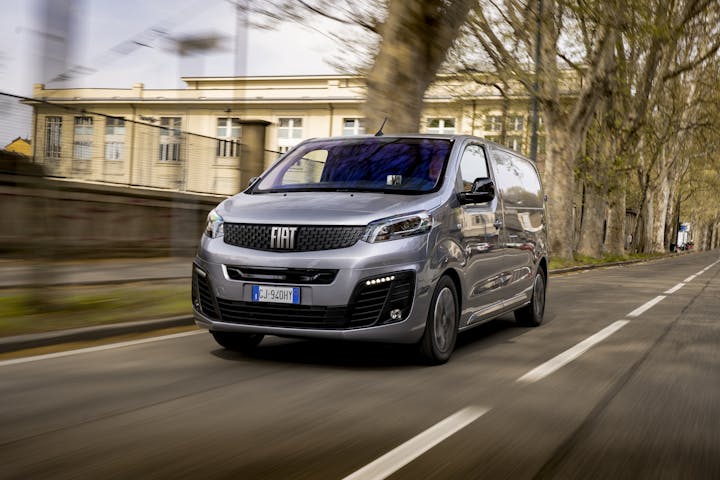 Introducing the Fiat E-Scudo: a no-compromise, better-driving, zero-emissions workhorse.
We currently do not have any deals available for the Fiat E-Scudo. To discuss alternative EVs call us on: 01628 899727. Monday to Friday 08:30am to 5:30pm.
Sign up to our mailing list and we will send you details of our great electric vehicle leasing deals.
Subscribe
The Fiat e-Scudo is built for maximising efficiency. Efficiency of load space, efficiency of range and efficiency of performance.
This winning formula leads to a van that feels like a car to drive. A smooth all-electric powertrain gets the Fiat up to its 80mph max speed with little fuss. With a low ride height of only 190cm, load volume is fully maximised.
The Fiat e-Scudo is designed for van drivers, by van drivers.
Meeting your business needs: cheaper and cleaner
Utilising an all-electric powertrain has many perks. But they can be distilled into two distinct categories; financial and environmental - both are great for a business.
The most immediate difference will be at the pumps. Electricity is far and away cheaper than diesel, creating an instantaneous saving the first day on the job. If you're a business operating in London, there's no ULEZ charge either. The same can be said for any clean air zones across the UK.
But there's no compromise when it comes to practicality. The payload is the same as its diesel equivalent, granting 1.2 tons of capacity. When we said it feels like a car to drive, the range is like a car's too. We've covered it in more detail below, but the largest battery pack affords the Fiat e-Scudo a WLTP range of 205 miles.
Charging the Fiat e-Scudo
The Fiat e-Scudo is offered with two different battery pack options; 50kWh or 75kWh.
Opt for the 50kWh pack and the Fiat e-Scudo achieves a WLTP range of 142 miles from a single charge.
The larger 75kWh option ups the maximum WLTP range to 205 miles, find a rapid charger out on the road and charging to 80% takes just 45 minutes.
Looking for a different manufacturer?