Guide to electric vehicle range
Find out how electric vehicle range is calculated and what can impact a vehicle's range good and bad!
Understanding electric vehicle range figures
At DriveElectric we always advise our customers that the mileage range you can expect to achieve from your electric vehicle will be lower than the 'Worldwide Harmonised Light Vehicle Test Procedure (WLTP)' figure claimed by the manufacturer.
This is mainly due to the conditions of the WLTP test which generates the figure. Typically the WLTP figure will be used by the vehicle manufacturer in promoting the vehicle, so if you're wondering why the figures we use are different to those on the carmaker's website this is why.
However, the good news is that the WLTP test is much more true to life than the previous 'New European Driving Cycle' (NEDC) test. We were delighted when new WLTP testing began in 2018, we have been concerned since 2013 about the previous test cycle's inability to reflect real-world driving conditions. 
Driving in the real world there is a significant combination of factors that will affect the vehicle's performance. These include;
Outside temperature
Simply put the warmer it is the better the battery will perform. So if it is cold outside you get less energy out of your battery plus you'll want to heat the interior of the car too, which uses up electricity. On the flipside, when the weather is warm your vehicle's battery is more efficient and you'll get better range.
Speed
The heavier you are on the accelerator pedal and the faster you go, the more quickly your battery will deplete. It is just as important a factor on vehicle range as the outside temperature. Driving at lower speed conserves energy and reduces vehicle drag which means your vehicle travels further on a charge. Driving at 55 mph compared to 70 mph can increase your range by up to 25%
Inside the car
Ancillary power use such as air-conditioning will affect the range a little but radio, lights and windscreen wipers have no noticeable effect on the range, where possible the ability to pre-heat the vehicle whilst connected to a charger will help retain battery range.
Topography
Driving up inclines, even slight ones, will affect the range. You can use the regenerative braking (energy recovered when slowing down) to counter this, but overall, hilly journeys use more battery power than driving on a flat road
Battery age
It's true that energy storage in a battery does decrease over time and after numerous charge cycles, however older electric vehicles, that have covered many miles, have been found to still provide a very similar range to when they were new with just a few percent fewer miles range as they get older.
Acceleration & driving style
Having a heavy right foot can really impact your vehicle's efficiency. So, if you accelerate slowly and allow the car to decelerate using the regenerative braking (which will save you on the cost of brake pads) rather than using the brakes, you can increase the range significantly compared to aggressive accelerating and hard braking. Give yourself plenty of room from the vehicle in front to minimise any last second braking.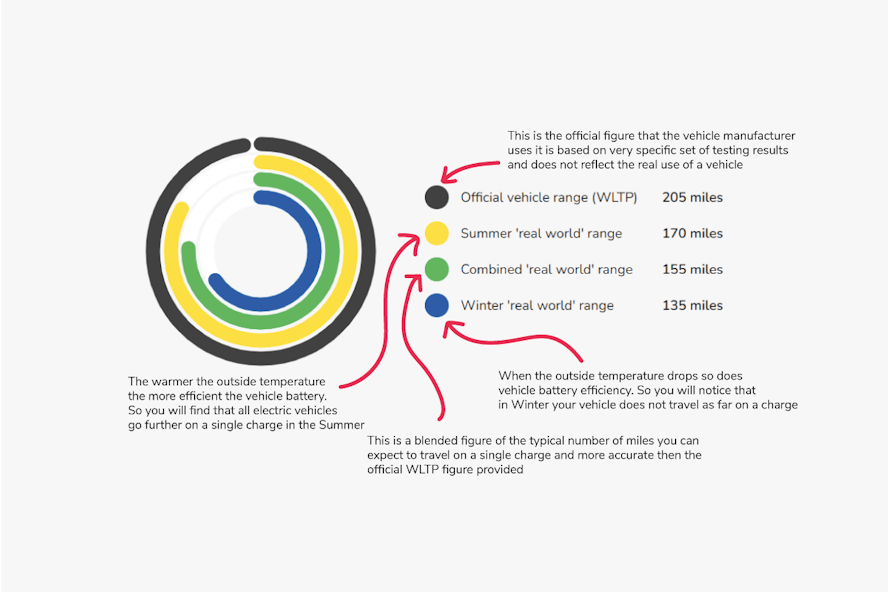 The vehicle range figures you find on all our lease deals shows four values. We display the 'official' WLTP range figure supplied by the manufacturer and calculated under laboratory conditions and then three 'real world' values.
Combined real world; is a blended average of range you can expect to see across a year of driving the vehicle
Winter real world; this figure is based on driving in months when the outside temperature is colder and the battery therefore is less efficient
Summer real world; this figure is based on driving in warm months, where the outside temperature is warmer and the battery more efficient.
DriveElectric's 'real-world' range figures are provided as an illustration based on our own testing and 3rd party data and does not constitute a guarantee of mileage range. It is merely a guide of what is possible in preferred conditions using an efficient driving style.
Our electric car lease special offers
£2,713.18 Initial rental (ex. VAT)
£3,255.81 Initial rental (inc. VAT)
48 Month term
5000 Annual mileage
Subject to status and conditions + arrangement fee
£301.

46
Business contract hire per month (ex. VAT)
£361.

76
Personal contract hire per month (inc. VAT)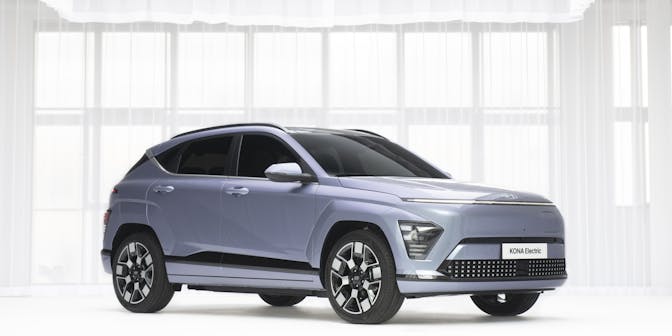 £2,067.67 Initial rental (ex. VAT)
£2,481.20 Initial rental (inc. VAT)
48 Month term
5000 Annual mileage
Subject to status and conditions + arrangement fee
£229.

74
Business contract hire per month (ex. VAT)
£275.

69
Personal contract hire per month (inc. VAT)
£2,728.44 Initial rental (ex. VAT)
£3,274.13 Initial rental (inc. VAT)
24 Month term
5000 Annual mileage
Subject to status and conditions + arrangement fee
£303.

16
Business contract hire per month (ex. VAT)
£363.

79
Personal contract hire per month (inc. VAT)