All-new Hyundai Kona Electric gets bolder design
Hyundai continues to uphold its dedication to sustainability as it unveils the new, cutting-edge design for the next generation of Kona SUVs.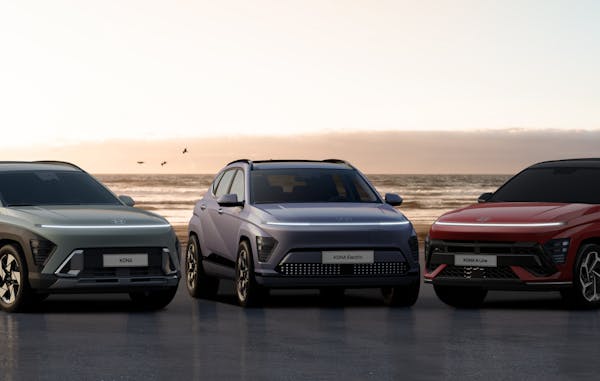 There's an all-new Hyundai Kona Electric coming in 2023, with a new design that's much bolder than the current generation model.
The all-new Kona has also grown by 150mm in length, now measuring 4,355 mm, as well as being 25mm wider, and having a 60mm longer wheelbase.
The simpler front end features a 'Seamless Horizon Lamp' – as does the rear.
Another significant visual change is that rather than the 17-inch wheels on the current model, the new Kona EV gains larger 'pixel-inspired' 19-inch alloy wheels.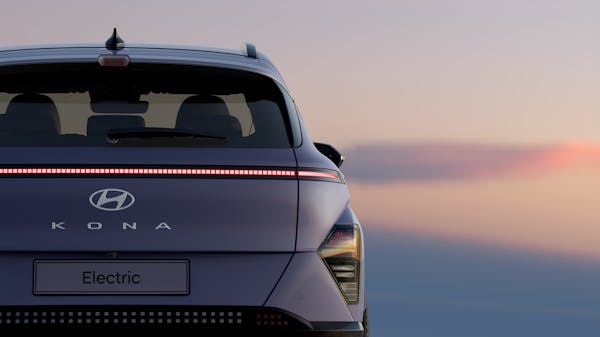 There's also an all-new (larger) interior with 12.3-inch dual wide displays, and the gear selector has moved from the centre console to behind the steering wheel, freeing up more space between the front seats.
Unlike most vehicles with a variety of powertrains, the new Kona started with the EV variant design, which was then adapted for the ICE, HEV and N Line models.
When the Hyundai Kona Electric first went on sale in the UK in 2018, it was a ground-breaking car, because it offered up to 300 miles of real-world electric range for a price that was closer to £30,000 than £40,000. The Kona was revised in 2021 but the main change was just a mild facelift, with the 300-mile driving range remaining.
Since then Hyundai has brought us the IONIQ 5, which had radical, angular design when it first appeared, and it was built on a bespoke EV platform (ie. no petrol or hybrid versions like the Kona). The IONIQ 5 also moved from front-wheel drive to rear-wheel drive (or all-wheel drive), as well as being based on an 800-volt electrical architecture, which is capable of ultra-rapid charging at 233 kW. 
The IONIQ 5 also has a 'Vehicle to Load' capability, meaning that it can power electrical devices or another EV.
Hyundai says that more details of the all-new Kona will be unveiled in the coming months.
Our electric car lease specials...
£2,524.26 Initial rental (ex. VAT)
£3,029.11 Initial rental (inc. VAT)
48 Month term
5000 Annual mileage
Subject to status and conditions + arrangement fee
£280.

47
Business contract hire per month (ex. VAT)
£336.

57
Personal contract hire per month (inc. VAT)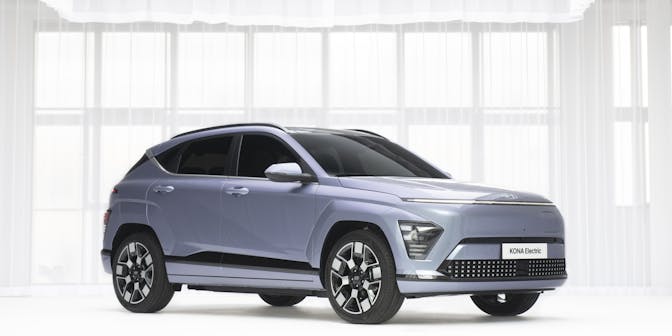 £2,067.67 Initial rental (ex. VAT)
£2,481.20 Initial rental (inc. VAT)
48 Month term
5000 Annual mileage
Subject to status and conditions + arrangement fee
£229.

74
Business contract hire per month (ex. VAT)
£275.

69
Personal contract hire per month (inc. VAT)
£2,676.21 Initial rental (ex. VAT)
£3,211.46 Initial rental (inc. VAT)
48 Month term
5000 Annual mileage
Subject to status and conditions + arrangement fee
£297.

36
Business contract hire per month (ex. VAT)
£356.

83
Personal contract hire per month (inc. VAT)