Electric Vehicle registrations continue to grow exponentially
Throughout April, electric vehicle registrations continued to rise - despite the general slowdown in the new car market. Read a full rundown of the stats below.
The UK new car market declined 15.8% overall in April 2022, except for battery electric car registrations, which were up 40.9% compared to the previous year, according to the latest figures from the Society of Motor Manufacturers and Traders (SMMT).
Global supply chain shortages, of which semiconductors are the most notable, have continued to constrain the delivery of new vehicles.
However battery electric vehicles (BEVs) registrations continued to grow, with 12,899 sales – an increase of 40.9% on the same month last year – and taking a 10.8% market share, up from 6.5% last year.
A total of 77,064 BEVs have been sold during the year to date – an 88.3% increase compared to the previous year. 
The number of new plug-in hybrid (PHEV) registrations decreased by a third (32.8%) – suggesting that car buyers are opting for BEVs rather than PHEVs.
The SMMT says that grants for BEVs (currently £1,500 for BEVs up to a price of £32,000) will be in place until at least early 2023, and running costs associated with new electric cars are still lower than those of petrol or diesel.
Given the ongoing impact of supply chain constraints and other economic factors, the SMMT has revised its market outlook for 2022, with 1.72 million new cars now expected to be registered during the year, down from the 1.89 million outlook in January.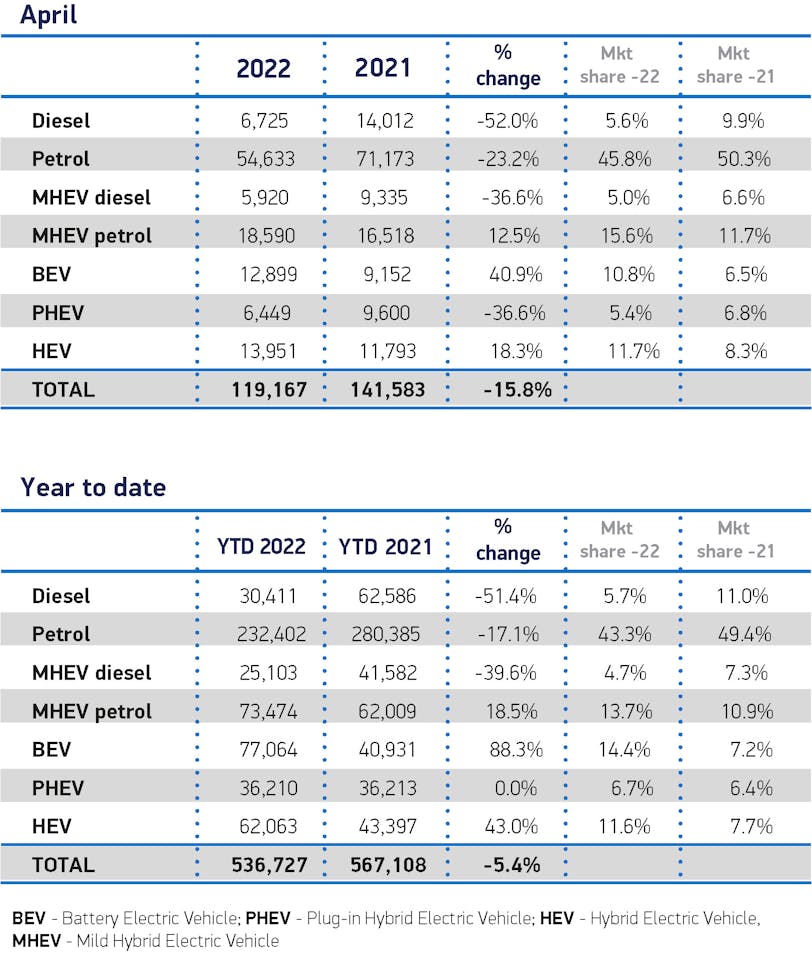 Plug-in electric cars are now expected to account for a quarter of all registrations (25.2%) during the year, with BEVs alone comprising around one in six new cars on the road.
The SMMT says that the automotive industry remains supportive of the UK's Net Zero ambitions, and is committed to ending the sale of petrol and diesel cars and vans by 2035. It also says that any regulation seeking to increase electric vehicle sales must be matched by commensurate and binding targets on charging infrastructure provision.