New FUSO eCanter all-electric light truck now in production in Europe
FUSO, Daimler Trucks' Japanese subsidiary, maintains its market leadership in electric trucks with the debut of the latest generation eCanter, which is now available in 38 distinct variations with a choice of six wheelbases and a gross vehicle weight ranging from 4.25 to 8.55 tonnes.
Many people have said over recent years that electric trucks would never happen, but that doesn't appear to be the case, as evidenced by the start of production in Portugal of the new eCanter by FUSO, the Japanese subsidiary of Daimler Truck.
The FUSO eCanter all-electric light truck has a gross vehicle weight of 4.25 to 8.55 tonnes, with a load capacity of up to 5 tonnes. It's available with six wheelbases and a total of 38 variants – whereas the previous eCanter was only available as a 7.49-tonner with a wheelbase of 3,400 millimetres.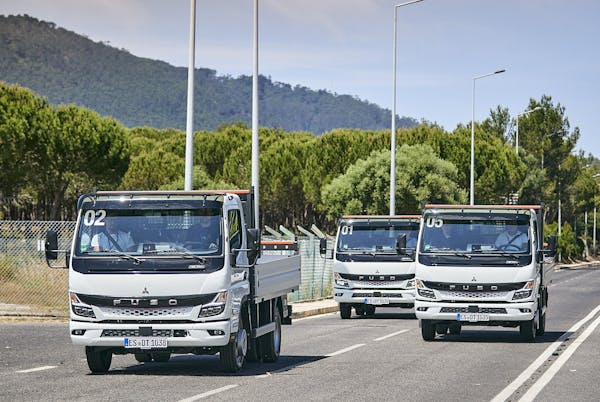 The new eCanter is powered either by a 110 kW or 129 kW electric motor with 430 Nm of torque. Depending on the wheelbase, three different battery packs are available: S, M and L. The batteries use lithium iron phosphate (LFP) cell technology which aims to provide a long service life and more usable energy.
The battery pack in the S variant has a nominal capacity of 41 kWh with a range of up to 43 miles. In the M variant, the nominal capacity is 83 kWh and the range is up to 87 miles.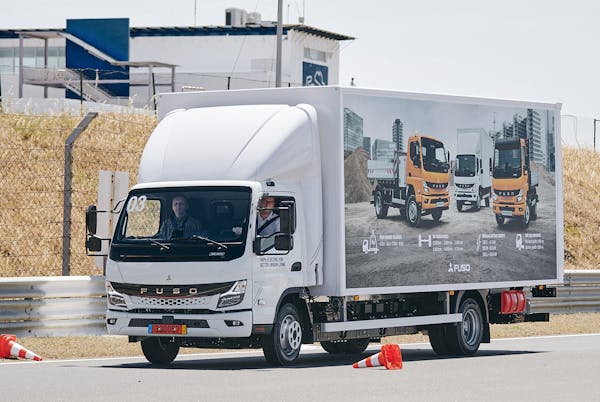 The L variant offers a nominal capacity of 124 kWh and a range of up to (WLTP) 124 miles. Previously the eCanter only had a battery option with a nominal capacity of 81 kWh and a range of up to (WLTP) 62 miles. The eCanter's maximum rapid DC charging rate is 104 kW. AC charging is possible at 11 kW and 22 kW.
The eCanter was originally launched in 2017 and there are now more than 550 FUSO eCanters in customer operation in Europe, Japan and the United States, as well as in Australia and New Zealand. The total distance covered by the global eCanter fleet is around eight million miles – equivalent to about 200 circumnavigations of the globe.
In Europe, sales of the new FUSO eCanter will initially start in 17 markets: France, Spain, Portugal, Italy, the UK, Ireland, Germany, Austria, Switzerland, Belgium, the Czech Republic, Denmark, Sweden, Finland, Slovakia, Greece and Poland. Production of the new eCanter has already started in Japan.
Our electric car lease special offers
£2,713.18 Initial rental (ex. VAT)
£3,255.81 Initial rental (inc. VAT)
48 Month term
5000 Annual mileage
Subject to status and conditions + arrangement fee
£301.

46
Business contract hire per month (ex. VAT)
£361.

76
Personal contract hire per month (inc. VAT)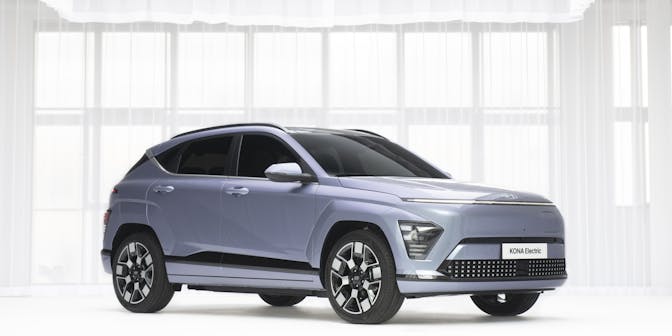 £1,951.79 Initial rental (ex. VAT)
£2,342.15 Initial rental (inc. VAT)
48 Month term
5000 Annual mileage
Subject to status and conditions + arrangement fee
£216.

87
Business contract hire per month (ex. VAT)
£260.

24
Personal contract hire per month (inc. VAT)
£2,728.44 Initial rental (ex. VAT)
£3,274.13 Initial rental (inc. VAT)
24 Month term
5000 Annual mileage
Subject to status and conditions + arrangement fee
£303.

16
Business contract hire per month (ex. VAT)
£363.

79
Personal contract hire per month (inc. VAT)