New Hyundai KONA Electric unveiled
Hyundai announces a new all-electric Kona to their offerings, with a impressive (WLTP) driving range of 319 miles.
The new Hyundai KONA Electric 'B-SUV' is capable of driving up to 319 miles on one charge, and prices start from £34,995.
There are two battery options – standard (48 kWh) and 65 kWh (long range) – and four trim levels: Advance, N Line, N Line S and Ultimate. The 65 kWh battery is available in all trim levels; the 48 kWh battery is only available with the Advance trim level.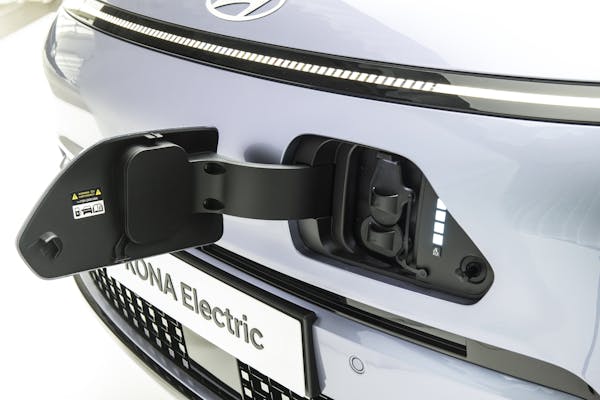 But perhaps the biggest news is that the KONA has got bigger. The new model is 145mm longer (now measuring 4,350mm in length), with a 60mm longer wheelbase. The most significant benefit of this is a significant increase in boot size, which is now 466 litres rather than the 332 litres of the previous model (or 1,300 litres v 1,114 litres with the rear seats folded). However an increase in rear legroom of 77mm is also a notable improvement.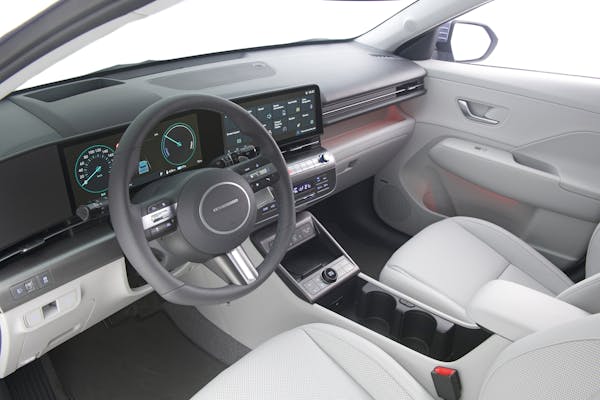 The standard range 48.4 kWh powertrain option provides 156PS and 255Nm, with the long range 65.4 kWh powertrain offering 218PS and 255Nm. The new KONA Electric also provides customers with faster charging options, with an increased DC rapid charging capability of 102.3 kW compared to the previous generation's 75 kW maximum. There's an on-board 10.5 kW AC charger.
All new KONA models get a heat pump as standard, which aims to result in cabin heating in cold weather having minimum impact on the car's range.
The KONA has standard dual 12.3-inch panoramic display screens with full Over-the-Air (OTA) updates, and it's also available with a Digital Key, which can use a compatible device (smartphone or smart watch) to lock, unlock and start the vehicle.
The new KONA Electric's Advance trim level is priced from £34,995 for the 48 kWh battery. Ultimate trims start from £43,095 for the 65 kWh battery. N Line trim prices start from £40,395 for the N Line 65 kWh, and N Line S prices start from £43,095 for the N Line S 65 kWh.
Our electric car lease special offers
£2,713.18 Initial rental (ex. VAT)
£3,255.81 Initial rental (inc. VAT)
48 Month term
5000 Annual mileage
Subject to status and conditions + arrangement fee
£301.

46
Business contract hire per month (ex. VAT)
£361.

76
Personal contract hire per month (inc. VAT)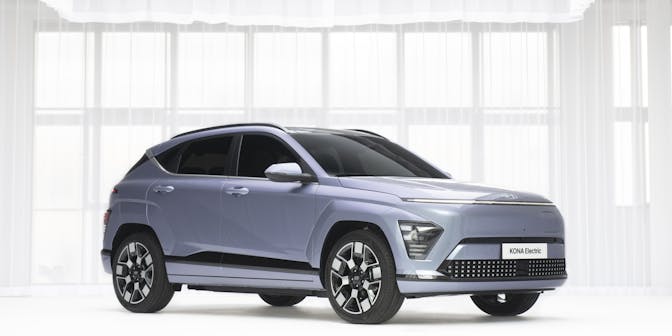 £1,951.79 Initial rental (ex. VAT)
£2,342.15 Initial rental (inc. VAT)
48 Month term
5000 Annual mileage
Subject to status and conditions + arrangement fee
£216.

87
Business contract hire per month (ex. VAT)
£260.

24
Personal contract hire per month (inc. VAT)
£2,728.44 Initial rental (ex. VAT)
£3,274.13 Initial rental (inc. VAT)
24 Month term
5000 Annual mileage
Subject to status and conditions + arrangement fee
£303.

16
Business contract hire per month (ex. VAT)
£363.

79
Personal contract hire per month (inc. VAT)