Kia EV9 exceeds expectations during winter testing in Sweden's formidable icy conditions
The Kia EV9 has returned from sub-zero winter testing at Arjeplog, Sweden. Despite the icy conditions, the EV9 excelled expectations thanks to its cutting-edge battery thermal technology and EV route planner that optimises charging.
The electric Kia EV9 SUV is currently in its final stages of testing and Kia claims that it has excellent capability in snow and ice – in terms of both driving and charging.
The Kia EV9 will be available with six or seven seats, a target driving range of over (WLTP) 335 miles, an 800-volt ultra-fast charging system enabling almost (WLTP) 150 miles of range to be added in 15 minutes, and the option of all-wheel drive.
The EV9 features battery conditioning, first introduced with the Kia EV6, which pre-heats the battery before charging, allowing it to achieve optimal battery temperature before charging begins and so maintain ultra-fast charging despite cold temperatures.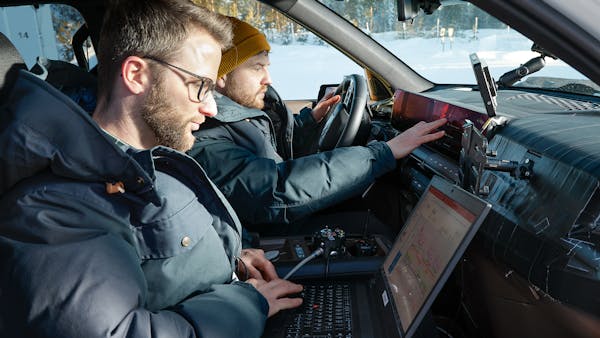 EV Route Planner, introduced for the first time with the EV9, automatically programmes charging points into the route when they are needed. The system analyses real-time vehicle data, as well as the route in the navigation system, to add charging points. When the estimated all-electric driving range is insufficient to reach the destination, the car suggests possible charging stations and asks the driver if they would like to add them to the route.
The EV Route Planner and battery conditioning work together to pre-heat the battery in cold conditions when approaching a high-speed charging point.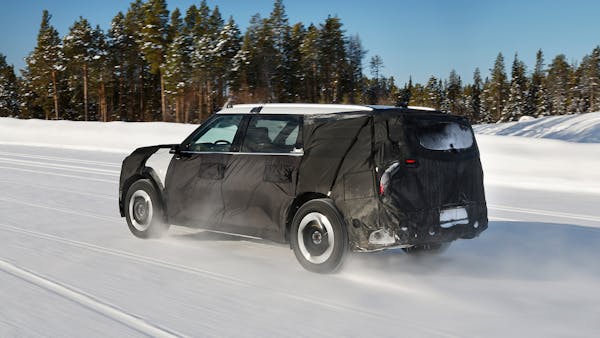 In terms of driving dynamics, the EV9 has a low centre of gravity and a long wheelbase, which helps to stabilise the vehicle while driving by reducing roll on corners. The EV9's chassis has also been optimised for handling capabilities on snow and ice.
The Kia EV9 will come with the option of 19 or 20-inch lightweight aluminium wheels, with the GT line version being available with 21-inch wheels. The EV9 features larger front brake discs and its regenerative braking system has been improved with a reduction in its weight and better energy efficiency.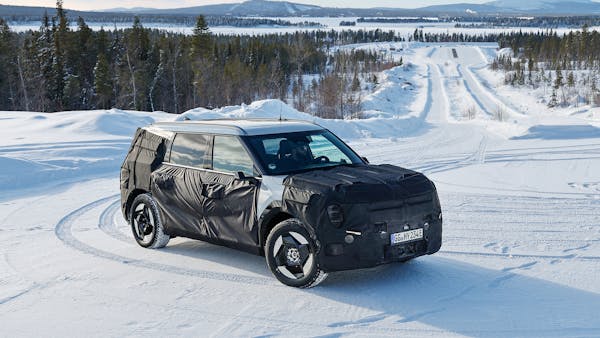 The Kia EV9 is available with a 150 kW electric motor and rear-wheel drive, or front and rear electric motors, giving all-wheel drive and 283 kW.
The EV9 has a Terrain Mode Select button on the steering wheel giving the options of Mud, Sand and Snow modes. The system adjusts electric motor torque output and distribution as well as the chassis systems and other stability control characteristics. Snow mode is optimised for slippery conditions; the traction control system limits torque output from the motor and manages optimum tyre grip for all four wheels.
Kia plans to build an EV line-up of 15 models by 2027, nine of which will be coming to the UK, and to grow its EV annual sales target to 1.6 million units by 2030.
Our electric car lease special offers
£2,713.18 Initial rental (ex. VAT)
£3,255.81 Initial rental (inc. VAT)
48 Month term
5000 Annual mileage
Subject to status and conditions + arrangement fee
£301.

46
Business contract hire per month (ex. VAT)
£361.

76
Personal contract hire per month (inc. VAT)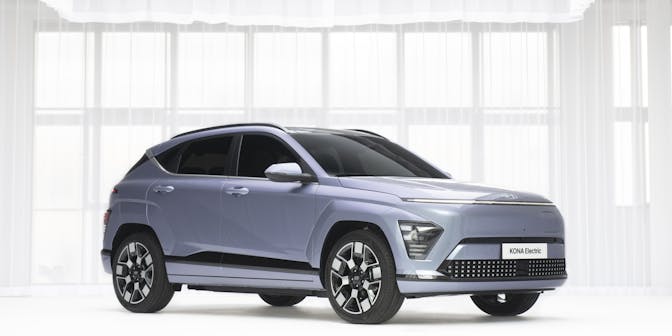 £1,951.79 Initial rental (ex. VAT)
£2,342.15 Initial rental (inc. VAT)
48 Month term
5000 Annual mileage
Subject to status and conditions + arrangement fee
£216.

87
Business contract hire per month (ex. VAT)
£260.

24
Personal contract hire per month (inc. VAT)
£2,728.44 Initial rental (ex. VAT)
£3,274.13 Initial rental (inc. VAT)
24 Month term
5000 Annual mileage
Subject to status and conditions + arrangement fee
£303.

16
Business contract hire per month (ex. VAT)
£363.

79
Personal contract hire per month (inc. VAT)