WLTP driving range of over 300 miles for the 7-seat Kia EV9 SUV
Kia announces the new all-electric Kia EV9 SUV, therefore accelerating their rapid transformation towards becoming a sustainable mobility solutions provider.
The all-electric, seven-seater Kia EV9 SUV is expected to offer a (WLTP) driving range of over 335 miles (for the rear-wheel drive model).
It will be possible to add 148 miles of range in just 15 minutes thanks to the EV9's 800-volt electrical architecture. The EV9 also has a Vehicle-to-Load (V2L) functionality which allows the car to power items of electrical equipment.
The Rear Wheel Drive (RWD) Standard model features a 76.1kWh battery, with a 99.8kWh battery in the RWD Long Range and All Wheel Drive (AWD) variants.
The RWD Long Range model has a 150 kW / 350 Nm electric motor, expected to give a 0-62 mph acceleration time of 9.4 seconds, while the Standard RWD EV9 has a slightly more powerful 160 kW / 350 Nm electric motor, giving a 0-62 mph time of 8.2 seconds.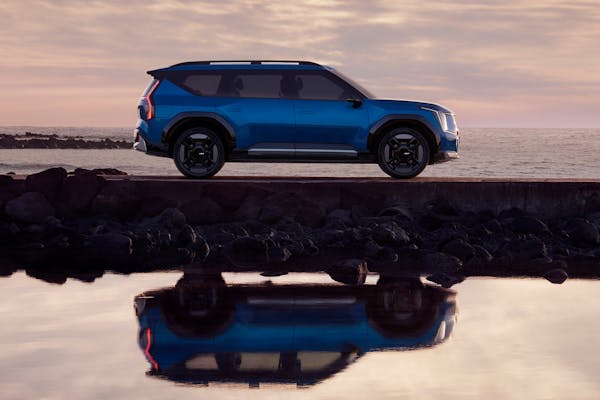 The AWD variant has two electric motors with a total power output of 283 kW and a combined torque of 600 Nm, resulting in a 0-62 mph time of 6.0 seconds. An optional Boost feature - available for purchase at the Kia Connect Store - increases torque to 700 Nm, giving a 0-62 mph time of 5.3 seconds.
If you're wondering if the Kia EV9 will fit in your garage, it measures 5,010 mm in length and has 19-inch, 20-inch, or 21-inch wheels.
Despite the large SUV shape, the EV9 is actually surprisingly aerodynamic, with a coefficient of 0.28, thanks to features such as Kia's first-ever 3D-sculpted underbody cover, which features a convex shape at the front and a concave shape at the rear, along with aerodynamic wheels, and air curtains integrated into the front bumper.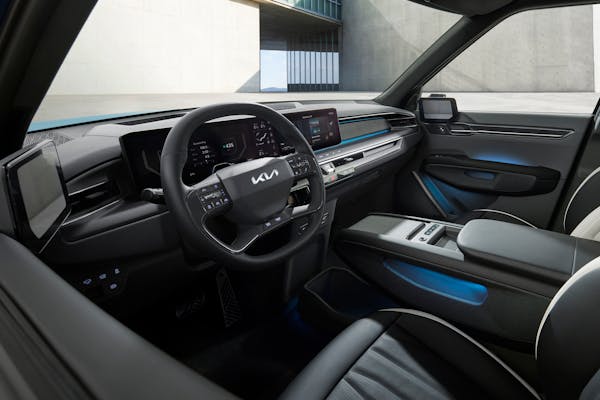 There will be a standard EV9 model and also a GT-line variant, which has unique visual details including a 'Digital Pattern Lighting Grille'.
The Kia EV9 offers seven-seater and six-seater configurations and a choice of four second-row seat options, including three seats and two independent seats that can swivel to face the third row.
The EV9 GT-line is due to include the Highway Driving Pilot (HDP) system, enabling conditional Level 3 autonomous driving in selected markets, ie. enabling the driver to temporarily take a break from controlling the vehicle where conditions permit.
The Kia Connect Store will also be available in the EV9, which enables customers to purchase digital features and services on demand, giving them the flexibility to choose the features they want and continuously upgrade the capability of the EV9 with Over the Air (OTA) updates at any time.
The EV9 is the first model in Kia's journey to phase out leather and adopt bio-based materials.
The Kia EV9 will make its physical debut at the Seoul Mobility Show 2023 later this month and will go on sale in selected global markets in the second half of the year.
Our electric car lease special offers
£2,524.26 Initial rental (ex. VAT)
£3,029.11 Initial rental (inc. VAT)
48 Month term
5000 Annual mileage
Subject to status and conditions + arrangement fee
£280.

47
Business contract hire per month (ex. VAT)
£336.

57
Personal contract hire per month (inc. VAT)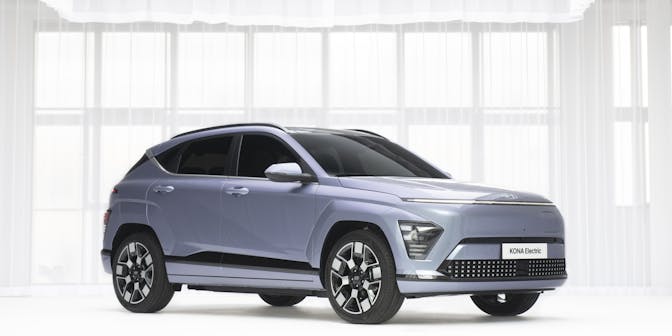 £2,067.67 Initial rental (ex. VAT)
£2,481.20 Initial rental (inc. VAT)
48 Month term
5000 Annual mileage
Subject to status and conditions + arrangement fee
£229.

74
Business contract hire per month (ex. VAT)
£275.

69
Personal contract hire per month (inc. VAT)
£2,676.21 Initial rental (ex. VAT)
£3,211.46 Initial rental (inc. VAT)
48 Month term
5000 Annual mileage
Subject to status and conditions + arrangement fee
£297.

36
Business contract hire per month (ex. VAT)
£356.

83
Personal contract hire per month (inc. VAT)