Kia releases smaller battery Soul EV
Flying in the face of conventional wisdom, Kia has announced a new smaller battery version of the Soul EV is on the way. But why?
Usually we talk about larger battery sizes and improved vehicle ranges when it comes to the latest EV news being released by manufacturers. So on the surface, at least, it might seem odd that Kia has released a smaller battery pack version of its Soul EV SUV.
But we don't think it's odd and we'll explain why...
At DriveElectric we know a thing or two about EVs and we're very much an advocate of using the most energy efficient vehicle as possible for the journeys it is expected to do. So when you think about it, there's no need for a large (and expensive and heavy) battery pack if the EV is only going to be used to travel locally (or regionally) and have an annual mileage of between 5,000 and 8,000. It's this same idea behind the Mini electric and why it remains a popular option for people doing low mileages.
Which is where the thinking around the new Kia Soul EV comes in. Traditionally only available with a 64kWh battery pack, the Korean carmaker has confirmed the introduction of a 'medium range' 39.2kWh powertrain - with a price tag which undercuts the Long Range version by around £6k.
Known as the Soul EV Urban, the new trim has a real world range of around 130-140 miles, against a WLTP figure of 171 miles. It's capable of accepting DC recharge rates of up to 80kW which means 0-80% charge in around 50 minutes. When plugged into a homecharger the battery pack can be recharged from 0-100% in a little over 6 hours.
Kia hasn't scrimped on levels of tech on the entry-level Urban model either, so customers can expect such luxuries as Apple Carplay/Android Auto infotainment screen, 17-inch alloys, reversing camera and adaptive cruise control as standard.
In further changes to the Soul EV range, Kia has ditched the Maxx trim to be replaced by new 'Explore', this comes with the existing 64kWh long range battery and means real world driving range of over 200 miles.
There's also even more kit as standard over the Urban trim and it includes, a larger 10.25-inch infotainment touchscreen, leather seats, rear privacy glass, rain sensing wipers and roof rails.
Kia expects the Explore trim to be the biggest seller in the 2-trim Soul EV range.
If you like the look of the new two-trim Kia Soul EV range then get in touch with the team here at DriveElectric to personalise your lease.
£3,328.63 Initial rental (ex. VAT)
£3,994.36 Initial rental (inc. VAT)
48 Month term
5000 Annual mileage
Subject to status and conditions + arrangement fee
From
£369.

85
per month (ex. VAT)
From
£443.

82
per month (inc. VAT)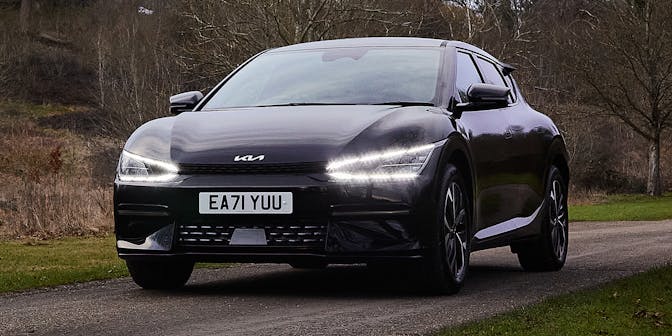 Hatchback
Up to 270 miles range
£2,777.87 Initial rental (ex. VAT)
£3,333.44 Initial rental (inc. VAT)
48 Month term
5000 Annual mileage
Subject to status and conditions + arrangement fee
From
£308.

65
per month (ex. VAT)
From
£370.

38
per month (inc. VAT)