Mazda MX-30's production constraints ease
Japanese carmaker Mazda has revealed that its only pure electric car, the MX-30, suffered from production shortages when it launched in 2021.
The Mazda MX-30, the brand's first all-electric vehicle, first arrived on UK roads in 2021, however, Mazda says that due to production constraints, the quantity of Mazda MX-30s accessible in the UK during their initial appearance was restricted and has only recently begun to ease.
There are a rising number of electric cars on the market with extensive ranges due to large batteries, which are also heavy and expensive. Mazda has banked on the notion that not everyone intends to travel 300 miles+ between charges and has created the MX-30 with a lightweight battery.
The MX-30 only has an official range of 124 miles from its 35.5 kWh lithium-ion battery. The benefit of the smaller battery is that the MX-30 weighs 1,645 kg. This is at least half a tonne lighter than many EVs, and around a full tonne lighter than some models. This means that the MX-30 feels lighter – and therefore better – to drive. Without a heavy battery to carry around, it's also more efficient.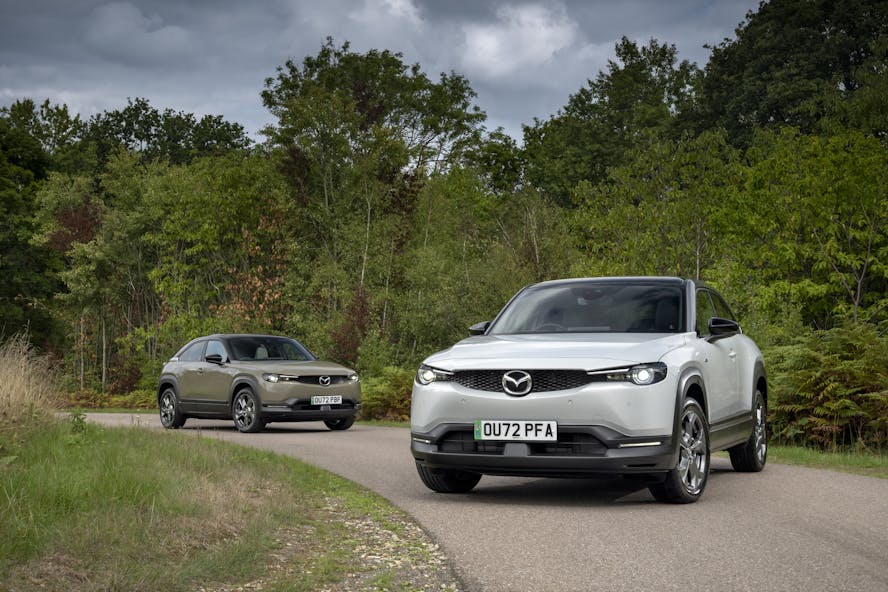 Aside from its lighter weight, the MX-30's main party trick is its doors; the front doors open conventionally, whereas the (half-width) rear doors open 'backwards', with no central door frame, resulting in wide access to the car's interior. And while we're on the subject, the interior is well-designed and feels high quality. Cork is even included as a material – which acknowledges Mazda's founding as the Toyo Kogyo Cork Company in 1920.
The Mazda MX-30 is available in three model grades:
Prime-Line
The Mazda MX-30 Prime-Line features 18-inch alloy wheels and is available in five colours: Arctic White, Polymetal Grey, Ceramic White, Jet Black and Machine Grey.
Exclusive-Line
The MX-30 Exclusive-Line comes with 18-inch 'Bright' alloy wheels, power seats and smart keyless entry, and there's the option to choose a three-tone design – Zircon Sand or Soul Red Crystal can be matched to a Brilliant Black roof and Black side panels, or Jet Black can be specified with a Brilliant Black roof with Silver side panels. Ceramic White can be matched to a Brilliant Black roof with Dark Grey side panels.
Makoto
The MX-30 Makoto is equipped with a 360-degree view monitor, front wiper de-icer, a power and tilt sunroof, heated steering wheel and 12-speaker Bose surround sound. There are three interior trim options – a light grey cloth interior trim with Stone artificial leather, or an optional dark grey interior and brown artificial leather, or a new dark grey interior with black artificial leather.
Our electric car lease special offers
£2,713.18 Initial rental (ex. VAT)
£3,255.81 Initial rental (inc. VAT)
48 Month term
5000 Annual mileage
Subject to status and conditions + arrangement fee
£301.

46
Business contract hire per month (ex. VAT)
£361.

76
Personal contract hire per month (inc. VAT)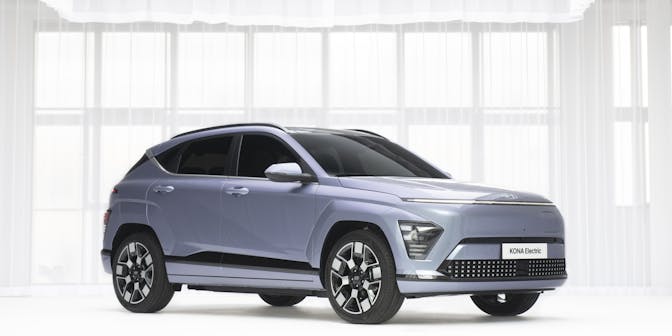 £2,067.67 Initial rental (ex. VAT)
£2,481.20 Initial rental (inc. VAT)
48 Month term
5000 Annual mileage
Subject to status and conditions + arrangement fee
£229.

74
Business contract hire per month (ex. VAT)
£275.

69
Personal contract hire per month (inc. VAT)
£2,728.44 Initial rental (ex. VAT)
£3,274.13 Initial rental (inc. VAT)
24 Month term
5000 Annual mileage
Subject to status and conditions + arrangement fee
£303.

16
Business contract hire per month (ex. VAT)
£363.

79
Personal contract hire per month (inc. VAT)