No recharging needed for two weeks if driving an EV on the school run
Forget those early morning worries as electric cars could be the most efficient way to get you and your family to school on time!
Parents driving on the school run in an EV could last two weeks without charging – as well as saving money on fuel – based on figures released by Citroen.
The average school run is 10.4 miles (5.2 miles each way) according to Citroen's data, based on a survey of 2,000 UK parents. That totals 20.8 miles each day, or 208 miles over two weeks – which is within the official combined 219-mile WLTP range of the Citroen e-C4 Electric.
Electric cars can also potentially exceed the official combined WLTP range if they're driven primarily in urban areas – and many EVs have a longer range than 219 miles.
When charged overnight using a 7.4kW home wallbox on an EV electricity tariff, a single charge for a Citroen e-C4 Electric can cost as little as £3.75 (whereas on a standard tariff the same charge will cost £14). Using a comparable petrol-powered C4 would cost £30.12 to cover the same distance, meaning that parents could save up to £26.37 every two weeks.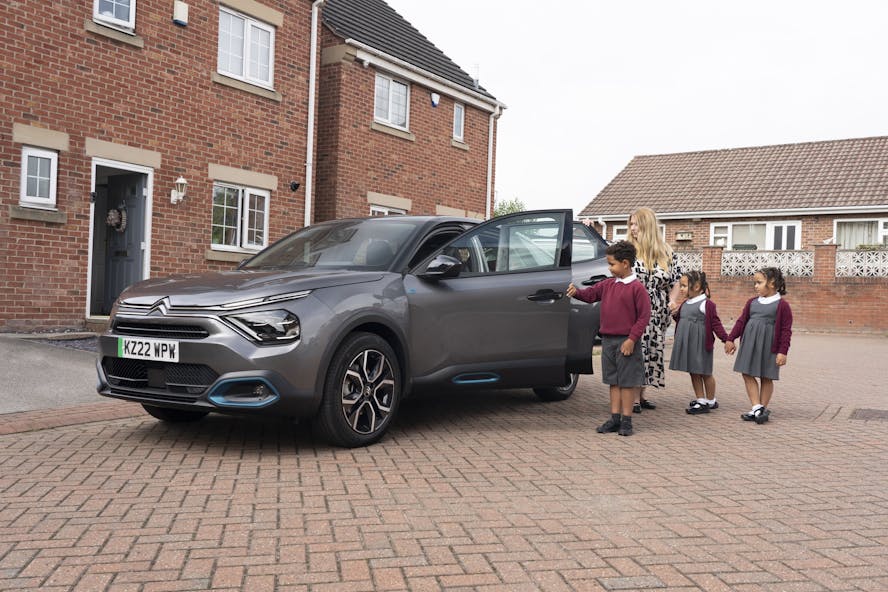 Citroen's research also found that parents drive their children to school 3.5 times per week on average, with public transport, lifts from other parents, walking and cycling making up the rest of the trips. Although the average school run was found to be a 10.4-mile round trip, 7% of the respondents reported having to cover more than 30 miles during the school run.
Citroen also asked whether vehicle emissions outside schools were a concern; 19% of parents said they were strongly concerned, and 41% were somewhat concerned. Previous research carried out in London found children are exposed to five times more air pollution on the school run than when they are in school.
The Citroen e-C4 Electric features a 50kWh lithium-ion battery pack, and is capable of rapid charging up to 100kW, allowing a recharge from 0-80% in just 30 minutes.
The prices quoted by Citroen for charging an e-C4 Electric are based on a 0-100% overnight charge using an Octopus GO EV tariff rate of 7.5p per kWh, compared to a standard tariff rate of 28p per kWh (according to Ofgem).
In comparison a petrol Citroen C4 PureTech 130 S&S EAT8 automatic, with a WLTP combined fuel consumption figure of 44 mpg, would use 17.6 litres of fuel at an average price of 170p per litre (average petrol price from RAC Fuelwatch, accurate as of August 2022).
£3,647.33 Initial rental (ex. VAT)
£4,376.80 Initial rental (inc. VAT)
48 Month term
5000 Annual mileage
Subject to status and conditions + arrangement fee
From
£405.

26
per month (ex. VAT)
From
£486.

31
per month (inc. VAT)