Nissan Ariya to take part in Pole to Pole expedition
Some people still view driving around the UK in an electric car as a challenge, so it will be interesting to see how Scottish adventurer Chris Ramsey gets on when he drives from the North Pole to the South Pole in an electric Nissan Ariya.
The Nissan Ariya with e-4ORCE all-wheel drive will have some modifications for the Arctic and Antarctic sections of the route in particular, including upgraded wheels, tyres and suspension.
Apart from aiming to prove that the new Nissan Ariya can complete the route, the expedition will raise awareness of the climate crisis and the critical role electric vehicles can play in reducing our carbon footprint.
The journey will cover over 27,000 kilometres, or almost 17,000 miles, and it will be the first time that such a journey has been attempted, in an electric vehicle or in any type of vehicle.
The expedition will start in March 2023, from the Arctic through North, Central and South America, before crossing to Antarctica, with temperatures expected to range from -30⁰C to 30⁰C.
Chris Ramsey has previously undertaken a number of electric vehicle challenges. Chris, with his wife Julie, became the first team to complete the Mongol Rally in an all-electric vehicle in 2017, travelling over 16,000 kilometres over 56 days in Chris's own Nissan LEAF.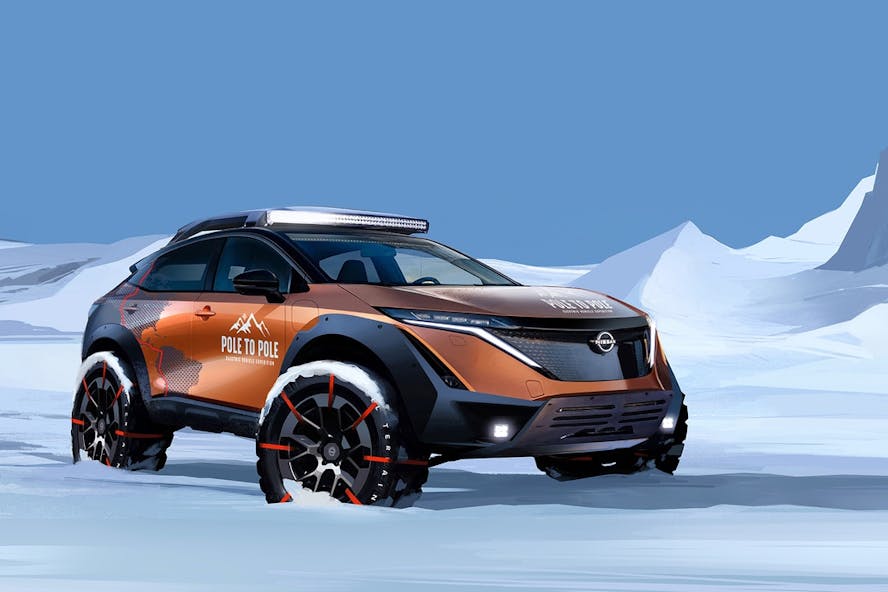 In 2015, Chris tackled the 1,625-mile journey from John O'Groats to Land's End and back again in a Nissan LEAF 24kWh, completing the journey in two days using only publicly available and free EV charging points.
Chris Ramsey, founder of Pole to Pole, commented: "Our mission is to show that electric vehicles can tackle the harshest of environments – from the bitter cold of the poles to the hot and humid jungles of South America, and illustrate that they are exhilarating to drive whilst meeting the daily demands of drivers around the world. It's fantastic to see such an important and innovative global brand partner with our expedition."
Find out more about the Nissan Ariya
£2,792.81 Initial rental (ex. VAT)
£3,351.38 Initial rental (inc. VAT)
48 Month term
5000 Annual mileage
Subject to status and conditions + arrangement fee
From
£310.

31
per month (ex. VAT)
From
£372.

38
per month (inc. VAT)