Tesla Cybertruck launch
Did you see the Tesla Cybertruck live launch last week?
Tesla's Cybertruck launch made for entertaining viewing, orders were reported to have reached 200,000 just 3 hours later. Today, just one week on from launch night and Elon Musk has tweeted '250K', (pictured below) – there's a lot of speculation that this refers to Cybertruck orders to date. That's a lot of Cybertrucks!
Prices will start at $39,900, there will be three different battery sizes available with capable of between 250 and 500 miles per charge.
On stage at the launch event the truck's armour glass didn't perform quite as expected. In a strength demonstration a metal ball was thrown at and smashed one of the truck's windows – the glass was supposed to be smash-proof. Following the mishap Elon Musk said with some humour "So there's still room for improvement". In previous tests the windows had remained intact!
Cybertruck's features:
'Tesla armour glass' providing potentially smash-proof windows
Autopilot as standard
The 'Cybertruck' has a logo from a Swiss typographer's worst nightmares. But typical of Tesla's disruptive brand presence, and what's wrong with being a bit different anyway?
Angular "Blade Runner" inspired body.
6 seats
Lockable storage space or 'vault'
The bed of the truck is 2.0 m long
0-60mph in as little as 2.9 seconds
It's big
Length: 5,885 mm
Width: 2,027 mm
Height: 1905 mm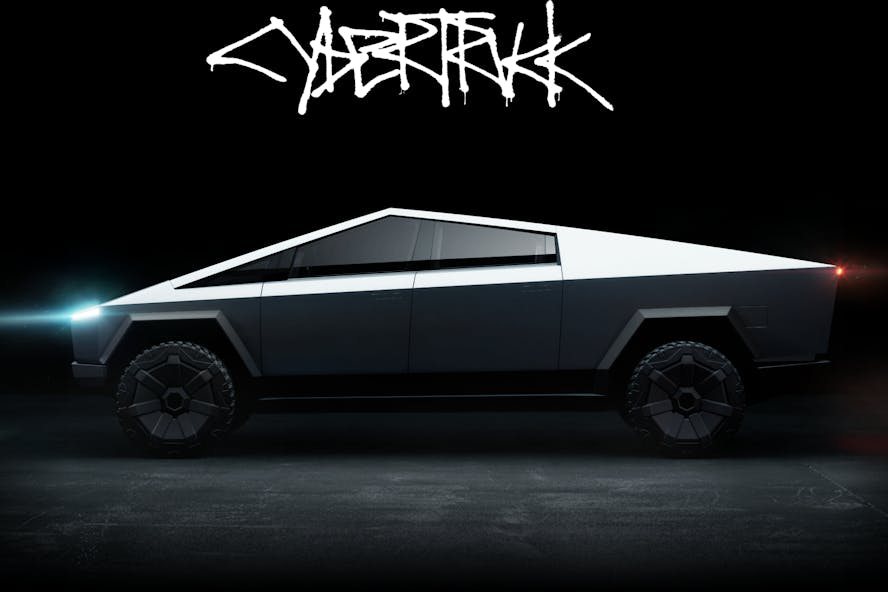 Noise on twitter following the launch
Cybertruck was no different to any other Tesla vehicle launch and generated a LOT of conversation across social media channels:
The DriveElectric team were looking forward to the Cybertruck unveiling (there's always something unpredictable at a Tesla vehicle launch!):
A tongue-in-cheek post from LEGO about the evolution of the truck and their shatterproof design.