The Nissan Hyper Adventure SUV is a new EV concept designed for adventurers
Nissan unveiled their new EV concept for the Japan Mobility Show 2023. The Nissan Hyper Adventure concept is designed to enhance outdoor journeys with V2X (vehicle-to-everything) technology and features radical and futuristic styling that appeals to an audience eager to explore the great outdoors.
If you think of Nissan and a Micra springs to mind, it looks like you'll have to change your perception of the brand's products. The company is releasing a number of concepts of its future electric vehicles in the run-up to the Japan Mobility Show, and it seems that the excitement level of its offerings has increased by a factor of ten compared to most of its vehicles to date.
The latest digital concept that Nissan has unveiled is the electric 'Hyper Adventure' sports SUV, a vehicle that the company says is designed for people who want to explore the great outdoors in an environmentally-friendly way.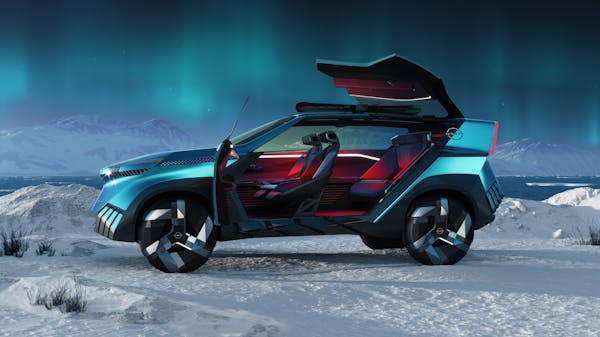 The Nissan Hyper Adventure features radical, futuristic styling, including rear doors which open upwards. The rear seat can rotate 180 degrees to allow passengers to enjoy the view out of the rear of the car, and Nissan claims that the Hyper Adventure can accommodate a kayak (although the size of the kayak isn't specified).
For front seat occupants, the instrument panel spans the entire width of the interior, running along the bottom of the windscreen, and the steering wheel looks like it would be more at home in a fighter jet.
To help the Nissan Hyper Adventure tackle whatever challenging terrain that it's faced with, it comes with e-4ORCE all-wheel drive. We're assuming that the seemingly low profile tyres on the concept will be replaced with more sensible off-road tyres if the car makes it to production.
Nissan says that the Hyper Adventure features a 'large-capacity battery' and 'V2X' (vehicle-to-everything), meaning that it can provide power to electrical camping equipment, homes (V2H), or the electricity grid (V2G).
The Nissan Hyper Adventure is the second in Nissan's series of EV concepts for the Japan Mobility Show starting on 25 October, where the vehicle will be displayed digitally.
£2,713.18 Initial rental (ex. VAT)
£3,255.81 Initial rental (inc. VAT)
48 Month term
5000 Annual mileage
Subject to status and conditions + arrangement fee
£301.

46
Business contract hire per month (ex. VAT)
£361.

76
Personal contract hire per month (inc. VAT)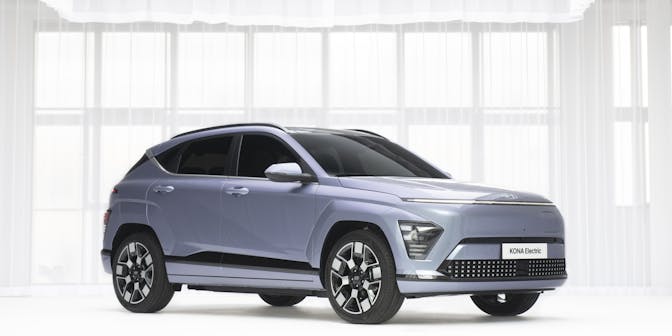 £1,951.79 Initial rental (ex. VAT)
£2,342.15 Initial rental (inc. VAT)
48 Month term
5000 Annual mileage
Subject to status and conditions + arrangement fee
£216.

87
Business contract hire per month (ex. VAT)
£260.

24
Personal contract hire per month (inc. VAT)
£2,728.44 Initial rental (ex. VAT)
£3,274.13 Initial rental (inc. VAT)
24 Month term
5000 Annual mileage
Subject to status and conditions + arrangement fee
£303.

16
Business contract hire per month (ex. VAT)
£363.

79
Personal contract hire per month (inc. VAT)