Updates for the New all-electric MINI Countryman
The all-electric MINI Countryman combines locally emission-free electromobility with the greatest possible environmental compatibility in production and is expected to begin production in November 2023.
The new MINI Countryman E will be fully electric, with a 64.7 kWh battery delivering an estimated electric (WLTP) driving range of around 280 miles, along with a power output of 191 hp. There will also be the all-wheel drive MINI Countryman SE ALL4, with drive units on the front and rear axles generating an output of 313 hp, including a temporary boost.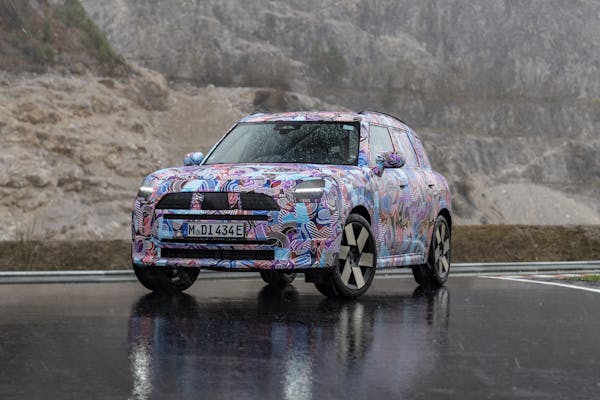 The length of the MINI Countryman has increased by 13 cm to 4,429 mm, along with an increase in height of 6 cm. The increase in size will provide more interior space including a larger boot and also allow the forthcoming, slightly smaller, MINI Aceman crossover to slot in below the Countryman. The new Countryman will be based on the same platform as the BMW X1, but the MINI will continue to be smaller than the X1, which measures 4,500mm in length. 
The manufacture of the new MINI Countryman will also be greener. MINI says that it has "dispensed with all decorative elements in the interior and exterior", and the alloy wheels incorporate up to 70 percent secondary aluminum.
The surfaces of the dashboard, steering wheel, vehicle headliner, floor, and floor mats are made of recycled polyester from plastic bottles and carpet remnants, helping to reduce CO2 emissions in the production process by up to 85 percent.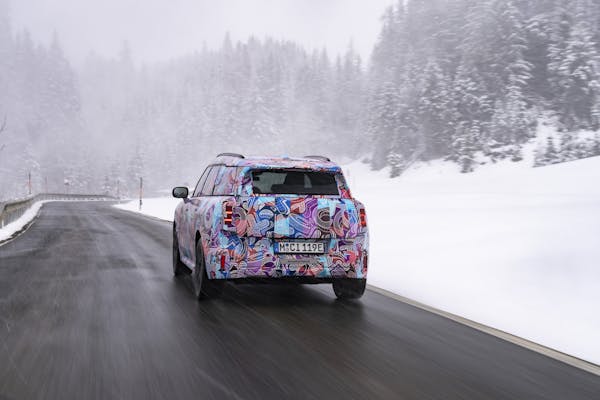 The Countryman will be manufactured at the BMW Group Plant Leipzig in Germany using green electricity. There are four 190-meter-high wind turbines at the site which can generate more than 20 GWh of electricity per year. The electricity generated by the wind turbines can be stored in a 'Battery Farm' comprised of up to 700 second-life high-voltage batteries from BMW i3 vehicles.
The BMW Group is investing more than 800 million euros to expand on-site e-component production capacity by eight production lines by 2024 – this will include batteries for the MINI Countryman E being produced at Leipzig.
Production of the new MINI Countryman will start in November 2023 and it will go on sale in February 2024, shortly after the new MINI Cooper hatchback. One in five MINIs sold today is already electric.
Our electric car lease special offers
£2,713.18 Initial rental (ex. VAT)
£3,255.81 Initial rental (inc. VAT)
48 Month term
5000 Annual mileage
Subject to status and conditions + arrangement fee
£301.

46
Business contract hire per month (ex. VAT)
£361.

76
Personal contract hire per month (inc. VAT)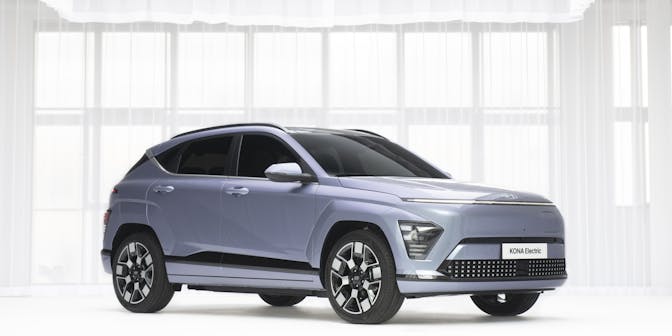 £1,951.79 Initial rental (ex. VAT)
£2,342.15 Initial rental (inc. VAT)
48 Month term
5000 Annual mileage
Subject to status and conditions + arrangement fee
£216.

87
Business contract hire per month (ex. VAT)
£260.

24
Personal contract hire per month (inc. VAT)
£2,728.44 Initial rental (ex. VAT)
£3,274.13 Initial rental (inc. VAT)
24 Month term
5000 Annual mileage
Subject to status and conditions + arrangement fee
£303.

16
Business contract hire per month (ex. VAT)
£363.

79
Personal contract hire per month (inc. VAT)