Citroen e-Berlingo Review
The Citroen e-Berlingo brings electric propulsion to the 'multi-purpose vehicle' sector, with options of five or seven seats.
Great first step on the EV ladder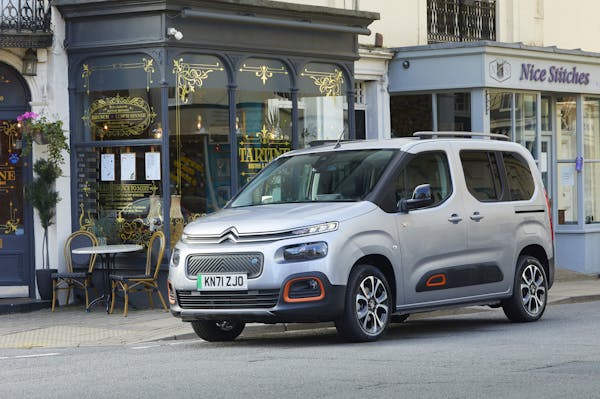 Citroen e-Berlingo Design & Powertrain
It doesn't take a great detective to work out that the Citroen e-Berlingo is based on a van. Windows have been added, along with an extra three or five seats. The result is a practical body style offering lots of space; in the 'M' version there's a 775-litre boot, or 3,500 litres with the rear seats folded. The longer 'XL' seven-seat version offers 4,000 litres of space with all of the seats folded down. The third row of seats are also removable, as well as being able to slide backwards and forwards.
The dashboard is also based on that in the van, and there are lots of storage compartments around the e-Berlingo, including an optional storage area running along the underside of the ceiling.
The Citroen e-Berlingo has a 50kWh battery and a 134 hp electric motor, and it's front-wheel drive.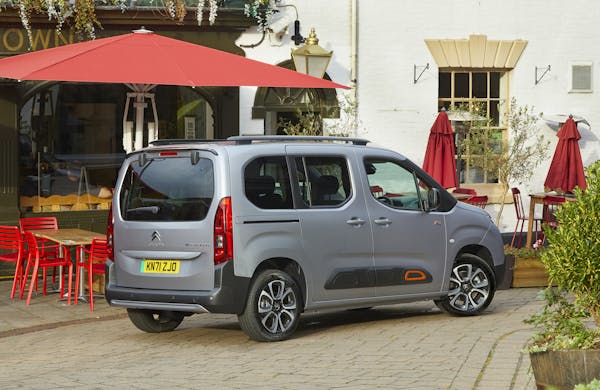 What's the Citroen e-Berlingo like to drive?
 Because the Citroen e-Berlingo is based on a van, it's likely to come as no surprise that the driving experience is similar to that of the van version. However because the e-Berlingo is all-electric, it's much better to drive than a petrol or diesel van. This is because there's no manual gearbox, no clutch, and no powertrain noise or rattles. Instead there's quiet, responsive acceleration and a generally refined driving experience. The e-Berlingo also has a comfortable ride, and there's a very tight turning circle.
Even though it's van-based, you still get a choice of drive modes: Power, Comfort or Eco. And you can choose to select 'B' on the gear selector in order to capture increased amounts of brake regeneration. The e-Berlingo is front-wheel drive, so there's a tendency for some wheelspin under enthusiastic acceleration in the wet.
There's a central touchscreen with six shortcut buttons around the screen, and there are separate heating and ventilation controls. There's even a head-up display.
The e-Berlingo has a (braked) towing rating of 750 kg.
Charging the Citroen e-Berlingo
The Citroen e-Berlingo has an official WLTP combined range of up to 182 miles. This is likely to be closer to 140 miles in the real-world. The e-Berlingo doesn't have heated seats or heated steering wheel, which will have a negative impact on the range in cold weather.
The e-Berlingo has can rapid charge at up to 100 kW DC, when a 10%-80% charge should take around 30 minutes.
If charging at a 7.4 kW AC home charger, a full charge should take around 7 hours 15 minutes. There's also an option to specify an 11kW on-board charger to take advantage of charging at a three-phase connection at a workplace, which should cut the time down to 4 hours 45 minutes for a full charge.
The Citroen e-Berlingo is a welcome addition to the choice of pure EVs on sale. It's better for being electric, having an improved driving experience, aside from its zero tailpipe emissions. It's still practical, offering lots of boot space, and even seven seats in the XL model.