Honda e Review
The Honda e is well designed, inside and out, and it's fun to drive, but because it's a city car, it's small, and it has a relatively short driving range.
Relatively short driving range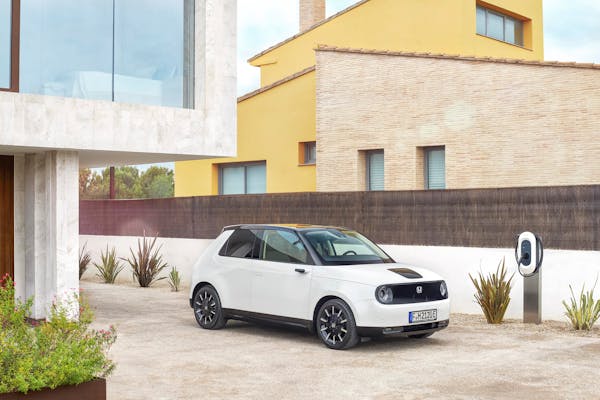 Honda e Design and Powertrain
The Honda e's styling is full of character, with a design that has retro influences, but it's also clean and fuss-free. Inside, the dashboard is mainly comprised of one big wide screen – more on that later.
Because this is a small city car, there's only space for a small, 35.5 kWh battery, which is mated to a 154 PS electric motor driving the rear wheels. The boot is 171 litres in size with the rear seats up, or 861 litres with the rear seats folded.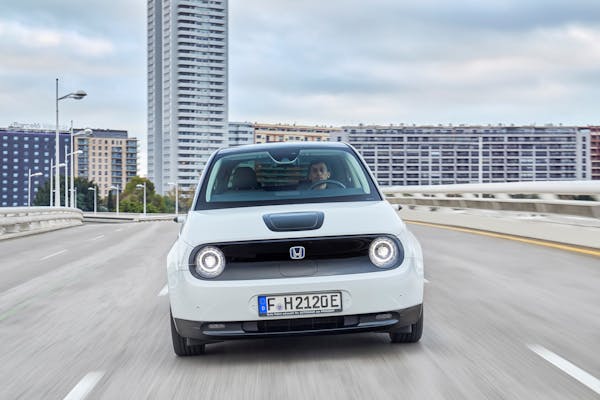 What's the Honda e like to drive?
There's one main word to describe the driving experience of the Honda e: fun. This is because it's a small car, with rear-wheel drive, responsive acceleration thanks to the instant torque from the electric motor, a low centre of gravity, and a ridiculously tight turning circle. With a kerb weight of just 1,555 kg, it's also relatively light for an EV. And even the ride quality is comfortable.
The vast majority of city cars are front-wheel drive, so one that is rear-wheel drive is refreshing – apart from helping to avoid the wheelspin that front-wheel drive EVs can produce.
There's even a Sport drive mode to make the car even more responsive, as well as a button for increased brake regeneration, and steering wheel-mounted paddles to adjust the level of brake regeneration.
The driving experience is enhanced by the dashboard. There are three screens that sit next to each other and stretch the entire width of the dashboard. Most modern cars have virtually no buttons on the dashboard, and instead have one central touchscreen with all car controls buried inside it somewhere. In comparison the Honda e has its three screens with lots of different, permanently visible displays and buttons. So rather than having to press a button on a typical touchscreen in one of the latest cars, and then press another button, then another button to change the car controls, with the Honda you generally just press one button once, or there may be a couple of button presses in the worst case scenario. This includes for the lane departure warning system and for the traction control system. The Honda also has climate controls that are separate to the touchscreen. You can even choose a display showing a fish tank if you're not driving.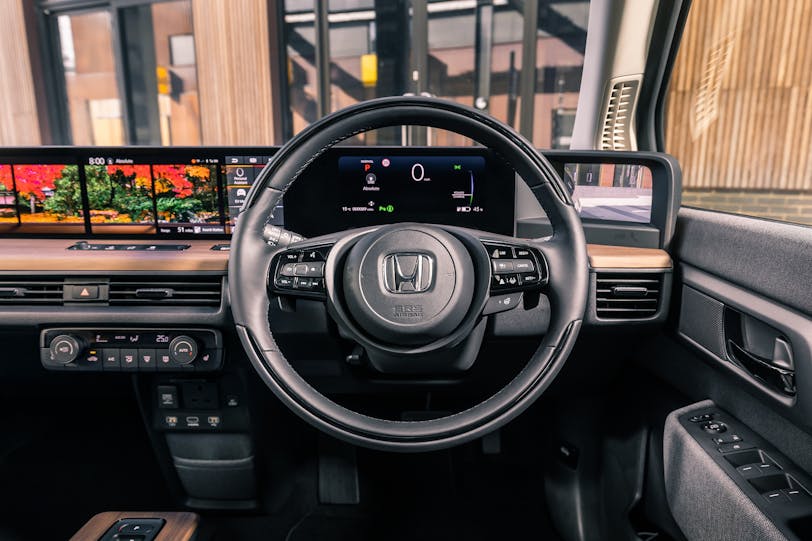 The Honda e doesn't have traditional door mirrors, instead there are small cameras which display their image inside the car, on screens at either end of the dashboard. The idea is that small cameras are more aerodynamic than mirrors. You can also choose to view a traditional central rear-view mirror or instead view a digital image projected from a camera.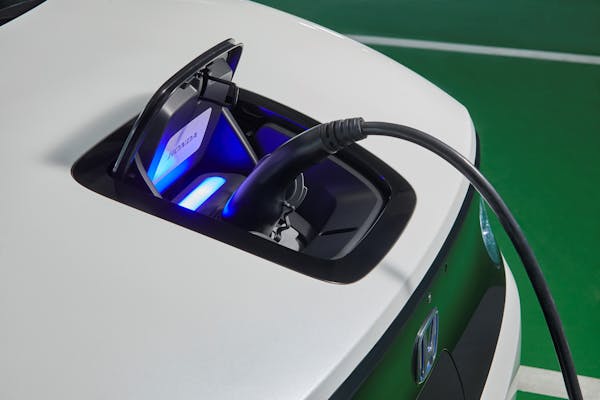 Charging the Honda e
The Honda e is a city car, so there's only space for a small battery, but because it's a city car, the 137-mile WLTP range may be sufficient for many people. The real-life range is more likely to be around 100 miles.
The Honda e can be rapid charged at up to 50kW, when a 10% to 80% charge can be achieved in 31 minutes. A 7.4kW home wall box can fully charge the car in 4.1 hours. A full charge on a household socket takes just under 19 hours.
Honda e price and model range
Honda e prices are from £34,420, Honda e Advance prices are from £36,920.
The Honda e is the brand's first production EV and it's an excellent product. The exterior styling is full of character, the controls on the screens stretching across the dashboard work really well, and it's fun to drive. If you're looking for a small electric car and if you can live with the 137-mile driving range, then the Honda e should be on your shortlist.
Choose your Honda e car lease
£3,572.04 Initial rental (ex. VAT)
£4,286.44 Initial rental (inc. VAT)
48 Month term
5000 Annual mileage
Subject to status and conditions + arrangement fee
£396.

89
Business contract hire per month (ex. VAT)
£476.

27
Personal contract hire per month (inc. VAT)
£3,633.83 Initial rental (ex. VAT)
£4,360.60 Initial rental (inc. VAT)
48 Month term
5000 Annual mileage
Subject to status and conditions + arrangement fee
£403.

76
Business contract hire per month (ex. VAT)
£484.

51
Personal contract hire per month (inc. VAT)