Vauxhall Mokka-e review
The Vauxhall Mokka-e is a crossover version of a supermini with a 209-mile electric driving range and a relatively affordable price.
Capable of 100kW rapid charging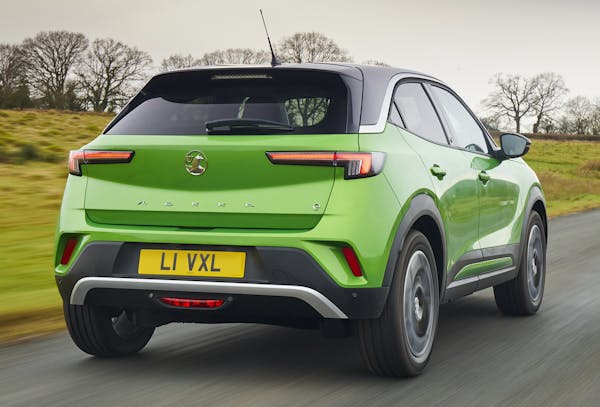 Vauxhall Mokka-e design & powertrain
The Vauxhall Mokka-e is a crossover version of the Corsa-e, so it's based on a supermini, with similar levels of interior space. There's a 310-litre boot, which can be enlarged to 1,060 litres if you fold down the rear seats.
Externally the latest-generation Mokka has more distinctive and cleaner styling than previous generations, and the dashboard is also relatively simple compared to its Peugeot family relative.
The Mokka-e has a 50kWh lithium-ion battery, a 100kW electric motor, and front-wheel drive.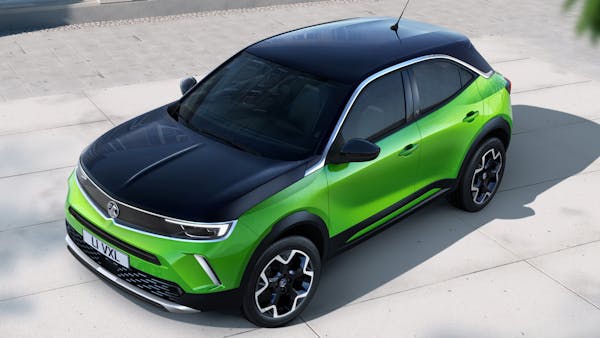 What is the Mokka-e like to drive?
The Vauxhall Mokka-e combines a 136 PS electric motor with a relatively light weight for an EV (1,598kg), and the slightly raised ride height of a crossover. The result is the normal instantly-available torque of an EV together with a degree of agility, meaning that the Mokka-e is fun to drive.
It's also easy to drive, with its compact dimensions, automatic transmission and no clutch. In addition to having minimal roll through corners thanks to the battery being positioned low down in the floor, ride quality is good, so the Mokka-e offers a comfortable driving experience. Because it's electric, it's also quiet and refined, although some road noise can be evident in the cabin at motorway speeds.
There's the same gear selector that appears in many Stellantis models, which is small and a bit fiddly to use. Increased levels of brake regeneration can be selected using the B setting. You also get three drive modes: Eco, Normal and Sport. Performance in Sport mode is good. However if you're accelerating from standstill on a wet road, because the Mokka-e is front-wheel drive you may experience some wheelspin.
Like most new cars, the majority of interior controls are accessed via the central touchscreen, which is relatively simple to use, and it can display a clear view from the reversing camera.
What's the range of the Vauxhall Mokka-e?
The Vauxhall Mokka-e has an official WLTP electric driving range of 209 miles. In real-world mixed driving this is likely to be around 155 miles.
The Mokka-e can use a 100kW rapid charger, which can replenish the battery from 15% to 80% in 30 minutes. The same charge should take 45 minutes at a 50kW rapid charger.
There's an on-board 11kW charger, which can utilise the maximum power from a workplace charger fed by three-phase electricity. Using a domestic 7kW wallbox, a 0-100% charge should take 7 hours 30 minutes.
The Vauxhall Mokka-e does everything you want an electric car to do. It transports you around in a quiet and refined manner, with a comfortable ride and enjoyable handling. It's compact to drive and to park. There's space for five people, and a boot that can accommodate the contents of a typical shopping trip. Apart from having no tailpipe emissions, it also has much lower running costs than a petrol car. The Mokka-e has a crossover body style, which is both practical and in demand by car buyers, and it's also relatively affordable compared to many electric cars, so overall it gets our thumbs up.
£4,488.51 Initial rental (ex. VAT)
£5,386.21 Initial rental (inc. VAT)
48 Month term
5000 Annual mileage
Offer expiry Monday, 18 December 2023
Subject to status and conditions + arrangement fee
£498.

72
Business contract hire per month (ex. VAT)
£598.

47
Personal contract hire per month (inc. VAT)
Special Offer
Choose your Mokka-e car lease
£4,262.54 Initial rental (ex. VAT)
£5,115.05 Initial rental (inc. VAT)
48 Month term
5000 Annual mileage
Subject to status and conditions + arrangement fee
£473.

62
Business contract hire per month (ex. VAT)
£568.

34
Personal contract hire per month (inc. VAT)
£4,401.72 Initial rental (ex. VAT)
£5,282.07 Initial rental (inc. VAT)
48 Month term
5000 Annual mileage
Subject to status and conditions + arrangement fee
£489.

08
Business contract hire per month (ex. VAT)
£586.

90
Personal contract hire per month (inc. VAT)
£4,572.00 Initial rental (ex. VAT)
£5,486.40 Initial rental (inc. VAT)
48 Month term
5000 Annual mileage
Subject to status and conditions + arrangement fee
£508.

00
Business contract hire per month (ex. VAT)
£609.

60
Personal contract hire per month (inc. VAT)