SES Water case study: 'From EV sceptic to EV champion in one day...'
DriveElectric is working with SES Water to decarbonise its fleet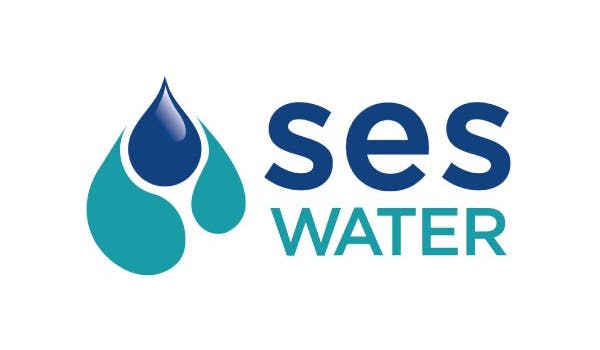 About SES Water
SES Water supplies 160 million litres of clean water every day to over 745,000 people in parts of Surrey, Kent and south London. The company's supply area is 322 square miles and it maintains more than 2,000 miles of water mains. It also has eight treatment works, 23 pumping stations and 31 operational service reservoirs and water towers. 
SES Water has a fleet of vehicles which are primarily used by colleagues working within a specific geographic area such as at water treatment works. The company's vans typically cover between 5,000 and 10,000 miles per year. 
The problem 
SES Water, as part of its sustainability initiatives, developed a carbon roadmap to support the reduction of its carbon footprint. The company's vehicles were a key element in the plan, which set out a commitment to achieve 100 per cent EV by 2030. The challenge was how to achieve this, while still ensuring vehicles were fit for purpose. Primarily colleagues had concerns about how they could do their job without vehicles running out of charge. The installation of charging infrastructure would also be required. 
Vehicles were previously bought as an outright purchase, and there were concerns about the costs of leasing.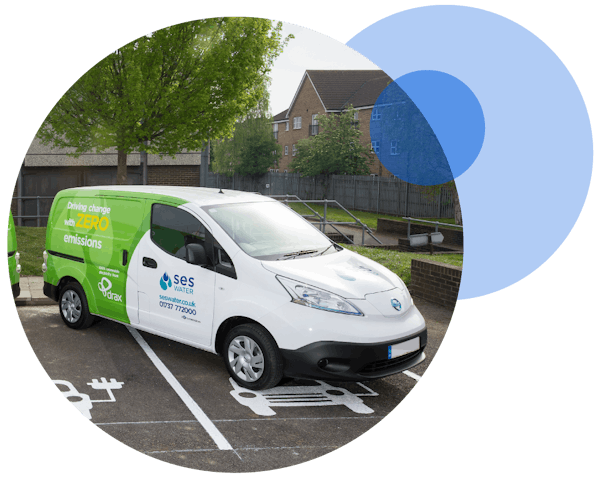 The solution
SES Water started on its EV journey by leasing ten Nissan e-NV200 electric vans from DriveElectric. Although electric vans have a higher purchase price than diesel vans, when lower running costs are taken into account, the whole-life costs of electric vans are more attractive. It turned out electric company cars would also be more affordable through leasing than outright purchase. 
In total SES Water now leases 15 electric vans from DriveElectric, comprised of 12 Nissan e-NV200 vans, two Renault ZOE vans, and one Peugeot e-Expert, as well as 19 electric cars, comprised of a variety of makes and models. 
Company vehicles were fitted with telematics in order to capture data about journeys. This enabled the suitability of electric vehicles to be assessed, and also provided information about where charging points needed to be installed, resulting in 42 charging points located across SES Water sites to tie in with the arrival of the new electric vehicles. 
There was a lot of learning at the start of the transition to EVs, particularly around the real-world range of the vehicles compared to the official figures, as driving ranges can be impacted by factors such as weather, load and individuals' driving styles. 
A handover of the new electric vehicles to drivers has been seen as a vitally important part of the roll-out, especially as most drivers have never driven an EV before. 
| Cost Comparison EV v Diesel | Electric LCV | Diesel LCV | Variance |
| --- | --- | --- | --- |
| Vehicle Hire/Depreciation | £10,010 | £5,597 | £4,413 |
| Fuel | £892 | £5,070 | -£4,179 |
| Road Tax | £0 | £685 | -£685 |
| Maintenance/Repairs | £1,883 | £3,603 | -£1,719 |
| Total | £12,785 | £14,955 | - £2,170 |
| Saving % | | | 15% |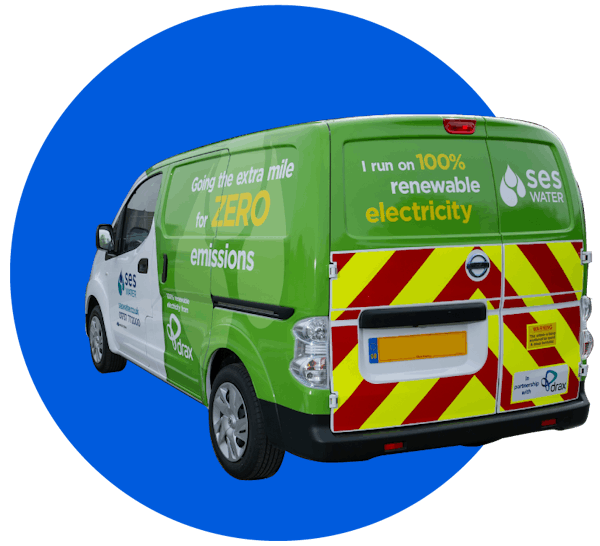 More than 20 per cent of the SES Water vehicle fleet is now comprised of electric cars and vans, with resultant emissions and costs savings. 
The vast majority of drivers were initially anxious about moving from internal combustion engine vehicles to electric, however drivers now don't want to go back to petrol or diesel. One driver, who had driven petrol or diesel vehicles for 30 years, took just one day to transform from being an EV sceptic to an EV champion. 
SES Water is continuing down its electric road, with many of the initial operational concerns likely to be further diminished as the driving ranges of electric vehicles continue to improve, along with the ever-increasing variety of makes and models that are available. 
Let's help you decarbonise your fleet
Wherever you are with your EV fleet plans, DriveElectric has the expertise to help. Get in touch today.