BMW iX
The BMW iX SUV is available as an xDrive40, an xDrive50, or as the M60, with varying driving ranges and performance figures; all models are spacious, comfortable and refined.
This is a review for the BMW iX
Long driving range. 264-382 miles (WLTP)
Spacious, but big and heavy
BMW iX design & powertrain
The iX is a large SUV (although BMW refers to it as an SAV – a Sports Activity Vehicle) with a body featuring fewer curves and contours than traditional BMWs, and in keeping with the brand's latest models, the front of the iX is dominated by a large grille. Inside, the iX has a 'lounge'-like cabin - unusually for a BMW, with space between the centre console and the dashboard. The 500-litre boot includes a compartment under the floor to store charging cables.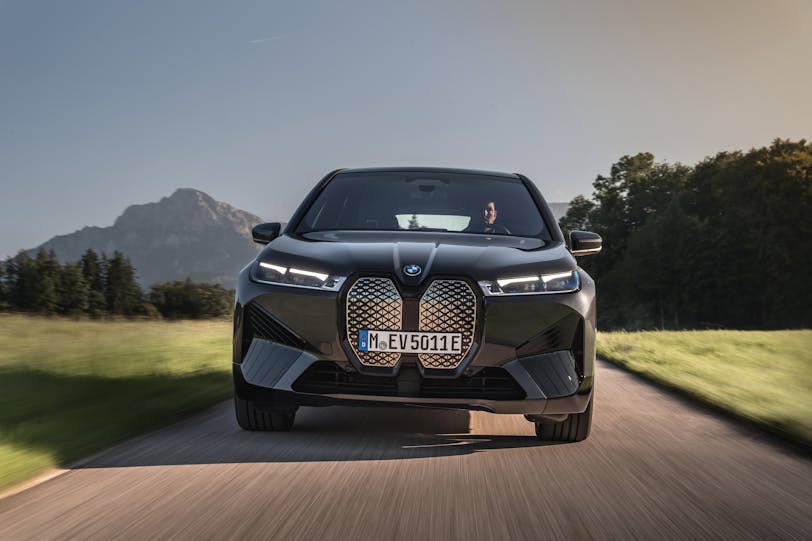 The iX xDrive40 has a 74.1 kWh battery (usable capacity); the xDrive50 has a large 108.8 kWh battery (usable capacity). The xDrive40 has a power output of 326 hp and torque of 630 Nm; the xDrive50 has a power output of 523 hp and torque of 765 Nm. Things get interesting with the iX M60, which has a power output of 619 hp and huge torque of 1,100 Nm. All iX models have dual electric motors and therefore all-wheel drive.
The BMW iX is an extremely comfortable and refined way to travel lots of motorway miles – and doing so is a practical proposition thanks to its long driving range. 
The iX also has good performance, with a 0-62 mph time of 4.6 seconds for the iX xDrive50. If you want crazy performance, then the iX M60 has a 0-62 mph time of 3.8 seconds. In Sport mode, you're treated to a futuristic soundtrack thanks to BMW IconicSounds Electric (the other two 'My Modes' in the xDrive50 are Personal and Efficient). 
These rapid acceleration times are particularly surprising bearing in mind the weight of the iX – 2,510 kg for the iX xDrive50, or 2,659 kg for the M60. So although the iX driving experience has many qualities, it can't be described as agile. However thanks to its all-wheel drive, it has lots of grip.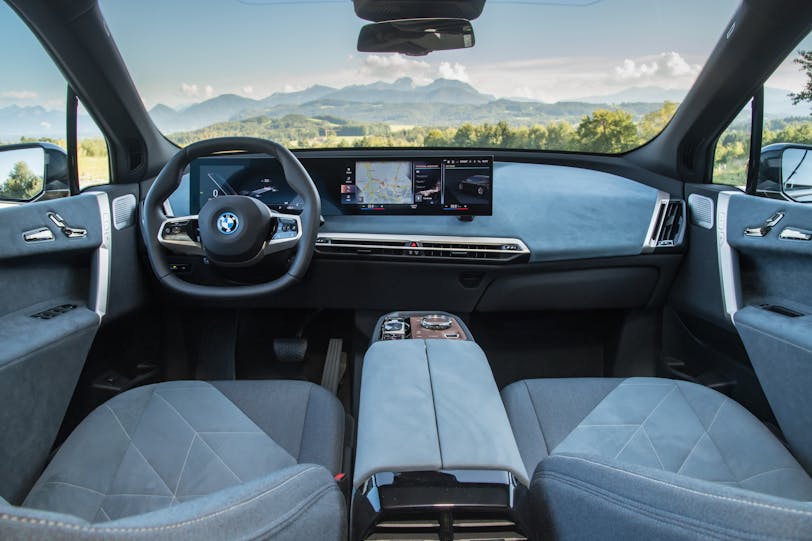 The iX's dashboard is a departure from that found in a traditional BMW interior, with a wide central touchscreen being the dominating feature. The iX features BMW's iDrive system, which includes a rotary dial on the floating centre console, with shortcut buttons around it. However the buttons aren't physical buttons that click, they're 'haptic' buttons. They've also lost the traditional white writing on a black background; instead the white writing is on a pale wood-effect panel, so it's not as clear.
What is clear is the BMW navigation; the map appears in high definition on the touchscreen, with a simplified version appearing in the driver's instrument cluster, and directions are provided in the head-up display. With accompaniment by audio directions, you really shouldn't get lost.
When you're ready to get out of the car, watch out for the door handle – because there isn't one. Instead there's a small button on the inside door trim that you need to press (or an even more hidden button lower down in the door panel); the door springs open as a result.
Range & charging
The BMW iX xDrive50 has an impressive official WLTP electric driving range of up to 382 miles (depending on trim details such as wheel size). In real-world driving you're likely to enjoy at least 320 miles. The iX xDrive40 has a range of up to 264 miles.
BMW iX xDrive50
382 miles (WLTP)
BMW iX xDrive40
264 miles (WLTP)
BMW iX M60
352 miles (WLTP)
How long will it take to charge? The iX xDrive50 can rapid charge up to 195 kW (although the iX xDrive40 can only charge at up to 150 kW). This allows the battery charge to be increased from 10% to 80% in around 35 minutes in the BMW iX xDrive50, or 31 minutes in the BMW iX xDrive40 (with a smaller battery). This means that a ten-minute rapid charge can provide extra range of 90 miles in the case of the iX xDrive50, and over 59 miles for the BMW iX xDrive40. The iX can also charge at 11kW, ie. using three-phase workplace charging.
A heat pump aims to ensure that the battery range doesn't suffer too much in winter when the heating is on.
The BMW iX is available as an iX xDrive40 model and as an iX xDrive50 variant, with Sport and M Sport trim choices – as well as the high performance iX M60. The iX xDrive40 in Sport trim starts at £69,905. The iX xDrive50 M Sport is available from £102,755. The iX M60 costs £122,775.
| Model | Battery (useable capacity) | £ from |
| --- | --- | --- |
| iX xDrive40 | 74 kWh | £69,905 |
| iX xDrive50 | 108 kWh | £102,755 |
| iX M60 | 108 kWh | £122,775 |
The BMW iX is a comfortable and refined car for long motorway journeys, it has lots of performance, and an impressive driving range. The cabin is modern, and the interior is spacious - but so it should be, because this is an SUV that is almost 5 metres long. And there's the weight, 2.5 tonnes, which means that the iX can't be described as agile. And then there's the price: the BMW iX xDrive50 M Sport starts at over £100,000. But perhaps the biggest news is the iX M60, and how this 2.7 tonne SUV is endowed with 1,100 Nm of torque and a power output of 619 hp, resulting in a 0-62 mph acceleration time of 3.8 seconds – even though the performance of the iX xDrive50 really is more than adequate.
Our latest electric car lease offers...
£2,524.26 Initial rental (ex. VAT)
£3,029.11 Initial rental (inc. VAT)
48 Month term
5000 Annual mileage
Subject to status and conditions + arrangement fee
£280.

47
Business contract hire per month (ex. VAT)
£336.

57
Personal contract hire per month (inc. VAT)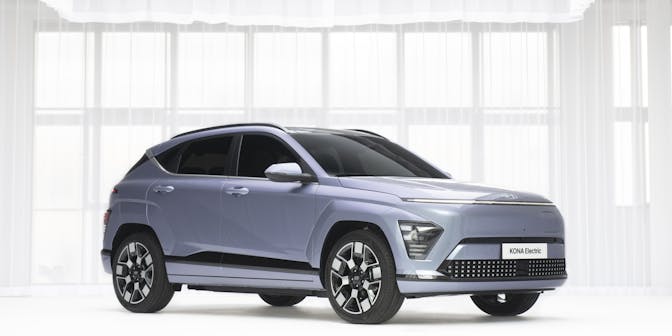 £2,067.67 Initial rental (ex. VAT)
£2,481.20 Initial rental (inc. VAT)
48 Month term
5000 Annual mileage
Subject to status and conditions + arrangement fee
£229.

74
Business contract hire per month (ex. VAT)
£275.

69
Personal contract hire per month (inc. VAT)
£2,676.21 Initial rental (ex. VAT)
£3,211.46 Initial rental (inc. VAT)
48 Month term
5000 Annual mileage
Subject to status and conditions + arrangement fee
£297.

36
Business contract hire per month (ex. VAT)
£356.

83
Personal contract hire per month (inc. VAT)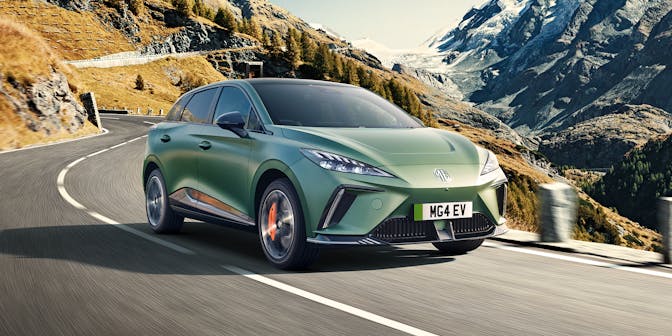 Saloon
Up to 335 miles range
£3,591.00 Initial rental (ex. VAT)
£4,309.20 Initial rental (inc. VAT)
48 Month term
5000 Annual mileage
Subject to status and conditions + arrangement fee
From
£399.

00
per month (ex. VAT)
From
£478.

80
per month (inc. VAT)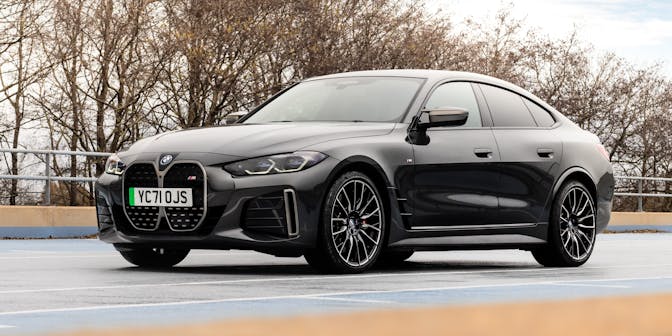 £9,286.63 Initial rental (ex. VAT)
£11,143.96 Initial rental (inc. VAT)
48 Month term
5000 Annual mileage
Subject to status and conditions + arrangement fee
From
£1,031.

85
per month (ex. VAT)
From
£1,238.

22
per month (inc. VAT)