BMW iX1 Review
The BMW iX1 is an all-electric compact SUV which aims to combine a typical BMW driving experience with a practical body shape and zero tailpipe emissions.
Practical compact SUV body style
Has a WLTP range of 273 miles
Lower price than BMW iX3, and all-wheel drive
BMW iX1 design & powertrain
The all-electric BMW iX1 is visually almost identical to the petrol, diesel and plug-in hybrid X1. However under the skin is a 64.7 kWh battery and 190 hp electric motors at the front and back, which deliver all-wheel drive.
The boot offers 490 litres of luggage space, or 1,495 litres with the rear seats folded, and if you need more capacity, the iX1 has a 1,200 kg towing weight.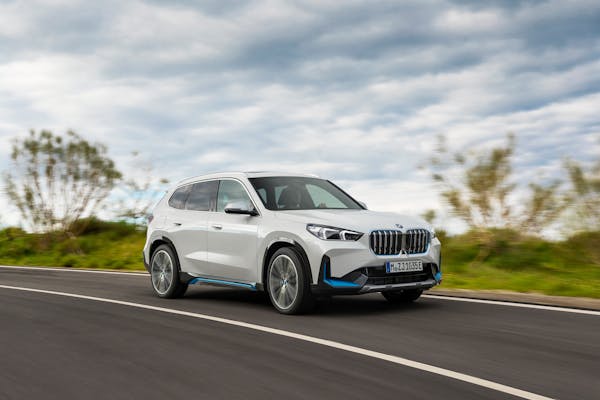 What's the BMW iX1 like to drive?
The BMW iX1 delivers a typical BMW driving experience. This means a quality feel overall, with a comfortable ride and responsive performance (it takes just 5.6 seconds to accelerate from 0-62mph). A short burst of extra electric torque can be summoned via a button on the steering wheel.
The iX1 offers the grip of all-wheel drive when needed, although it can operate in front-wheel drive under normal conditions in order to be as efficient as possible.
There are three main drive modes, Personal, Sport and Efficient. Acceleration in Sport mode is accompanied by a futuristic soundtrack composed by Hans Zimmer.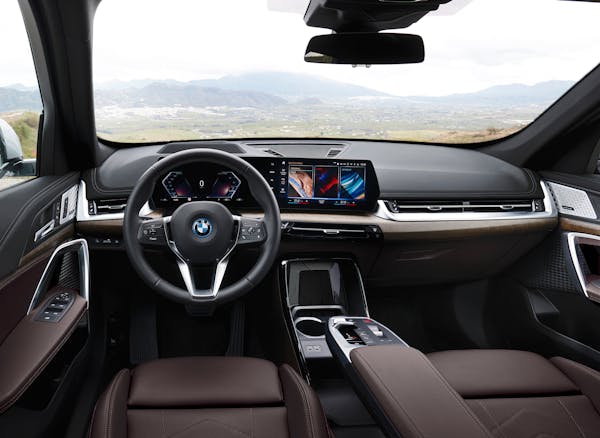 The gear selector is more of a switch than a traditional gear lever; it allows you to select D or B for increased brake regeneration, or you can opt for the car to choose its own level of regen using an adaptive recuperation function.
The interior features the latest technology, including a touchscreen that you now have to touch because of the removal of the traditional BMW iDrive rotary controller and the shortcut buttons between the front seats. BMW claims that most requests from the driver can be actioned effectively via the very latest generation of voice control, and initial feedback supports this claim. The quality of BMW's satnav system mapping and provision of directions continues to be very clear.
The BMW iX1 has a WLTP combined electric driving range of 259 – 273 miles.
The iX1 has a maximum rapid charging rate of 130 kW. All electric cars charge quickly when their battery level is low, but the charging speed decreases as the battery level rises. BMW's engineers say that they have been working to optimise this 'charge curve', in other words to achieve a balance between the fastest possible charging and battery longevity. The iX1 can gain a 10% to 80% charge at a 130 kW+ rapid charger in 29 minutes, which could translate to adding 75 miles of range in just ten minutes.
If you can charge using 11 kW three-phase power, such as at a workplace, a 0-100% charge could take 6.5 hours. There's also the option to be able to charge at up to 22 kW AC, when the charging time could be reduced to 3 hours 45 minutes.
The BMW iX1 price and model range
The BMW iX1 xLine is available from £52,255, and the BMW iX1 M Sport is available from £54,960.
Blue exterior trim details are a no-cost option; 18-inch light-alloy wheels are fitted on xLine and M Sport cars, although these models can also be specified with 19-inch or – in a first for the BMW X1 – 20-inch wheels.
The BMW iX1 is available to order now and deliveries should start in the UK from January 2023.
Although the X1 is available with petrol, diesel, plug-in hybrid and electric powertrains, BMW expects 66% of X1 sales in the UK to be fully electric, and 14% to be plug-in hybrid, which means that 80% of sales are expected to be 'plug-in' models, leaving only 20% to be petrol or diesel.
Whereas the BMW i3 was unique compared to the brand's other models, most people will be unable to spot many visual differences between the petrol, diesel, plug-in hybrid and electric BMW X1. The basic BMW driving experience is also evident in all the different powertrains, but the expected sales split of 66% for the all-electric iX1 in the UK reflects the increased appetite for EVs. In part this will be due to much lower Benefit in Kind tax rates for company car drivers, as well as lower running costs, but the better electric driving experience of near silent, responsive acceleration is also likely to be a key factor.
Saloon
Up to 335 miles range
£3,591.00 Initial rental (ex. VAT)
£4,309.20 Initial rental (inc. VAT)
48 Month term
5000 Annual mileage
Subject to status and conditions + arrangement fee
From
£399.

00
per month (ex. VAT)
From
£478.

80
per month (inc. VAT)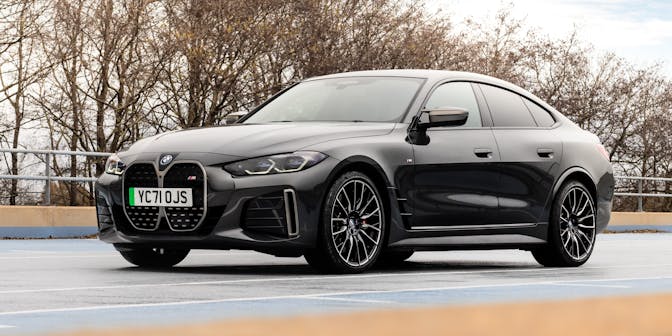 £9,286.63 Initial rental (ex. VAT)
£11,143.96 Initial rental (inc. VAT)
48 Month term
5000 Annual mileage
Subject to status and conditions + arrangement fee
From
£1,031.

85
per month (ex. VAT)
From
£1,238.

22
per month (inc. VAT)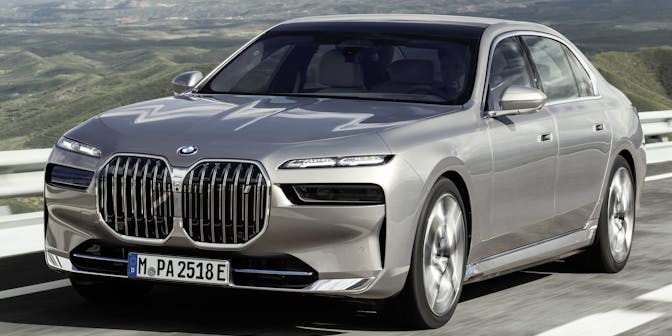 £3,635.04 Initial rental (ex. VAT)
£4,362.04 Initial rental (inc. VAT)
48 Month term
5000 Annual mileage
Offer expiry Monday, 18 December 2023
Subject to status and conditions + arrangement fee
£403.

89
Business contract hire per month (ex. VAT)
£484.

67
Personal contract hire per month (inc. VAT)
Special Offer
£3,922.31 Initial rental (ex. VAT)
£4,706.78 Initial rental (inc. VAT)
48 Month term
5000 Annual mileage
Offer expiry Monday, 18 December 2023
Subject to status and conditions + arrangement fee
£435.

81
Business contract hire per month (ex. VAT)
£522.

98
Personal contract hire per month (inc. VAT)
Special Offer
Choose your iX1 car lease