BMW iX3 review
The BMW iX3 is an X3 with an all-electric powertrain, which means that it's an SUV with zero-tailpipe emissions and all the normal benefits of a BMW driving experience.
BMW X3 with an all-electric powertrain

Real world driving range of 240 miles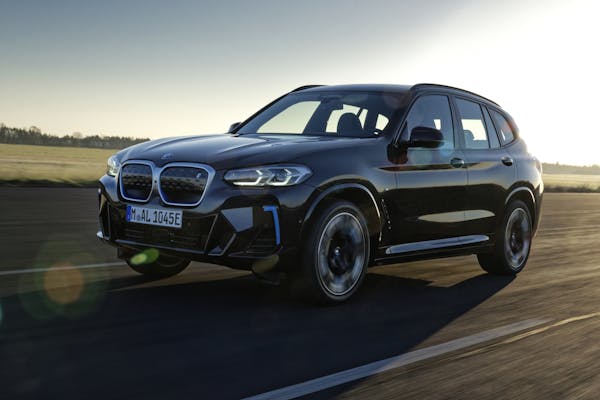 BMW iX3 design and powertrain
The BMW iX3 electric car is based on the petrol/diesel/plug-in hybrid X3, so this isn't an all-new electric platform. So you don't get the packaging benefits of some EVs, but on the plus side this is an X3 with zero tailpipe emissions. This means you get a traditional BMW interior, and familiar BMW looks. There's a 510-litre boot, which increases to 1,560 litres with the rear seats folded down.
The iX3 has an 80kWh battery and a 289PS electric motor on the rear axle, delivering rear-wheel drive.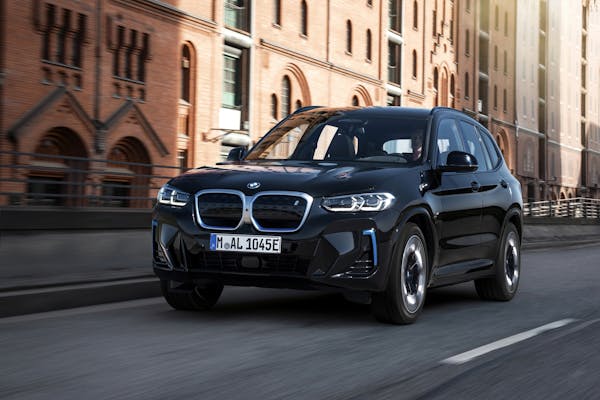 What is the BMW iX3 like to drive?
The BMW iX3 drives like a BMW X3 but with the quietness and refinement of an electric powertrain (although there is a simulated sporty soundtrack to accompany acceleration in Sport mode – when performance is impressive). One of the stand-out features of the iX3 is the excellent ride quality – despite the car's 2260kg weight. You even get the typical BMW handling balance thanks to the rear-wheel drive chassis, but yes, it is heavier than the petrol model.
Even the steering is sharp and well-weighted – and there's the thick M-Sport steering wheel). There's even a traditional (automatic) gear selector, which also allows you to select 'B' for increased levels of brake regeneration (with more levels to choose from via the touchscreen). And there's the normal excellent BMW driving position.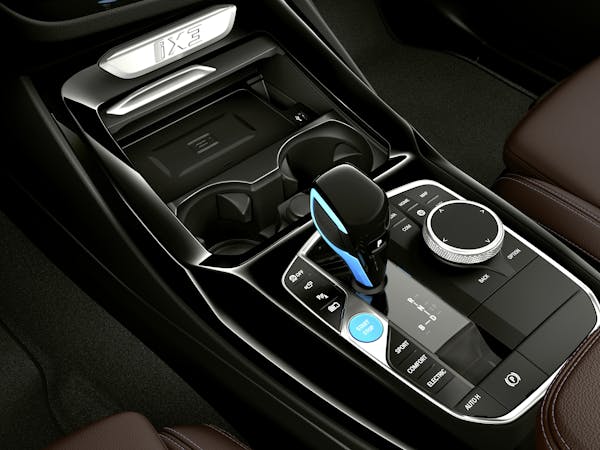 Many electric cars – and many new cars in general – have a dashboard based around just a large central touchscreen, with few other controls or displays. This isn't the case in the iX3, and this is something to be celebrated. Although there is a central touchscreen, this is controlled by the excellent iDrive system, via a rotary dial between the two front seats. There are also shortcut buttons. So you don't have to reach over to the touchscreen all the time when you're driving.
There are separate controls for heating and ventilation, and for the radio – again, this is all good.
There's also an instrument panel in front of the driver, which can display a map between the dials, and a head-up display can provide directions. All displays are clear and high quality; all this means that following satnav directions is an easy experience.
Driving range and charging
The BMW iX3 has an official WLTP driving range of up to 285 miles. Its real-world range is more likely to be around 240 miles.
The iX3 can rapid charge at up to 150kW DC, when a 0 to 80% charge should take 34 minutes. A 0-100% charge at a home wal-box should take around seven and a half hours. It can also charge at up to 11kW AC.
How much does the BMW iX3 cost?
The BMW iX3 is available in two trim levels: M Sport from £60,970 and M Sport Pro from £63,970.
The BMW iX3 is first and foremost a BMW. This means it's really good to drive and it has an interior that looks stylish as well as working really well. The iX3's party trick is that it has excellent ride quality. Its electric driving range of up to 285 miles is good, but this is beaten by the Tesla Model Y – however this BMW electric car lease is more comfortable and has a dashboard that is likely to appeal more to buyers of 'traditional' cars. Aside from the lack of all-wheel drive, one downside of the BMW iX3 is its price, although attractive leasing deals can make it more affordable.
£3,938.87 Initial rental (ex. VAT)
£4,726.64 Initial rental (inc. VAT)
48 Month term
5000 Annual mileage
Offer expiry Monday, 18 December 2023
Subject to status and conditions + arrangement fee
£437.

65
Business contract hire per month (ex. VAT)
£525.

18
Personal contract hire per month (inc. VAT)
Special Offer
£4,156.71 Initial rental (ex. VAT)
£4,988.06 Initial rental (inc. VAT)
48 Month term
5000 Annual mileage
Offer expiry Monday, 18 December 2023
Subject to status and conditions + arrangement fee
£461.

86
Business contract hire per month (ex. VAT)
£554.

23
Personal contract hire per month (inc. VAT)
Special Offer
£5,587.88 Initial rental (ex. VAT)
£6,705.45 Initial rental (inc. VAT)
48 Month term
5000 Annual mileage
Offer expiry Monday, 18 December 2023
Subject to status and conditions + arrangement fee
£620.

88
Business contract hire per month (ex. VAT)
£745.

05
Personal contract hire per month (inc. VAT)
Special Offer
Choose your iX3 car lease
£5,471.28 Initial rental (ex. VAT)
£6,565.53 Initial rental (inc. VAT)
48 Month term
5000 Annual mileage
Subject to status and conditions + arrangement fee
£607.

92
Business contract hire per month (ex. VAT)
£729.

50
Personal contract hire per month (inc. VAT)
£5,743.61 Initial rental (ex. VAT)
£6,892.33 Initial rental (inc. VAT)
48 Month term
5000 Annual mileage
Subject to status and conditions + arrangement fee
£638.

18
Business contract hire per month (ex. VAT)
£765.

81
Personal contract hire per month (inc. VAT)