Mercedes-Benz EQC electric lease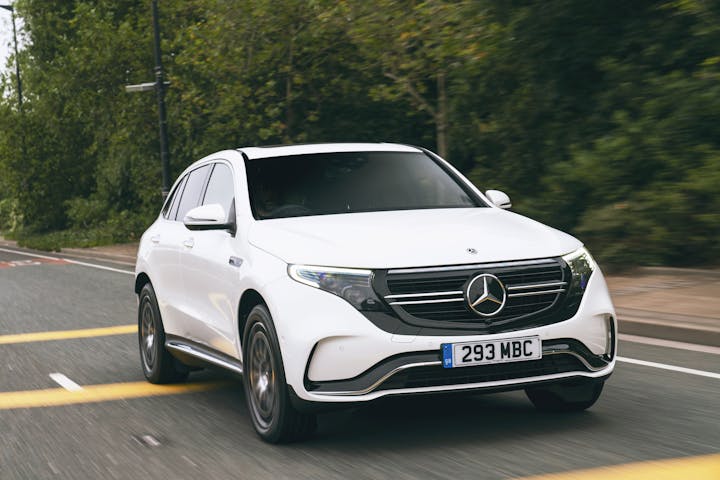 Choose your EQC car lease
£8,744.71 Initial rental (ex. VAT)
£10,493.65 Initial rental (inc. VAT)
48 Month term
5000 Annual mileage
Subject to status and conditions + arrangement fee
£971.

63
Business contract hire per month (ex. VAT)
£1,165.

96
Personal contract hire per month (inc. VAT)
£9,014.71 Initial rental (ex. VAT)
£10,817.65 Initial rental (inc. VAT)
48 Month term
5000 Annual mileage
Subject to status and conditions + arrangement fee
£1,001.

63
Business contract hire per month (ex. VAT)
£1,201.

96
Personal contract hire per month (inc. VAT)
About the Mercedes-Benz EQC
The iconic crosshairs of Mercedes-Benz adorn the frontend of this ultra-luxurious all-electric SUV. Based primarily on the popular GLC model, the EQC takes premium and puts it in a zero emissions package.
Dripping with all of the latest technology (as you'd expect from the premium German auto-manufacturer), the EQC is at the pinnacle of EV development. With an immensely quick 0-62mph time of 5.1 seconds - staggering considering its size - Mercedes' engineers have really stuffed the EQC with ground-breaking tech. But it's not just for the sake of a luxurious interior and state-of-the-art cabin. The cutting-edge technology aids efficiency too.
It's a surprisingly efficient car considering its size, which is thanks to the regeneration technology the EQC implements whilst driving. Derived from tech used by the all-conquering Mercedes Formula 1 team, the EQC is able to store otherwise lost energy and use it to extend the range. It's the ultimate fusion of practicality and performance.
Charging the Mercedes-Benz EQC
The Mercedes-Benz EQC is offered in one battery size: a large 80kWh brick.
The 80kWh battery grants the Mercedes-Benz an official WLTP range of 259 miles. At DriveElectric we always promote a more realistic range on each of our lease vehicles so there are no range-related shocks for customers, so with that in mind, we would suggest the EQC is more likely to get around 230 miles per charge.
Charging back up is easy though. Due to the high-capacity 80kWh battery, recharging via a standard 7kW home wall-box charger takes around 12 hours and 45 minutes. Which is absolutely fine if done overnight. However, if you're on the go and need a quick refill, a 350kW rapid charger will see the EQC charge from 10-80% capacity in only 35 minutes.