Mercedes-Benz EQS SUV electric lease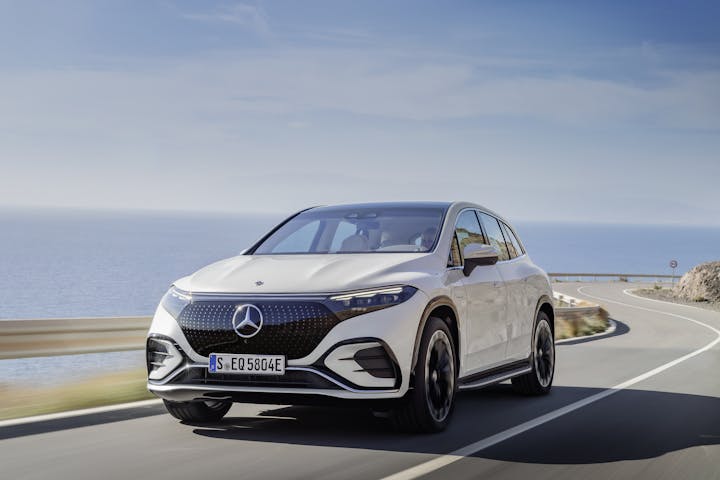 A commanding road presence and a statement of luxury, the EQS is now available as an SUV.
We currently do not have any deals available for the Mercedes-Benz EQS SUV. To discuss alternative EVs call us on: 01628 899727. Monday to Friday 08:30am to 5:30pm.
Sign up to our mailing list and we will send you details of our great electric vehicle leasing deals.
Subscribe
About the Mercedes-Benz EQS SUV electric lease
The Mercedes-Benz EQS began life as an uber-luxurious saloon, distilling the German automaker's all-electric advancements into a sleek package. But the EQS saloon isn't the most practical family car. Enter stage-left: the EQS SUV.
As expected, the EQS SUV offers a taller ride-height, packs a very impressive WLTP range of 409 miles and can even be spec'd with seven seats.
There are three variants; the EQS 450+, EQS 450 4MATIC and finally the EQS 580 4MATIC. The latter two options grant the SUV four-wheel drive, but compromise slightly on range due to the increased power needed to run all four wheels.
Thanks to fancy AIRMATIC air suspension, the ride inside remains soft and supple throughout various terrain. An uber-smooth ride will ensure all of the occupants can easily view the EQS SUV's MBUX Hyperscreen, which stretches the entire width of the dashboard and allows the front seat passenger to view their own content on a dedicated 12.3" display.
Mercedes-Benz EQS SUV battery and charging
Fitted with a gigantic 107.8kWh battery, the EQS SUV achieves a top speed of 130mph and a class-leading WLTP range of 409 miles.
With the Mercedes me 'Plug and Charge' function, the EQS SUV communicates with supported public chargers, removing the hassle of payment cards and apps. Currently there are over 300,000 Mercedes me Charge points across Europe, one of the largest charging networks of its kind.
Charging via AC at 11kW will fully charge the EQS SUV's battery to 100% in 11 hours 45 minutes. Plug into a rapid 175kW DC charger out on the road however, and a 10-80% charge is achieved in only 37 minutes.