Renault Zoe electric lease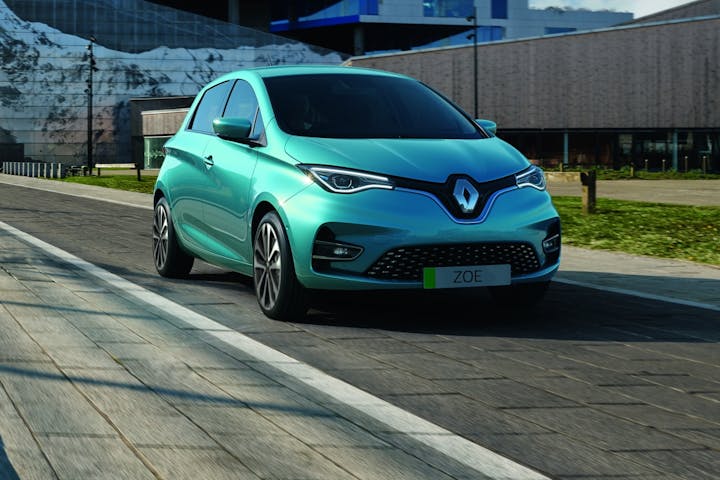 Choose your Zoe car lease
£3,439.69 Initial rental (ex. VAT)
£4,127.63 Initial rental (inc. VAT)
48 Month term
5000 Annual mileage
Subject to status and conditions + arrangement fee
£382.

19
Business contract hire per month (ex. VAT)
£458.

63
Personal contract hire per month (inc. VAT)
£3,955.02 Initial rental (ex. VAT)
£4,746.02 Initial rental (inc. VAT)
48 Month term
5000 Annual mileage
Subject to status and conditions + arrangement fee
£439.

45
Business contract hire per month (ex. VAT)
£527.

34
Personal contract hire per month (inc. VAT)
£4,047.03 Initial rental (ex. VAT)
£4,856.43 Initial rental (inc. VAT)
48 Month term
5000 Annual mileage
Subject to status and conditions + arrangement fee
£449.

67
Business contract hire per month (ex. VAT)
£539.

60
Personal contract hire per month (inc. VAT)
About the Renault Zoe electric car
The Renault ZOE proves that "zero-emission" cars can combine sensuous, reassuring, sculpted styling with the promise of real driving enjoyment. This ZOE model further adds to its eco-credentials with recycled upholstery and a new 52 kWh battery. The small electric car lease option has a modern and dynamic design, bold curves, sleek lines and an impressive driving range!

The award-winning Renault Zoe electric car was been named Best Small Electric Car for Value 2021 by What Car? as well as winning additional awards last year from other panels such as 'Best Car for New Drivers' and 'Affordable Electric Car of the Year 2021'.
How do you charge the Renault Zoe?
All Renault Zoe models come with a 52 kWh battery, and can be charged up at home plugging in to a 7 kW wall box charger in 8 hours 30 minutes.
Something to consider when choosing a variant is whether you require the rapid charging upgrade included in the higher specification models (the Renault Zoe Iconic does not include this). If you do choose an Renualt Zoe lease which includes 50kW DC Rapid Charge, you will be able to recharge your car quickly at public charging stations, gaining 80% charge in just over 50 minutes.
| Model | Battery size | Usable battery size | Real world range | WLTP range |
| --- | --- | --- | --- | --- |
| Renault Zoe Iconic | 54.7 kWh | 52 kWh | 195 miles | 245 miles |
| Renualt Zoe S Edition | 54.7 kWh | 52 kWh | 195 miles | 245 miles |
| Renault Zoe GT Line + | 54.7 kWh | 52 kWh | 190 miles | 239 miles |