null e-Relay electric lease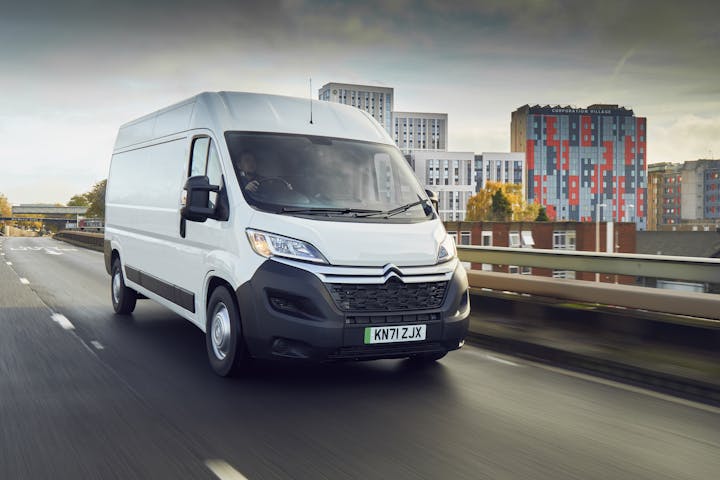 The largest and most configurable electric van in the Citroen range, the e-Relay.
We currently do not have any deals available for the null e-Relay. To discuss alternative EVs call us on: 01628 899727. Monday to Friday 08:30am to 5:30pm.
Sign up to our mailing list and we will send you details of our great electric vehicle leasing deals.
Subscribe
About the Citroen e-Relay electric van
The new Citroen ë-Relay electric van is available in three different sizes to suit all business needs; compact, medium or large as well as multiple configurations. For this electric van lease option you can choose from 2 battery pack sizes 37kWh and 70kWh, and as standard the e-Relay comes with features such as a five-inch colour touchscreen, DAB radio and satellite navigation, plus a new rear-view mirror that contains a small display with key vehicle information such as battery charge level and remaining range.
There are huge cost savings to be made when driving an electric van compared to the diesel equivalent. If you are a frequent London driver, with zero tailpipe emissions the ë-Relay electric van is exempt from current Congestion and Ultra Low Emissions Zone charges, so there is even more savings to be made.
If your organisation is thinking about making the switch to electric, but still has questions about the costs involved take a look at our guide on whole life costs: Can businesses save money by making the switch to an electric van fleet?
Citroen e-Relay payload & load space
| Model | Battery size | Payload (kg) | Load length (mm) | Load volume (m3) |
| --- | --- | --- | --- | --- |
| ë-Relay 35 L2H2 Electric | 37kWh | 1070 | 3120 | 11.5 |
| ë-Relay 35 L3H2 Electric | 75kWh | 740 | 3705 | 13 |
| ë-Relay 40 L3H2 Electric | 75kWh | 1150 | 3705 | 13 |
| ë-Relay 40 L4H2 Electric | 75kWh | 1150 | 4070 | 15 |
How long does it take to charge the Citroen e-Relay electric van?
There are many ways to charge the Citroen e-Relay electric van. The most common way would be to get a wall box charger installed at home or your place of work, using this option to fully recharge will take between 6 - 11 hours depending on your battery size choice, meaning you can fully recharge overnight when you aren't using the van.
Drivers are also able to recharge in public at compatible charging stations, and if you need to charge the electric van up in a hurry, you can connect to a rapid charger usually found on motorways or service hubs across the country. Speeds of charging can vary depending on what type of charger you're plugging into, the Citroen e-Relay is capable of charging at a power of up to 50kW DC, meaning you can recharge the van up to 80% in as little as 35 minutes for the 35kWh battery and just over 1 hour for the larger 75kWh battery option.
If you like the sound of the Citroen e-Relay electric van lease, you can browse all of our models and lease offers and get a quote online today. We offer all makes and models of electric vehicles, if it's a different electric van you are looking for you can browse all electric van lease options here.
Looking for a different manufacturer?