How to Charge Your EV Without a Home Charger
The demand for EVs is rapidly accelerating - with more people joining the EV revolution by the day. But with limited access to electric car home chargers being a common concern, many drivers are still reluctant to make the switch. Think you can relate? You're in the right place. Here's how you power upwithout a home charger.
If you thought you needed a home charger to own an EV, join the club. Recent studies have shown that less than 20% of drivers would consider having an EV if they were unable to charge it at home.
However, it turns out that it's entirely possible to manage sufficient electric car charging at home - even with no driveway.
Note: if you do have off-street parking, our expert advice is to get a professionally installed home charger.
As electric vehicles continue to advance, making chargers more accessible for those without off-street parking (that's 30% of UK households) is one of the key priorities. Think handy lamppost chargers popping up in and around London, or the government's charge point regulations for optimum reliability.
The coming years are expected to see a whole bonnet of innovative technologies to make EV charging as hassle-free as possible. From battery swapping and wireless charging to vehicle-to-vehicle charging, it's safe to say EV drivers will never be out of (energy-efficient) juice.
Plus, with 2035 implementing a ban on all new petrol and diesel cars, switching to electric now is a no brainer for getting ahead in the future. 
So, if you're curious to learn more about how you can power up without a home charger - or simply seeking assurance on the possibility of range anxiety - we've got you covered. Keep reading to discover everything you need to know.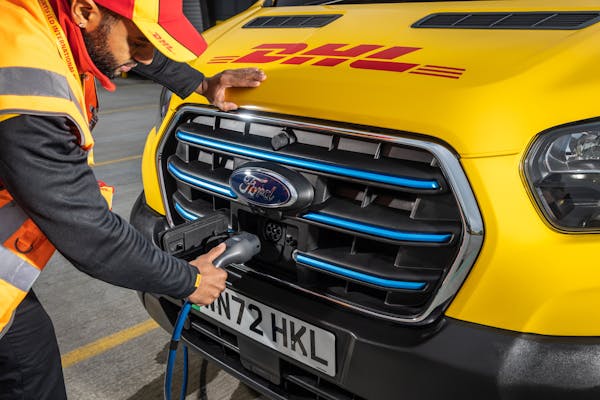 Workplace charging
Many businesses are making greener switches in a bid to become more sustainable. But it's equally important that they empower their employees to do the same. That's where workplace charging comes in. Having access to electric car charging points in company car parks means you can get sufficient charge without even having to think ahead. Simply plug in as you arrive and look forward to a replenished battery once it's time to hit the road. 
If your company is yet to implement workplace charging, don't be afraid to ask about when they plan on doing so. You can also find out more about the government's workplace charging scheme here in case you think they'd benefit from applying.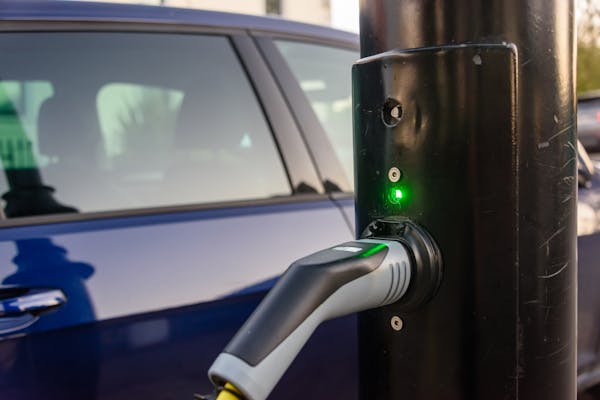 Public on-street EV chargers
If you live in a residential area, the chances are there will be some on-street chargers to choose from - whether that's in a designated spot or conveniently tucked away.
London is rolling out a lamppost charging scheme at rapid speed - giving the city's drivers over 7,000 charge points to choose from. As they're integrated in existing street furniture, they're both affordable and straight-forward enough to install. It's worth noting, however, that these aren't always the most reliable when it comes to securing a guaranteed spot.
You can also find standalone chargers that come with their own parking space, so there's less chance of it already being taken by a petrol-guzzling car. These do tend to be slower for charging, but because they're designed to be used for longer periods, you'd still get a decent top-up if you were to leave your car plugged in overnight. 
We'd advise sussing out a couple of spaces within a 10-20-minute walk of your home. That way, you always have a second option to fall back on if your ideal space isn't available when you want it.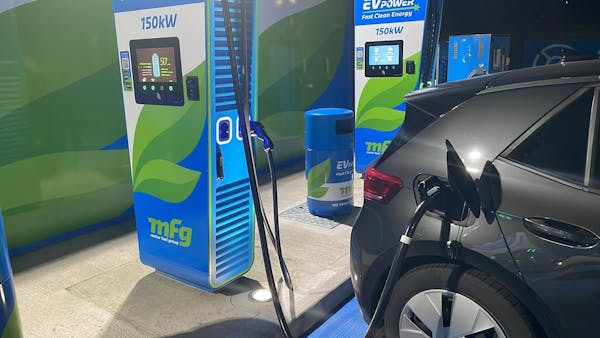 Rapid charging
The EV charger you'll probably be most familiar with is rapid charging. Available at service stations, petrol stations, and supermarkets, rapid chargers are designed to provide a big hit of charge in a small amount of time. These tend to come in 50kW, 150kW and even 350kW power outputs. Always check the maximum power your EV can accept though, as if your EV can't accept 350kW then the charger will deliver to your vehicle's limits.
If you can charge an EV battery very quickly, why doesn't every EV driver do this? The hefty price tag may have a lot to do with it. While rapid charging is great for giving you a boost, it's by far the least cost-efficient and doesn't always guarantee green energy.
That said, many EV drivers get by with only relying on rapid public networks. If you're a low-mileage driver then this can be a suitable long term option.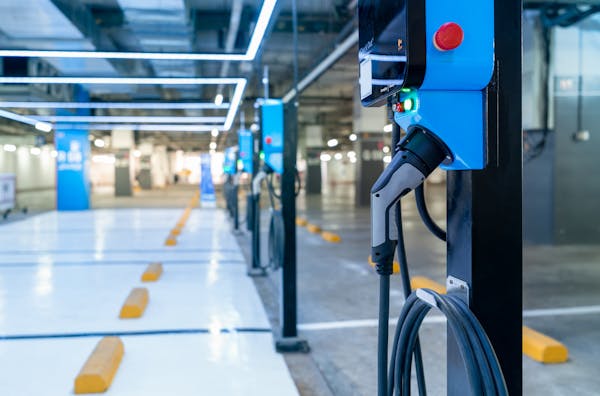 Destination EV charging
Another handy way of charging your electric vehicle is by topping up at the end of your journey. Shopping and leisure centres, food outlets, and entertainment venues are commonly used for destination charging points, as they're places where people tend to stop for a few hours before making tracks. Perfect for getting shorter bursts of boosts as opposed to charging up all in one go.
Long-stay destination charging is also available at airports and train stations, so you can come back to a fully charged car even if the charger isn't being used the whole time.
The other bonus of this is that it's an easy way of incorporating charging in your everyday life. Instead of having to wait around while your car charges, you can run those errands you've been putting off or enjoy the latest movie. The only downside is that you can't always secure a spot - so try not to rely on it for all your charging needs.
A little planning and preparation go a long way. Petrol and diesel car drivers are well used to fuelling up as and when it's convenient for them. While charging requires a little more thinking ahead, it doesn't take long before you find what works for you. And once you realise how easy it charge up as you go, you'll never look back!

Embrace the journey (literally). Make charging part of your daily or weekly routine - and enjoy the process. Use the walk to your on-street charger to catch up on your favourite podcast, or to grab a coffee while you mentally prepare for the day ahead.

Focus on topping up as you go, as opposed to letting your EV run low before charging again. This is key for minimising range anxiety and ensuring your car is always topped up with the energy it needs to get you where you need to be.

Not satisfied with your local town or workplace's charging facilities? Speak up! With the demand for EVs showing no signs of slowing down, it's crucial that councils roll out more charging points to ensure every UK driver gets their energy fix. Play your part in the EV revolution by speaking up to your local council or employer to make this need heard.
No home charger, no problem? FAQs