40% rise in ultra-rapid charging during first half of 2022
As electric vehicle uptake grows exponentially, the need for rapid charging rises with it. Thankfully, figures released by ZapMap prove that a large uptick is happening.
Why are ultra-rapid chargers important?
By our prediction new electric vehicle registrations are set to top 330,000 in 2022. That's a lot of electric vehicles, covering millions of miles a day. For motorists travelling a large distance in one go, ultra-rapid charging offers the most convenient way to recharge their vehicle.
With many EVs now accepting extremely high-rates of charge, a 10-80% refill at an ultra-rapid charger (up to 350kW) often takes less than 30 minutes. This quick turnaround allows a steady stream of EVs to charge up fast and then move on.
As the infrastructure catches up to the vast influx of EVs, ultra-rapid chargers are an important asset in keeping a steady flow of chargers available for the UK's motorists. Ultra-rapid charging hasn't quite hit the speed of refilling in a traditional ICE vehicle, but it's called ultra-rapid charging for a reason. However, if you've ever been stuck at a pump behind someone doing their weekly shop in the petrol station, waiting can take just as long as recharging an EV.
Leading the charge
According to ZapMap's figures, by the end of June 2022 there was a dramatic increase in ultra-rapid chargers of almost 40%. This is largely down to the introduction of charging 'hubs' across the UK. These charging hubs house at least six chargers, which accounts for the huge increase in charging devices across the board - not just the ultra-rapid chargers.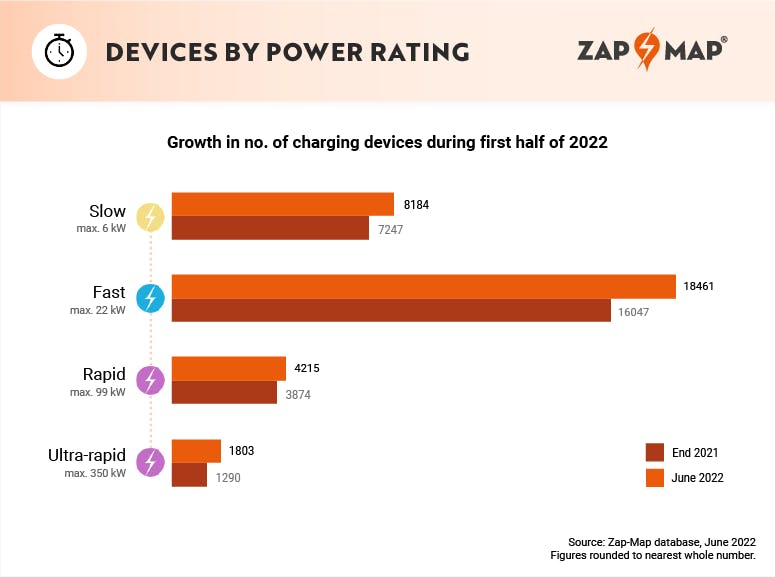 Since December 2021, the amount of EV charging devices has increased from 28,458 to 32,663.
An increasingly large proportion of chargers being installed are 'on street'. Residential streets with charging devices installed on them are a great way for people without driveways to make the switch to an electric vehicle. They're typically installed into existing infrastructure, such as lampposts. There are currently a total of 10,504 on-street chargers throughout the UK (as of June 2022).
Location, location, location
Geographically, the North East has seen the largest jump in charging devices, climbing 21% in just 6 months. The capital still reigns supreme in terms of volume, with Greater London topping a total of 10,865 chargers at the end of June.
The East of England has also seen a sizeable uptick in charger installation, with an 18% increase, the region now has a total of 2,097 chargers.
It's important not to underestimate the role that ultra-rapid chargers will have in the future of motoring. 'Range anxiety' is still a huge factor for many petrol and diesel drivers to avoid the all-electric switch, so headline figures like the ones above are encouraging and should aid the switch.
In practice however, the future of charging will be a patchwork. Drivers will need to incorporate smart charging overnight, using low amounts of electricity across a longer period. Rapid charging will then complement this, being utilised on the rare occasions that they'll be completing a 250+ mile trip in one go.
Whichever way the statistics are interpreted, it makes for encouraging reading. If you'd like to experience the convenience of ultra-rapid charging, take a look at the electric vehicle leases below that accommodate super-speedy charging.