The new BMW i7 M70 xDrive is the most powerful of the 7 Series range
BMW expands its 7 Series lineup with the all-new fully electric BMW i7 M70 X, which offers the ideal balance of electric mobility and performance, marking yet another milestone in the company's electric mobility transition.
The BMW i7 M70 xDrive will be the most powerful, and fastest, all-electric BMW model, with motors at the front and rear delivering all-wheel drive and developing 660 hp of power, and a huge 1,100 Nm of torque.
This enables a 0-62 mph acceleration time of 3.7 seconds – with the standard i7 weighing 2,715 kg, this is quite an achievement.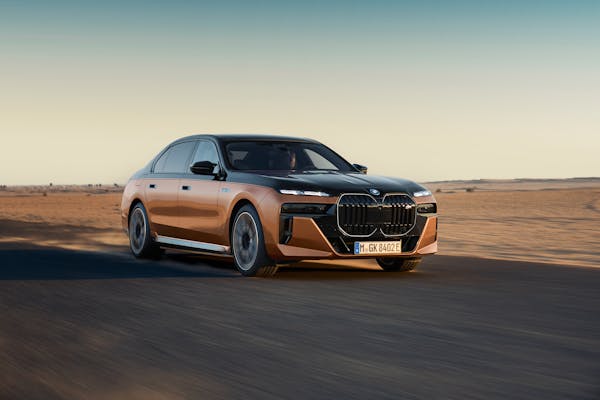 The electric all-wheel drive, the steering, the dampers and the driving stability systems all have M-specific control systems.
The motor powering the i7 M70 xDrive's rear axle generates a peak output of 360 kW/489 hp and the front motor produces 190 kW/258 hp, resulting in 1,015 Nm of torque in Sport mode and as much as 1,100 Nm when M Launch Control or the M Sport Boost function is activated.
The M Sport Boost function is activated with the shift paddle on the left of the steering wheel. It is accompanied by an M Performance-specific BMW IconicSounds Electric soundtrack created by Hans Zimmer.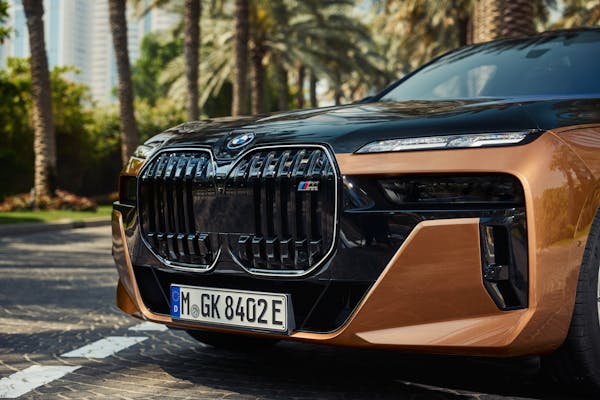 The i7 M70 xDrive's 101.7 kWh battery (usable capacity) provides a driving range of 303 – 348 miles based on the WLTP cycle, helped by adaptive recuperation of braking energy and the heat pump technology used in the integrated heating and cooling system for the cabin and powertrain.
The i7 M70 xDrive is capable of AC charging at up to 22 kW as standard, or up to 195 kW at an ultra-rapid DC public charger, allowing 106 miles of range to be added in just ten minutes.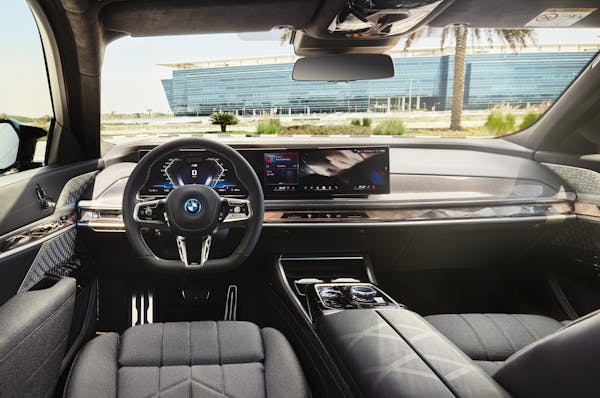 A new drive system setting of MAX RANGE mode helps the range to be extended by up to 15 to 25 per cent, by limiting the top speed to 56 mph, and the climate control system for the cabin, seat heating, seat ventilation and steering wheel heating are all deactivated.
The BMW i7 M70 xDrive is available with the BMW Theatre Screen and Bowers & Wilkins Surround Sound System.
The i7 M70 xDrive is the third electric M car, joining the BMW iX M60 and the BMW i4 M50, which was BMW M's best-selling model worldwide in 2022.
The i7 M70 xDrive will be built at BMW Group Plant Dingolfing, which also manufactures both the electric motors and the high-voltage batteries for all variants of the BMW i7.
The worldwide launch of the BMW i7 M70 xDrive will start in the second half of 2023.
Our electric car lease special offers
£2,713.18 Initial rental (ex. VAT)
£3,255.81 Initial rental (inc. VAT)
48 Month term
5000 Annual mileage
Subject to status and conditions + arrangement fee
£301.

46
Business contract hire per month (ex. VAT)
£361.

76
Personal contract hire per month (inc. VAT)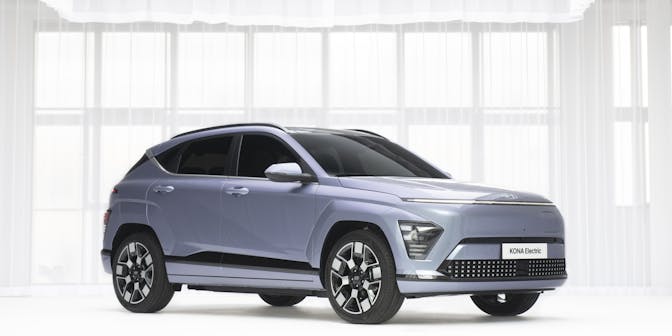 £1,951.79 Initial rental (ex. VAT)
£2,342.15 Initial rental (inc. VAT)
48 Month term
5000 Annual mileage
Subject to status and conditions + arrangement fee
£216.

87
Business contract hire per month (ex. VAT)
£260.

24
Personal contract hire per month (inc. VAT)
£2,728.44 Initial rental (ex. VAT)
£3,274.13 Initial rental (inc. VAT)
24 Month term
5000 Annual mileage
Subject to status and conditions + arrangement fee
£303.

16
Business contract hire per month (ex. VAT)
£363.

79
Personal contract hire per month (inc. VAT)