Citroën ë-Berlingo Electric goes on sale
There's an ever-increasing range of electric cars and vans on sale in the UK but so far there's not been much choice for people who want an all-electric 'multi-purpose vehicle.' That has now changed with the arrival of the Citroën ë-Berlingo Electric.
The Citroën ë-Berlingo Electric is based on a small van, but it has either five seats ('M' size) or seven seats ('XL' size). With the M model, there's 775 litres of boot space with the rear seats in use, and if you fold down the seats you get 3,500 litres of space. With the XL model, there's 1,050 litres of boot space, or a huge 4,000 litres of space if all seats are folded.
Citroën also claims that there are 26 different compartments inside the ë-Berlingo Electric which in total add an extra 167 litres of space.
So the Citroën ë-Berlingo Electric is basically a car that can be turned back into a van – so it's hugely practical.
The ë-Berlingo Battery Electric Vehicle (BEV) has a 100kW (136hp) electric motor and a 50kWh battery, giving an electric driving range of 174 miles WLTP. It can charge at up to 100kW using a public rapid charger, where an 0-80% charge will take around 30 minutes. Using the vehicle's 7.4kW onboard charger, charging at home using a wall box takes 7.5 hours for a 0-100% charge.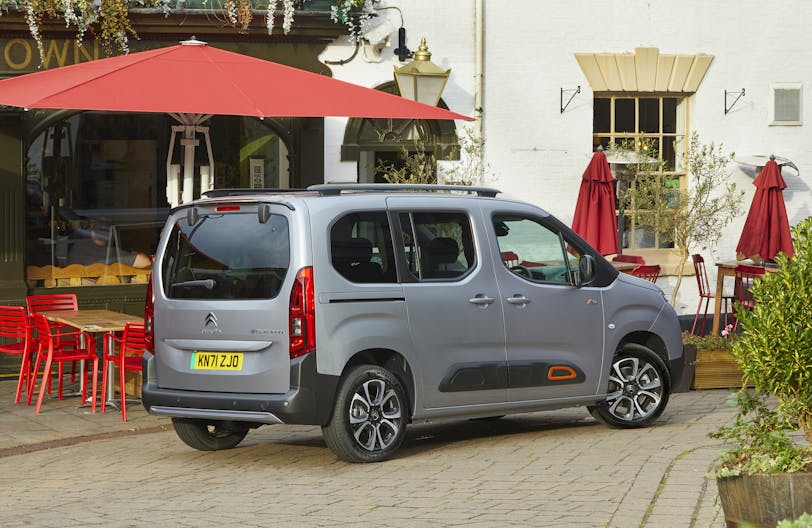 For drivers who are able to charge at a workplace or other locations with a three-phase electricity supply, an optional 11kW on-board charger is also available to take advantage of the higher power charging, reducing the time for charging from 0-100% to 4 hours 45 minutes.
As well as being more practical, the Citroen e-Berlingo is also more affordable than many EVs. There are two trim levels. 'Feel' trim costs £29,575 for the M model, and £31,575 for the XL length. There's also Flair XTR trim, only available with the M model, which costs £32,280. All prices are after the current Government 'Plug-in Car Grant' of £2,500 (so if you do fancy one, you might want to lease the Citroen ë-Berlingo Electric car while the grant is still around).
All ë-Berlingo models have sliding rear doors which should help rear passengers get in and out in tight car parking spaces, and Flair XTR models have a reversing camera, which should help to avoid rear prangs. ë-Remote Control allows the driver to remotely warm up the vehicle's interior before driving off on a cold winter morning.
The ë-Berlingo Electric has a Benefit-in-Kind (BIK) tax rate of just 1% for company car drivers for 2021/22, and all versions are exempt from London Congestion and Ultra-Low Emissions Zone (ULEZ) charges.
Citroën's strategy is to offer an electrified version of every model in its range by 2025. Check out the other Citroen Electric Car Lease options that are available now from DriveElectric.