Classical music increases an EV's range
New research has shown that if you want to maximise the driving range of an electric vehicle, you need to play classical or other relaxing music. Listening to Beethoven's Symphony No.9 can make drivers four times more efficient. Conversely, high energy music results in a driving style that reduces battery range.
This is the result of a test led by Kia, using an EV6 electric car with a 14-speaker Meridian Audio sound system. 
The study was overseen by Dr Duncan Williams, a lecturer at the University of Salford's School of Science, Engineering and Environment. Dr Williams also co-founded WaveTrace, a psychoacoustic consultancy specialising in biometric tracking of human responses to sound and music stimuli.
Participants in the test - who had never driven an EV before - had to drive a specific 18-mile route on a mix of different roads while listening to a pre-set playlist featuring different music genres and songs, and they didn't know what was being researched,
Before taking the EV6 on the 18-mile test run, each participant was fitted with an Empatica E4, a medical grade wearable device that records biometric measurements.
Dr Williams oversaw the analysis and data measurements from the Empatica E4, with the device focusing on infrared thermopile (shifts in skin temperature), electrodermal activity (fluctuating resistance of the skin that is altered by sweat), and blood volume pulse using a PPG optical sensor. Heartbeat and heat rate variability were also calculated.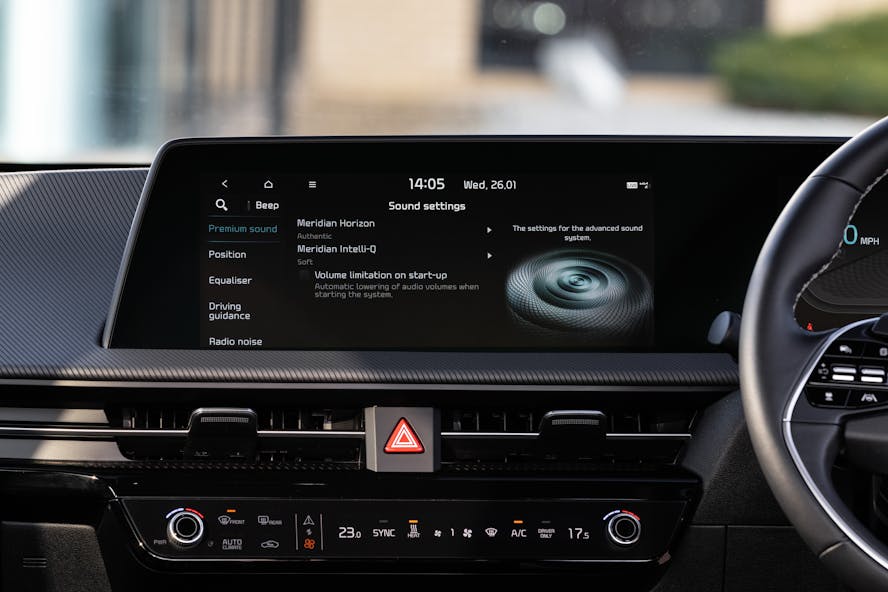 Different songs resulted in varying electrodermal activity and blood volume increase for each of the participants. This had a knock-on effect on driving style, and ultimately influenced the real-world driving range of the EV6. Listening to Beethoven helped to achieve the longest driving ranges.
On average, drivers lost 25 per cent in range expenditure versus real-world miles. Several factors can alter the real-world driving range of an EV, including weather and temperature fluctuations, speed of travel, vehicle payload, and use of in-cabin tech. This research shows that music can now be added to that list.
The Kia EV6 offers a battery range of up to 328 miles, and thanks to its 800V architecture it's one of the few EVs currently on the market that can benefit from ultra-rapid charging, which allows the car to replenish its battery pack from 10 to 80 per cent in just 18 minutes.
The all-wheel drive EV6 'GT-Line S' with dual motor was used in the trials, which has 321bhp of power and 605Nm of torque, giving it a 0-62mph acceleration time of just 5.2 seconds. The EV6 is the first of 14 electric vehicles Kia plans to launch globally by 2027.