Design Sketches of the 2022 ŠKODA ENYAQ COUPÉ iV Released
ŠKODA has released the official design sketches detailing the upcoming COUPÉ version of their popular ENYAQ model line, and it looks like a tempting offering from the Czech carmaker.
The current models in the range straddle the line between Estate and SUV, often referred to as a 'crossover'. However, if the design sketches are anything to go by, the new Coupe will be incredibly sleek and aerodynamic. So aerodynamic in fact, that Skoda claim they've managed to increase the WLTP range of the Coupe compared to previous models in the Enyaq line-up. Being showcased in the sketch alongside the Popular Monte Carlo – a car released nearly a century ago – it's clear that Skoda's design philosophy has been to emulate the elegance of classic design whilst maximising efficiency.

The sloping roof, sharp body lines and sporty frontend help it slice through the air more efficiently than the current Enyaq offerings, and give it a drag co-efficient of 0.234. Basically, it's very slippery. Although the sloping roof may compromise headroom a tad in the back, it still remains practical. The Coupe will stay as a four-door layout and will be offered with fully painted, colour-coded side skirts that'll sit between the large wheels seen in the sketch. The interior is "inspired by modern living environments", with a focus on sustainability to echo the green credentials of its all-electric powertrain.
It's due to be unveiled on the 31st January 2022 via a digital world premiere, so it won't be long before we see the new Coupe in all its streamline glory. If you're looking to get one of the great Skoda EVs currently available, have a look at our latest deals.
Our latest electric car lease offers...
£2,713.18 Initial rental (ex. VAT)
£3,255.81 Initial rental (inc. VAT)
48 Month term
5000 Annual mileage
Subject to status and conditions + arrangement fee
£301.

46
Business contract hire per month (ex. VAT)
£361.

76
Personal contract hire per month (inc. VAT)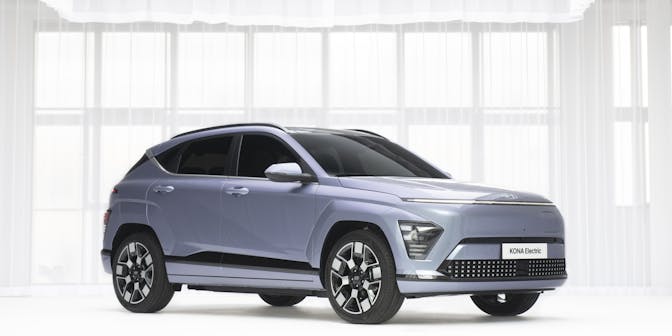 £1,951.79 Initial rental (ex. VAT)
£2,342.15 Initial rental (inc. VAT)
48 Month term
5000 Annual mileage
Subject to status and conditions + arrangement fee
£216.

87
Business contract hire per month (ex. VAT)
£260.

24
Personal contract hire per month (inc. VAT)
£2,728.44 Initial rental (ex. VAT)
£3,274.13 Initial rental (inc. VAT)
24 Month term
5000 Annual mileage
Subject to status and conditions + arrangement fee
£303.

16
Business contract hire per month (ex. VAT)
£363.

79
Personal contract hire per month (inc. VAT)