Ford E-Transit supports Market Traders on Electric Avenue
Brixton gets electrified! Ford Pro helps local traders make the sustainable switch to all-electric.
Ford has loaned an E-Transit van to market traders on Electric Avenue in Brixton, London - the first market street in the country that was lit with electric streetlights.
The Ford Transit van has been the backbone of market traders for decades. Now Ford is making an E-Transit available for 12 months, with businesses able to test and use the electric van.
Electric Avenue champion, Brixton local and Reggae Reggae Sauce creator, Levi Roots, is partnering with Ford Pro on a year-long collaboration to decarbonise his business' logistics.
Alongside Levi Roots, Healthy Eaters and K & N Fresh Meat Ltd will be encouraging the wider community to make the most of the E-Transit and take part in test drives offered to the traders at the market.
Together, the businesses are rallying the trading community to help make Electric Avenue fully electric once again, aiming to get all traders driving electric vehicles by 2030, ahead of the ban on the sale of new petrol and diesel vehicles.
The Ford E-Transit has a WLTP range of up to 196 miles and is exempt from London's Ultra Low Emission Zone and congestion charge payments, which could save traders £27.50 per day compared to running a diesel van, and it's also exempt from Vehicle Excise Duty until April 2025.
Ford Pro's initiative comes in response to its recent research that found over half (51 per cent) of van drivers across the UK think that current charging infrastructure is not ready to support electric commercial vehicles – one of the biggest drawbacks to EV adoption.
However, Ford Pro's survey also found clear enthusiasm to make the switch and awareness of electrification's benefits; 56 per cent of respondents agreed that EVs could improve productivity via lower running costs, features such as the ability to keep an eye on any required maintenance (18 per cent) and the ability to charge at home for maximum uptime and efficiency (12 per cent).
Ford Pro's survey found three further current barriers to widespread electric van adoption:
• Difficulty finding parking, loading bays or depots with charging facilities (over 75 per cent)
• Insufficient fast-charging options available (30 per cent)
• Lack of appropriate charging stations negatively impacting productivity and profitability (29 per cent).
Ford is calling on the UK government and local councils to increase their spending on electric vehicle infrastructure, as more businesses and consumers make the switch ahead of the ban on new petrol and diesel vehicle sales in 2030.
Our electric van lease specials...
Medium Van
Range 155 miles
£3,569.30 Initial rental (ex. VAT)
48 Month term
5000 Annual mileage
Subject to status and conditions + arrangement fee
£396.

59
Business contract hire per month (ex. VAT)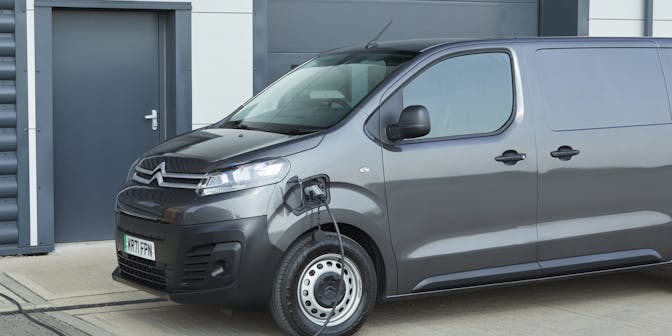 Medium Van
Range 155 miles
£3,463.39 Initial rental (ex. VAT)
48 Month term
5000 Annual mileage
Subject to status and conditions + arrangement fee
£384.

82
Business contract hire per month (ex. VAT)