Ford Pro Electric SuperVan - 2,000hp to accelerate your business
If you struggle to make deliveries on time or are often late to the next job, the Ford Electric SuperVan may be the solution to your business needs.
Ford has unveiled the absolutely bonkers Ford Pro SuperVan at the Goodwood Festival of Speed. The chassis is purpose-built, completely track-focussed and actually includes components from the upcoming Ford E-Transit Custom.
The SuperVan actually laid down one of the quickest hill-climb times and with the below specs, it's easy to see how.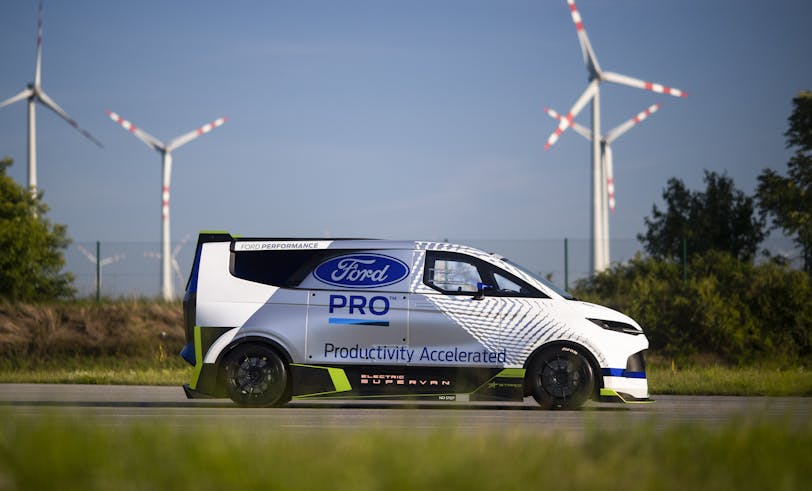 Here's a brief rundown - for Top Trumps purposes:
Power: 2,000hp
0-62mph: <2s
Bespoke 50kW liquid-cooled battery, specially mounted for optimal weight distribution
The in-cab touchscreen is also shared by the road-going E-Transit, with engineers being able to pull real-time data and adjust performance markers to optimise lap times for the SuperVan, all remotely. They also share selectable driving modes and regenerative braking too - albeit the SuperVan's driving modes are somewhat different…
Driving modes:
Road - Ford says this is for the 'rare cases of "normal" driving'
Track - What it says on the tin, used with racing slicks for maximum cornering and speed
Drag - At home at Santa Pod - with giant radials fitted this mode offers maximum acceleration
Drift - The SuperVan does it all. Drift mode grants superior agility for putting on a smoky show
Rally - For a mix of tarmac and gravel stages with special tyres fitted
It remains practical, however. It is a van after all. There's a loadspace behind the driver with a classic side-door to load and unload all of the precious cargo. Which of course will be delivered with plenty of time to spare.
Another SuperVan feature is the comically named 'Tyre Cleaning Mode'. This incredibly useful system is used mainly by meritorious professors for scrubbing debris from the tyres. The system completely locks one axle whilst keeping the other spinning; an unfortunate by-product is the ability to perform incredibly long burnouts - useful for tyre warming before performance runs.
The Ford SuperVan delivered some of the fastest times for the hill-climb, beating out the likes of high-end Ferraris, McLarens and Lamborghinis.
Unfortunately, we don't currently have any Ford SuperVan lease deals and considering the SuperVan is a one-off demonstrator - it's unlikely we'll ever offer the 1-of-1 van at a cheap monthly rate.
Luckily we do have plenty of great vans that we do offer at a cheap monthly rate. Take a look at our best van deals below.