Ford to release 7 all-new electric vehicles by 2024
Ford has announced a significant electrification strategy, culminating in the release of seven, all-electric passenger vehicles and vans by 2024.
With the introduction of their new global business unit – Ford Model e – the automaker expects its annual sales of EVs to exceed 600,000 units in 2026 across Europe. This is part of the company's wider strategy towards net-zero. Their target is to hit zero emissions for all vehicles sales in Europe and a completely carbon neutral footprint across its facilities, logistics and suppliers by 2035.
What EVs will Ford be releasing?
Consumers will be well served by a variety of vehicles: three new passenger vehicles and four commercial ones.
Early next year they'll begin production of an all-new passenger vehicle – a medium-sized crossover. Ford claims it's capable of delivering a 500km driving range from a single charge, however we'll have to wait until the end of 2022 for the model's unveiling. It'll be built in Ford's Cologne Electrification Centre, increasing the factory's electric vehicle production to around 1.2 million vehicles across 6 years.
The hugely popular Ford Puma will finally be available with an electric powertrain in 2024, with production for that particular model based in Romania. An electric version of the Puma is slightly overdue, as it was Ford's best-selling passenger vehicle across Europe in 2021.
Arguably Ford's most iconic offering though, is their Transit van. The go-to choice for sole-traders and business fleets alike, will be offered in four new electric variations. This includes the brand new Transit Custom one-tonne van and Tourneo Custom MPV variant in 2023. In 2024, consumers will get to experience the next generation of the smaller, Transit Courier van, as well as the Tourneo Courier MPV.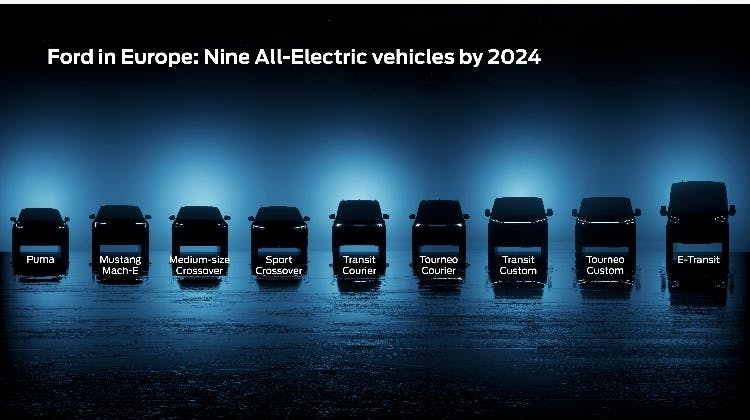 Expanding EV offerings is a welcome move from Ford. But those vehicles require batteries. Lots of them. To keep up with the demand, Ford has partnered with Koç Holding and SK On Co. in a joint venture to create one of the largest battery facilities in Europe.
Based in Turkey, the factory already has government backing and will likely begin manufacturing circa-2025. The collective hopes that the annual capacity of the factory will be around 30 to 45 Gigawatt hours. For perspective, there are 1 million kilowatts (kW) in a Gigawatt. That's equivalent to around 5,000 Ford Mustang Mach-e's. If the factory can hit the upper end of its production target, it'll be producing enough battery power for around 227,000 Mustangs every year.
£3,768.91 Initial rental (ex. VAT)
£4,522.69 Initial rental (inc. VAT)
48 Month term
5000 Annual mileage
Subject to status and conditions + arrangement fee
From
£418.

77
per month (ex. VAT)
From
£502.

52
per month (inc. VAT)