Fully Charged LIVE 2022 Wrap-Up
This year's Fully Charged LIVE proved just how far EV adoption and clean energy has come. Thousands of eco-conscious attendees flooded the Farnborough Exhibition Centre over the weekend, exploring everything the expo had on offer.
There was a lot on show, so here's DriveElectric's top picks and best bits from Fully Charged LIVE 2022.
Model Y Competition
One of the headline attractions of the weekend was our Tesla Model Y giveaway. Wrapped in a bright yellow livery, it was hard to miss on the Farnborough floor! We invited thousands of you to scan our QR code to Enter.
The prize? Every day of Fully Charged, one lucky winner would get an entire month's lease for the Model Y - completely free! That's a total of three winners driving Tesla's latest release in the S-3-X-Y model line-up.
Over the course of the weekend, more than 1,000 hopeful entrants entered by scanning the code next to our DriveElectric Tesla. But as the saying goes - there can only be three winners - so at the end of Friday, Saturday and Sunday, we randomly drew a name.
Every winner was invited up onto the Giga Theatre mainstage with our Directors; Mike Potter, Adam Kemp and Fully Charged Founder; Robert Llewellyn, to collect their prize. There was roaring applause from the Fully Charged crowd every time, proving just what a lovely bunch the clean energy crowd is.
Congratulations again to all three of our winners.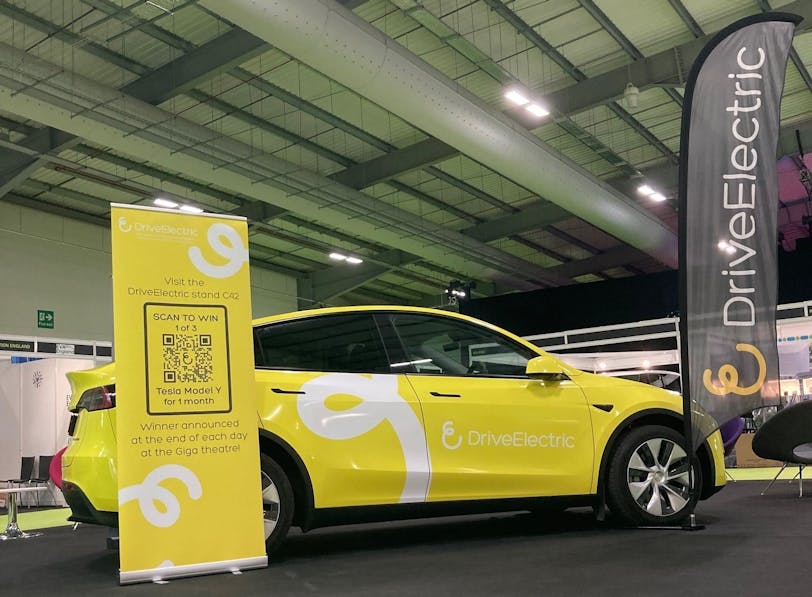 EV test drives and motorcycle test rides
There was no shortage of exciting things to do over the weekend. However, nothing quite tops actually getting behind the wheel of an EV or grip the handlebars of an electric motorcycle!
Hyundai was offering attendees the chance to drive its ever popular (and styling-divisive) IONIQ 5. Its futuristic look may not be for everyone, but there's no denying what a brilliant electric vehicle it is. There were also plenty of Polestar 2s to take for a spin. The Volvo offshoot may be a couple of years old now, but its popularity remains testament to how great the super-saloon is. Lastly, Nissan's latest EV addition - the Ariya - was available for attendees to drive. The long-awaited sibling to the pioneering Leaf, the Ariya takes the Japanese automaker's extensive EV expertise and packages it up into an attractive SUV body.
If two wheels are more befitting to your mobility needs, then a Zero motorcycle may fit the bill. Motorcycling advancement often lags behind cars, simply due to the size of the market. However, with battery tech advancing so quickly, it's finally time for riders to get in on the all-electric action. Helmet-adorned attendees whizzed up and down the test track in near-silence on all of the latest offerings from the new wave of battery-dedicated manufacturers.
Fully Charged Live BUSINESS Area
As the doors opened on Friday the 29th April, the brand new Fully Charged BUSINESS Area welcomed in all of our business delegates.
Various talks from industry leaders and experts - such as Quentin Willson - kicked off the weekend, providing a real insight into the exponential growth of green energy and its commercial uses. Many attendees took full advantage of the companion app too. They created lasting business relationships via the exclusive networking options available, leaving their time at Fully Charged LIVE with new leads and partnerships.
Overall, it was great to facilitate such a coming together of green industry. We can't wait to welcome you back again next year.
Future of Flight
If keeping your feet firmly on the ground feels a bit outdated, then the Future of Flight Zone displayed the future of, err, flight.
Star of the zone was a battery powered aircraft. A small two-seater akin to that of a traditional Cessna, this all-electric plane is effectively the Nissan Leaf of aerospace. A trailblazer with propellers, Fully Charged co-founder Robert Llewellyn actually won the race to Farnborough hitching a ride in that very plane.
Watch the plane in action and see his victory below.
We got to meet you!
The highlight of the show for DriveElectric however, was having the opportunity to chat to all of you face-to-face. We're people driven and eco-focussed, so getting the chance to chat EVs with thousands of enthusiasts was an idyllic weekend for everyone at DriveElectric.
A special thanks to those of you who complimented our fully recyclable cardboard retail stand, too. Sustainability is at the forefront of everything we do, so we aimed to have an incredibly low carbon presence throughout the weekend - no plastic, no gimmicks, no waste.
Until next year...
With Fully Charged LIVE over for another year, the UK has to wait another 12 months for the world's largest clean energy show to return. It's not all bad news though. Because in 2023, there will be TWO UK SHOWS! Fully Charged LIVE will be returning to Farnborough throughout the last weekend of April, with Fully Charged NORTH coming to Harrogate three weeks later!
See you there.