Genesis GV60 Unveiled in London at Salon Privé
Genesis is likely to be a car manufacturer that most drivers in the UK haven't heard of. It's the 'luxury' brand of Hyundai and Kia. Both Hyundai and Kia have done a pretty good job of taking themselves closer to traditional premium brands over recent years, so we watch with interest how Genesis develops.
Although Genesis has had (petrol) cars on sale in the UK, you're likely to hear more about the new, all-electric Genesis GV60. The GV60 is based on the same platform as the Hyundai IONIQ 5 and the Kia EV6. Both of these cars are excellent, but the Kia EV6 in particular is a genuine driver's car. So we have high expectations from the GV60. 
Under the skin is a 77.4kWh battery, and either rear or all-wheel drive depending on the model (there are three models: rear-wheel-drive, all-wheel-drive, and all-wheel-drive with added performance).
The Genesis GV60 Premium features one electric motor, producing 229 PS, torque of 350 Nm, and delivering rear-wheel drive. The GV60 Premium has an official WLTP combined electric driving range of 321 miles.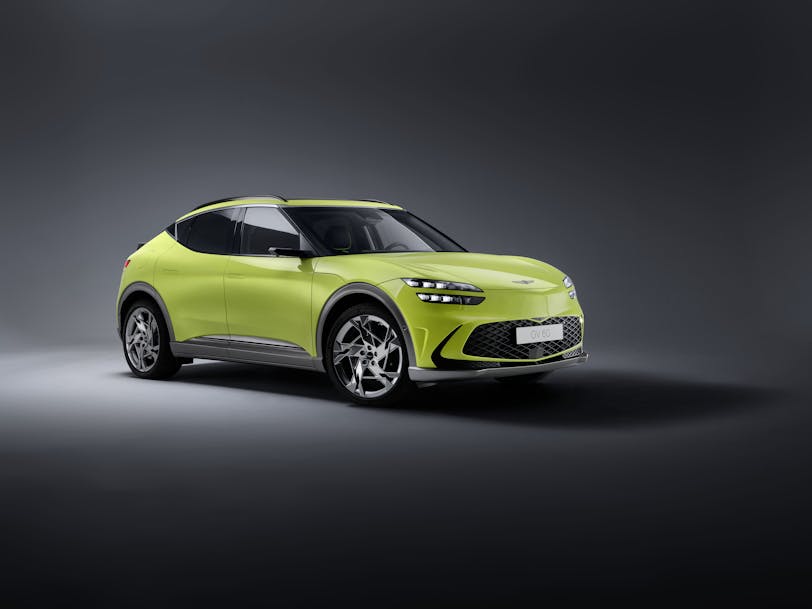 The GV60 Sport has two electric motors, giving all-wheel drive, and power of 318 PS and torque of 605 Nm.
The GV60 Sport Plus has two motors delivering all-wheel drive, with more power (490 PS) and more torque (700 Nm). The high-performance Sport Plus features a drift mode and a boost mode, resulting in a 0-60mph acceleration time of just 4 seconds. There's a torque vectoring system and E-LSD which aims to send the precise amount of torque to each wheel, to help with handling and grip.
Electric cars are very quiet, but because of that, road noise can be more intrusive. Genesis has addressed this by active noise control to eliminate the unwanted noise from the tyres. And an e-ASD system creates three virtual engine noises.
There's even more tech in the form of the Preview-ECS system: the front camera and navigation system recognise uneven road surfaces and adjust the suspension accordingly.
When rapid charging at 350 kW, the GV60's battery can be charged from 10% to 80% in just 18 minutes. The car also has a Vehicle-to-Load feature which allows it to power 220V electric appliances.
The GV60 features a Digital Key which lets up to three drivers open and start the GV60 just by using their fingerprint.
The interior of the GV60 features a floating console housing a 'Crystal Sphere' which is a gear selector and which also shows whether the vehicle is turned on.
Genesis will launch three electric cars in Europe in 2022 and, from 2025, all new Genesis vehicles will be electric.