Hummer EV with 1,000hp now in the UK
Fancy parking this EV? Hummer have unleashed their new all-electric beast with more than 350 miles of range.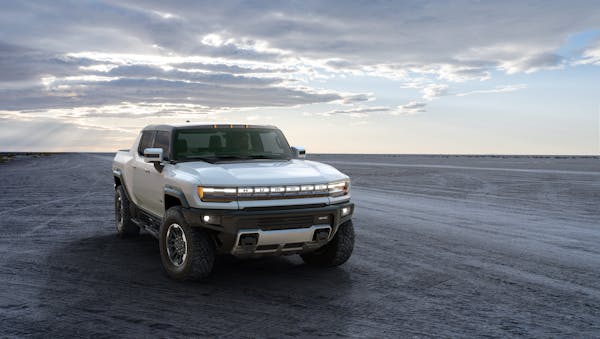 It had to happen; even the GMC Hummer has now gone electric. Yes, that's the Hummer that shot to fame in the Gulf War at the hands of the American military.
So it's now possible to crush most off-road obstacles in silence thanks to the Hummer's new all-electric powertrain. An electric driving range of more than 350 miles is on offer, along with 1,000hp and 1,200lb-ft torque, which allows the EV to accelerate from 0 to 60mph in just 3.3 seconds – which is pretty incredible for a vehicle weighing 4,103 kg (correct - over four tonnes!).
If you don't sink into the ground first, then the Hummer has some pretty impressive off-road capability, including independent front and rear suspension, full underbody armour (useful for UK potholes), rock sliders and the optional 'Ultravision' system, which utilises 18 cameras to provide every possible viewpoint, enabling accurate navigation around obstacles or in tight spaces.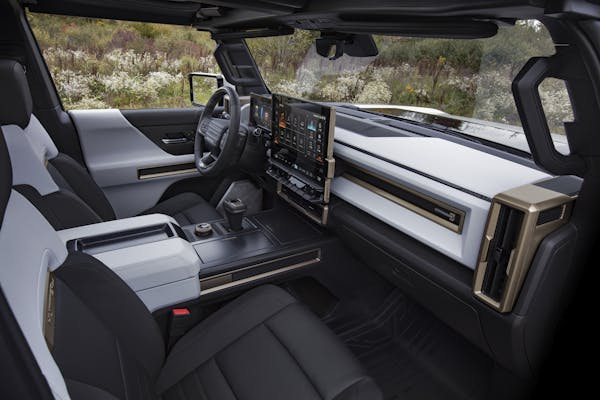 There's also the optional 'Crabwalk' capability that utilises rear-wheel steering to enable the truck to traverse diagonally at low speeds (should help when trying to park on the school run).
Another option is 'Extract' mode, which allows the entire vehicle to be raised by around 15cm, while the air suspension can also lower the car at motorway speeds, supposedly in the interest of aerodynamics, although we're not sure if the term 'aerodynamic' can really be used in connection with the Hummer EV.
One way to look at the Hummer EV is that it's practical, as it offers five seats and a pick-up bed.
Before you rush out and order a Hummer EV, it may be best just to check a couple of things. Firstly, will it fit in your garage, as it's over 5.5 metres long, 2.34 metres wide, and 2 metres high. Secondly, in case you're wondering, the UK price is £320,000.
If you're not put off by the size or the price, then one other issue is that there's only one example in the UK at the moment, imported by specialist importer Clive Sutton.
Clive Sutton says that there are 80,000 pre-orders, but only 12 Hummer EVs are being built each day. According to our maths, based on those figures, if you order one now, it will take 6,667 days to arrive – or over 18 years.
Take a look at some of our electric car lease special offers...
£2,713.18 Initial rental (ex. VAT)
£3,255.81 Initial rental (inc. VAT)
48 Month term
5000 Annual mileage
Subject to status and conditions + arrangement fee
£301.

46
Business contract hire per month (ex. VAT)
£361.

76
Personal contract hire per month (inc. VAT)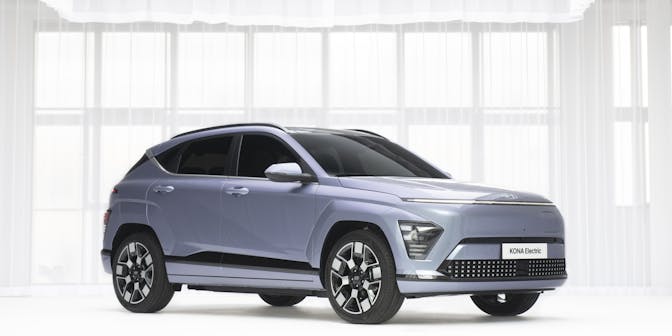 £1,951.79 Initial rental (ex. VAT)
£2,342.15 Initial rental (inc. VAT)
48 Month term
5000 Annual mileage
Subject to status and conditions + arrangement fee
£216.

87
Business contract hire per month (ex. VAT)
£260.

24
Personal contract hire per month (inc. VAT)
£2,728.44 Initial rental (ex. VAT)
£3,274.13 Initial rental (inc. VAT)
24 Month term
5000 Annual mileage
Subject to status and conditions + arrangement fee
£303.

16
Business contract hire per month (ex. VAT)
£363.

79
Personal contract hire per month (inc. VAT)